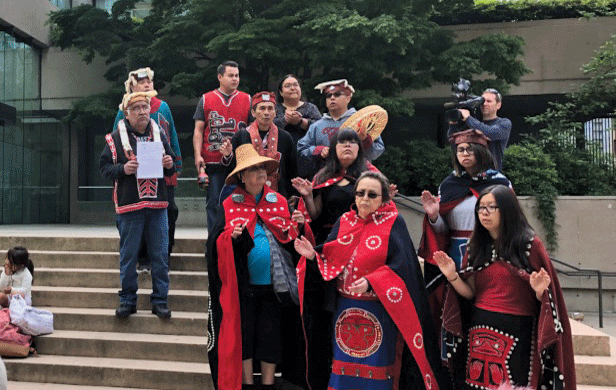 A First Nation's claim of Aboriginal title, filed today at the BC Supreme Court in Vancouver, threatens the future of some open net pen Atlantic salmon farms. Lawyer Jack Woodward, who filed the claim on behalf of the Dzawada'enuxw First Nation of Kingcome Inlet, warned the NDP government it should not be renewing salmon farm tenures in their territory "in the face of this competing claim of ownership of the territory," according to a media release on the case.
The claim takes aim at ten salmon farms operated by Marine Harvest and Cermaq within Dzawada'enuxw territory. Each of these aquaculture sites requires a provincially-granted "Licence of Occupation" in order to operate, most of which expire on June 20. The claim also affects some forest tenures, mostly inactive, held by Western Forest Products and Interfor.
"The fish farming industry is infringing on our way of life, by breaking the natural circle of life that has sustained us since time immemorial," said Hereditary Chief Hawil'kwo'lal (Joe Willie).  "This cannot continue."
The Dzawada'enuxw case adds to the mounting pressure from First Nations and environmental groups on Premier John Horgan not to renew these tenures, along with others throughout the Broughton Archipelago, later this month. The industry faces a number of serious challenges – from sea lice outbreaks and new research into the potential impact of piscine reovirus on Atlantic and Pacific salmon, to calls from high-profile groups like the Pacific Salmon Foundation and prominent BC chefs to end ocean-based salmon farming. But it may be a small nation from remote Kingcome Inlet – nestled among the coast mountains, 80 km northeast of Port Hardy – that poses the greatest threat to the industry's future.
With Monday's filing, the Dzawada'enuxw become one of only a handful of BC-based First Nations to launch Aboriginal title claims in the wake of the Supreme Court of Canada's historic 2014 verdict in the Tsilhqot'in case, which firmly established title on unceded Indigenous territories. Woodward also represented the Tsilhqot'in in their title claim.
"The Dzawada'enuxw people have lived in our territories since time immemorial. We have never ceded these territories to anyone, and have remained living within our ancestral lands throughout time and will continue to for generations to come," said Dzawada'enuxw First Nation Elected Chief & Traditional Leader Okwilagame (Willie Moon).
Establishing title in the eyes of the court requires demonstrating that a nation occupied its territory pre-1846 – the date of the Oregon Treaty between Britain and the United Sates which drew the current Canada-US border in the West – and that it is still there today. On both counts, the Dzawada'enuxw appear to have strong case.