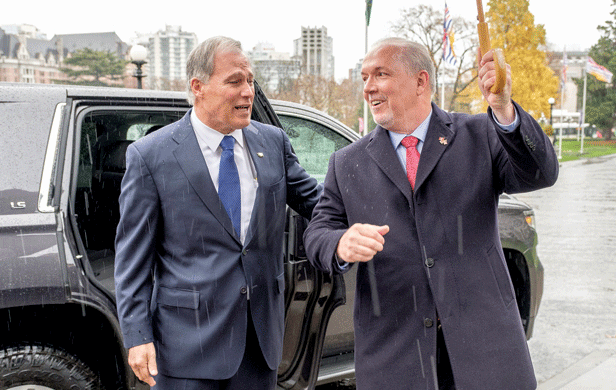 By Joyce Nelson
In a widely published June 3 op-ed for Postmedia newspapers, Thomas Gunton – a former B.C. Deputy Minister of Environment – decimated the Trudeau Liberals' decision to buy Kinder Morgan's Trans Mountain pipeline and build its expansion project.
But instead of urging that the Trudeau government stop this controversial purchase, Gunton stated this: "Ironically, their purchase of the pipeline may provide them with one last chance for changing course. If they insist on building TMX they could appoint a multi-stakeholder task force including First Nations to consider redesigning the project to reduce its worst impacts by scaling down the size of the expansion and directing increased shipments to refineries in Washington State. This would avoid tanker exports from Vancouver, reduce the number of Alaskan tankers through Georgia Straight, and allow for the phasing out of the higher risk aging pipeline."
This suggested "redesign" to benefit Washington's major refineries may have been the plan all along, or at least since November 15, 2016 when Gunton's former boss – B.C.'s former premier Mike Harcourt – suggested that Kinder Morgan and the federal Liberals "consider an alternate route" to avoid Kinder Morgan's Westridge Terminal in Burnaby. Even before Trudeau had given federal approval to Kinder Morgan's expansion project, Harcourt was here urging that the tarsands diluted bitumen (dilbit) be shipped "to either Deltaport or just across the B.C.-Washington state border to the Cherry Point refinery" in order to avoid "insurrection" in B.C.
The Trans Mountain pipeline has a southern leg – called Puget Sound Pipeline – which splits off at Kinder Morgan's Sumas Terminal in Abbotsford, B.C. and delivers tar sands dilbit to several refineries in Washington State, including the Ferndale Refinery (owned by Phillips 66), the Cherry Point Refinery (owned by BP), the Andeavor Anacortes Refinery (now owned by Marathon Petroleum), and the Shell Anacortes Refinery (owned by Shell Oil).
The Puget Sound Pipeline currently has a capacity of 170,000 barrels per day (bpd), but in the documents filed for its IPO in May 2017, Kinder Morgan indicated that they want to significantly increase that amount, according to Sven Biggs of Stand.earth's Bellingham, Washington office.
That finding seems to have been part of the reason that the local council of Whatcom County (located in the northwest corner of Washington State), voted 6-1 in June 2017 to effectively put a moratorium on the export of unrefined oil and coal from their area. But refined oil products are allowed in order to protect the hundreds of highly-paid refinery jobs in the state.
Oddly, none of the press coverage of Washington State Governor Jay Inslee's visit to B.C. in November 2017 mentioned Kinder Morgan's Puget Sound Pipeline. Inslee had expressed concerns about the Trans Mountain expansion project in terms of ocean oil tanker spills and threats to whales in the region, but apparently no reporter asked him about the southern leg of the project which brings dilbit to Washington's refineries.
During Inslee's November 2017 visit to B.C., I was writing my latest book – Bypassing Dystopia, published in April by Watershed Sentinel Books – and decided to contact Sven Biggs for the chapter on Kinder Morgan. Biggs told me by email that under Kinder Morgan's current expansion plans, the capacity of the Puget Sound Pipeline branch "will be increased to 225,000 bpd and in the IPO that the company filed earlier this year [2017] to raise money for the expansion they said it could one day be expanded to 500,000 bpd."
With regard to Gov. Inslee, who is co-chair of the U.S. Climate Alliance, Biggs told me, "I am not aware of him taking a position on the existing Puget Sound Pipeline or Kinder Morgan's plans to increase the amount of oil flowing through it."
In February 2018, Gov. Inslee won praise from environmentalists when he rejected a proposal for a huge oil-train shipping terminal in his state. Weeks later he was back in B.C., appearing to support B.C. Premier John Horgan's efforts to stop the Trans Mountain pipeline expansion, but this time reporters were more skeptical.
Tom Fletcher, writing for Grand Forks Gazette, noted, "Inslee sidestepped a question from a Vancouver reporter about his own state's use of the pipeline to supply crude to its refineries at Anacortes, Cherry Point and Ferndale, some of which is sold back to B.C. as refined fuels." The National Post's Tristan Hopper called out the "hypocrisy of Washington State", noting "Alberta oil products shipped through the Trans Mountain pipeline supplied 28.5 per cent of Washington's petroleum needs in 2017. In fact, the majority of product now moved through the Trans Mountain pipeline ends up in Washington hands."
Most important, The Tyee's Mitchell Anderson wrote a major article exposing the extent to which Washington refineries already profit from Trans Mountain: "How badly is Canada missing out by not refining our own oil? The oil industry has a colourful term called the crack-spread to describe the profit margin for refineries between buying crude and selling refined products. Washington refineries buying Alberta bitumen have some of the largest profit margins in the world – up to $45 US per barrel in 2013. Not surprisingly, Vancouver also has some of the highest retail gasoline prices in North America." 
Anderson cited a recent report indicating that Shell and BP refineries in Washington are especially poised to profit from the Trans Mountain expansion.
Of course, Alberta Premier Rachel Notley's threat to cut off oil and gas shipments to B.C. provided good reason for Premier Horgan and Gov. Inslee to discuss access to refined products. And as the Ottawa Citizen noted, "…there are plenty of Washington State refineries ready to start sending gasoline over the border in a moment's notice." [6] That may have been the plan all along, with Washington State refining for the entire Pacific Northwest region.
After Prime Minister Trudeau announced his intent to purchase the Trans Mountain pipeline and proceed with its expansion, Gov. Inslee wrote an op-ed in The Seattle Times stating: "This project runs counter to everything our state is doing to fight climate change, protect our endangered southern resident killer whales and protect communities from the risks associated with increased fossil-fuel transportation – by rail and by sea." Once again, Gov. Inslee was silent on the southern leg of Trans Mountain, the Puget Sound Pipeline feeding the BP, Shell, Marathon, and Phillips 66 refineries.
Now we have Thomas Gunton suggesting a "redesign" for the pipeline expansion that actually matches what Kinder Morgan has been planning for the Puget Sound Pipeline. 
On June 7, the Globe and Mail's Justine Hunter reported that Ottawa's proposed purchase of the Trans Mountain pipeline project would "make it the owner of [the] spur line that feeds Alberta oil to Washington State's refineries". [8] Hunter noted that Gov. Inslee "has been working closely with environmental organizations to impose new regulations and taxes on the transport of heavy oil through his state."
But it must be said that Gov. Inslee's May 30 op-ed mentions resistance only to oil transport "by rail and by sea". Transport of dilbit by the Puget Sound Pipeline goes unmentioned, as does future export and transport of refined gasoline from Washington's refineries by tanker and barge.
As usual, we are being "played." Stay tuned.     
Joyce Nelson's seventh book, Bypassing Dystopia: Hope-filled Challenges to Corporate Rule, has just been published by Watershed Sentinel Books. It is the sequel to Beyond Banksters: Resisting the New Feudalism and can be ordered at https://watershedsentinel.ca/bypassing-dystopia . …