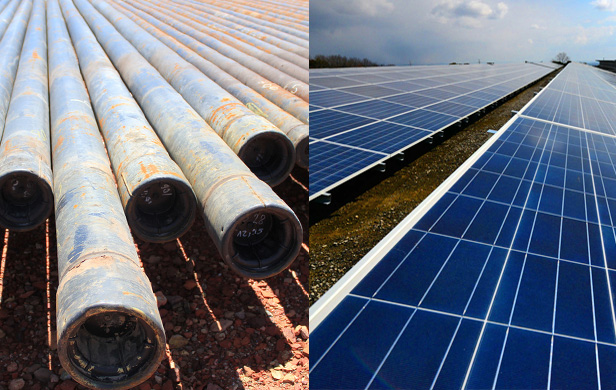 Most financial analysts, economists and energy experts would have us believe that the fossil fuel sectors, and the petroleum sector in particular, are in a slump, that this is cyclical, and things will eventually normalize.  This is because their "training" is based on the assumption that the future will follow the patterns of the past.
But what if it is the economic paradigm that is changing?
Two of the largest markets for fossil fuels are electrical power generation and transportation – the latter nearly 100% dependent on petroleum.  With the former, the transition to a green economy is well-advanced, while in the case of the latter market, the signs are that a transition is imminent.
Renewables surpass fossil fuels with new installations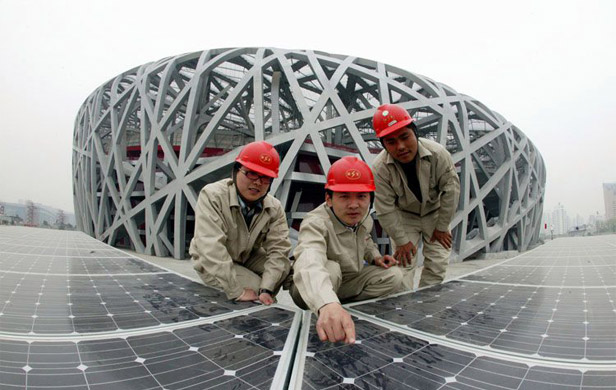 Since 2013, more than half of the newly added global electrical generation capacity has been associated with the installation of renewables.  And in 2015, for the first time ever, more of  investments in renewables took place in developing countries than in developed countries – $167 Billion vs. $162 Billion.
As a consequence of this trend, according to the International Energy Agency (IEA),  in 2015, an astounding 90% of all global electrical power capacity added was attributable to renewables. 
In the US, in 2015, renewables represented 68% of new electrical generation capacity installed.
But no country is changing the energy/economic paradigm more than China, the world's largest energy consumer.  In 2015, nearly 100% of newly installed electrical capacity in China was represented by renewables – attributable to a record of $110.5 Billion in investments for that year.
This has produced an amazing decline in energy-related CO2 in both China and the US and global emissions remaining flat since 2013! What's more, for the first time in history emissions have declined during a period of economic growth.
China to close 1,000 coal mines as wind, solar soar
China's total installed capacity for wind farms stood at 145 GW in 2015 and for solar farms at 28 GW in 2014.  An incredible total of 30.5 GW on new wind power capacity had been added in 2015. The solar PV sector saw  16.5 GW  added in 2015, a world record!  For 2020, the projected installed capacities for wind and solar farms stand at up to 200 GW each!
The result is China's coal use declined for the second year in a row, approximately 3.7%, in 2015, on the heels of a 2.9% decline in 2014.  Hence, China has made the spectacular announcement that it will be closing down 1000 coal mines in 2016 and not opening any new coal mines for the next three years (2016-2019).
All this translates into China's coal generated electricity declining 10 percentage points related to China's total electricity supply sources since 2011, in just 4 years, from accounting for 80% of total electricity consumed to 70% in 2015.
Clean Transportation:  At the edge of transition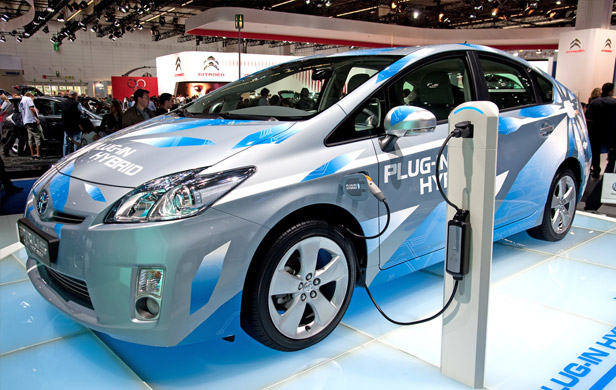 With respect to transportation, the indications are that we are at the edge of the transition to clean transportation.
During the first 9 months of 2015, 136,700 electric vehicles were sold in China.  As of 2016, 30% of all Government of China purchases of vehicles are to be electric.  In parallel, government bodies in Beijing-Tianjin-Hebei region, the Yangtze River Delta, and the Pearl River Delta have committed to vehicle procurement targets of 30% electric and hybrid vehicles, as of 2016.  In 2015, Beijing restricted new vehicle registrations to electric vehicles and plug-in hybrids; and Shenzhen aimed to have more than 3,000 electric taxis, 5,000 hybrids and 1,000 electric urban transit buses on the road in 2015.
China's overall clean transportation targets for 2020 are to have 5 million eco-vehicles on the road and a capacity to manufacture 2 million eco-vehicles/year.
Norway, California race ahead with electric vehicles
Meanwhile, in 2015 in Norway, thanks to multiple incentives, 25% of January to August new car sales were electric vehicles.
Not to be outdone, California has a target to have 1.5M zero emission vehicles (ZEVs) on its roads by 2025. It has also established stipulations for automakers that 15.4% of all vehicles sold in the state be ZEVs by 2025. Moreover, it is supporting ZEV innovation and manufacturing and has set goals for 10% of total state government light duty vehicle purchases in 2015 to be ZEVs and 25% by 2025. Finally, it is requiring that all new buildings and parking lots have the electric panel and wiring in place to accommodate electric vehicles.
And while other bus manufacturers are developing electric buses, China's BYD is selling them, including via its manufacturing plant in Lancaster, California.  That plant recently signed a contract with the State of Washington to deliver up to 800 electric buses to that state.
E-buses can cover over 1,100 km in 24 hours
Also on e-buses, there are the Proterra electric buses, manufactured in California and South Carolina.  These e-buses can travel over 1,100 kilometres in a 24-hour period with the support quick charging points along a route, at less than 10 minutes/charge.  Another option is that of a range extender, allowing for 90 minute charges in a bus depot and, hence, fewer requirements for charges en route.  Tests conducted by the National Renewable Energy Laboratory have found these buses to be very efficient and reliable, that is, they live up to the range claims of the manufacturer.
Why fossil fuels won't be making a comeback
This all brings us back to the following question:
[quote]Is the flattening of demand in fossil fuel markets, and oil in particular, a cyclical thing, or an omen that the energy/economic model is changing?  That is, are we in a transition to a green economics?[/quote]
Well, even BP Chief Economist Spencer Dale, UBS – the world's largest bank – and Governor of the Bank of England Mark Carney have concluded that, with the increasingly aggressive actions on climate by governments all around the globe, the fossil fuel glory era is nearing its end. This means that much of the world's proven reserves will become stranded assets, or LIABILITIES.
Canada: Still stuck in the Old Economy
Where is Canada in all this?  We are already way behind our competitors, rating 56 among 61 nations on a 2016 Global Climate Change Performance Index.   Put another way, Canada's share of global clean tech markets is 1.3% and falling.
To make matters worse, the ultra-conservative International Monetary Fund has estimated that fossil fuel subsidies in Canada in 2015, including indirect subsidies for health and climate change, stood at $46B USD/year.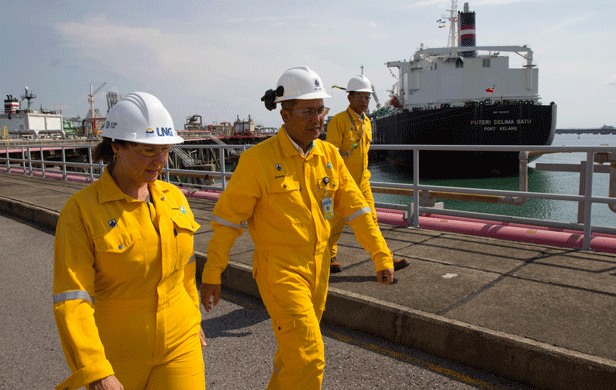 So we have to ask ourselves, why on earth is Canada and the current federal government so committed to increasing the supply of oil on international markets via Energy East and Kinder Morgan, when all the signs are suggesting that the business model for Big Oil is collapsing?  That business model is based on strong growth in demand, which, in turn, engenders high prices and the economic viability for non-conventional energy resources, such as tar sands and shale oil and gas.
Shale oil and gas are included in the discussion here because: 1) shale wells lose around 85% of their productivity in the first three years, thus requiring constant heavy investments in new wells 2) in January, 2015, the US shale sector was running up $200B in debt and 3) current indicators are such that up to half of the US shale companies may soon be facing bankruptcy.
Yet, according to a March 15, 2016 article in Le Devoir by Alexandre Shields, 30% of the Energy East capacity will be used to transport North Dakota shale oil via Canada for export to the US East Coast.  This reinforces the premise that Energy East is not economically viable.
Canada missing out on Green Jobs
It is estimated that there are 6 to 8 times more jobs per government unit of investment in green sectors, when compared with government investments in the traditional economy.
In 2014, there were 371,000 jobs and 1.2 million jobs in the German and EU renewables sectors respectively and 3.5 million in EU green sectors at-large.
China, the world's most aggressive country on the green economy, had 1.9 million jobs in their solar electricity and solar heating/cooling sectors in 2014 and 356,000 in their wind sector.
Seizing the opportunities
But wait a second – federal and provincial governments are not even providing adequate support even when a clean tech sector emerges!
A case in point is that Quebec has a significant critical mass regarding the electric vehicle sector, with two battery manufacturers, two charging station manufacturers, a developer of an electric motor wheel developed in Quebec but manufactured under license in China, and an electric bus under development.
And yet, we learn from Fiat Chrysler Automobile's CEO, Sergio Marchionne, that he worries about the arrival of electric vehicles because the last bastion that the automakers fully control, from design and manufacturing to final assembly, pertains to the internal combustion engine (ICE) and its powertrain.  A shift to electric vehicles would mean this last bastion would become new entry points for outsourcing or outside suppliers.
Reallocating fossil fuel subsidies to green energy
Then there is the matter I alluded to earlier – namely that all Canadians are subsidizing the fossil fuel sectors to the tune of $46B/year in 2015 US dollars.
What we should be asking of the federal and provincial governments concerned, is this:  How can fossil subsidies be reallocated to foster diversification of the fossil fuel industries so that clean tech investment, as a percentage of total corporate-specific investments, becomes significant and increasingly so over time?
On this point, Norway's Statoil is showing the way.  Its new CEO is from its renewable energy division; the company recently approved low carbon/renewable technologies as one of its 3 principal thrusts, while Statoil has assigned more ambitious goals for its renewables division.  Subsequently, a short while ago, Statoil set up Statoil Energy Ventures to invest in clean tech start-ups.
Dong energy aims for 85% renewables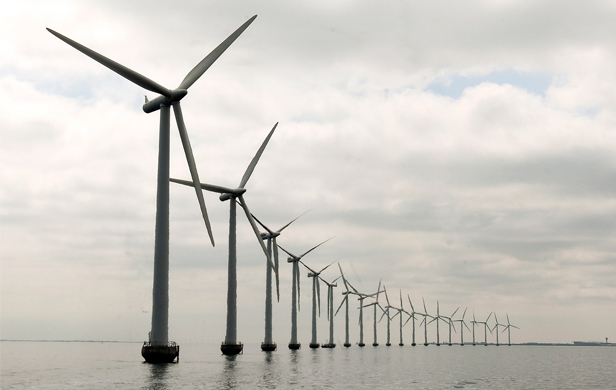 Another model is this vein is Denmark's Dong Energy, 60% owned by the Danish Pension Fund, which plans to shift from around 85% of its investments in fossil fuels and 15% in clean energy to the reverse of this ratio by 2040. Dong is the world's largest investor in offshore wind.
Finally, diversified energy companies headquartered in the West can do more than just develop local infrastructure in their respective regions. Rather, they can become key players in the global market by bringing together clean tech expertise from across Canada. This would include economic diversification, the participation of stakeholders previously not involved in the clean tech, high job creation/growth areas.  And often, it means the blending of different fields of expertise that brings about world leadership.
More generally, it is clear that Canada, to be competitive, should be focusing on clean tech at large and not just on clean energy.
Canada at a crossroads
More fundamentally, it time to face the music and recognize that Energy East and Kinder Morgan are white (or, more appropriately, "black") elephants. This means focusing on how Canada can engage in a fast-forward catch-up with its competitors on the transformation to a different economic model: Green economics.
Roadmap for Canadian transition to green economy
It is in this context that I have assembled a detailed paper on the subject – a roadmap for getting Canada up to speed on the transition to a green economy (read full paper here). This discussion document is based on models from around the globe, adapted and improved upon for "Made in Canada" applications; plus my own Government of Canada employee experience on sustainable development-related experiences in policies, legislation, programs, projects and other initiatives.
What makes this document distinct is this:
While other organizations are emphasizing why we should change and what goals we should pursue, the aforementioned discussion document specifically maps out of HOW TO MAKE THE TRANSITION TO A CANADIAN GREEN ECONOMY.  It does so by presenting broad palettes of policy/strategy options, amenable to cherry picking by stakeholders, as per their respective preferences.
No need to reinvent the wheel
Canada need not reinvent the wheel on the green transition because there is so much to learn from the successes and failures of countries far ahead of us and from our own Government of Canada empirical evidence stemming from past climate change action plans.
We don't need to be stuck with white/black pipeline elephants.  Accordingly, I invite anyone interested to have a look at the Roadmap so that we can finally get the dialogue going on how Canada can move forward and fully participate in the high-growth, high-job creation, global green economy.