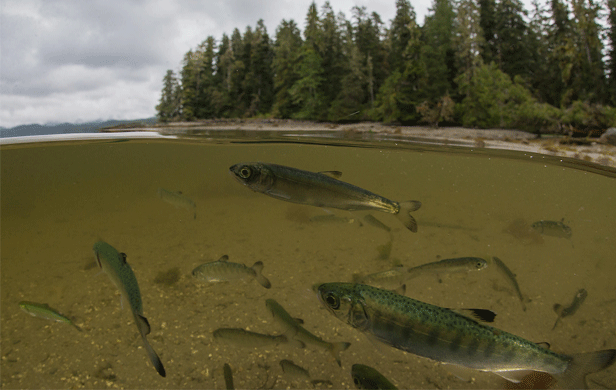 Over 130 scientists are slamming the draft environmental report into a proposed LNG terminal on Lelu Island over salmon habitat and other key issues. The concerns – expressed in a letter yesterday calling on the Trudeau Government to disregard the draft report on the project – come near the end of the public comment window, which closes Friday.
Report "scientifically flawed"
The letter, signed by such respected salmon experts as SFU's Dr. Jonathan Moore, BCIT's Dr. Marvin Rosenau, and retired senior DFO manager Otto Langer, calls the Canadian Environmental Assessment Agency's draft report on the project "scientifically flawed" and based on "inadequate" information. Said Langer, "The CEAA report is less than scientific, full of speculation and wishful thinking."
The report took a tough stand on the project's carbon footprint, warning of "significant adverse environmental effects" to the climate, but critics say it fell short on recognizing the damage the Petronas-led project would inflict on vital salmon habitat in the Skeena Estuary.
"You couldn't find a worse location to develop in terms of risks to fish. The CEAA report does not acknowledge that this LNG proposal is located on critical habitat of Canada's second largest wild salmon watershed", said Charmaine Carr-Harris of the Skeena Fisheries Commission.
5 big mistakes
The scientists' letter lists five key mistakes made by CEAA with its report:
Misrepresentation of the importance of the project area to fish populations, especially salmon
Inadequate consideration of multiple project impacts and their cumulative effects
Unsubstantiated reliance on mitigation
Assuming lack of information equates to lack of risks
Disregard for science that was not funded by the proponent
On the last two points, the scientists highlight fundamental flaws in the review process and its scientific methodology, noting:
[quote]CEAA's draft report is not a balanced consideration of the best-available science. On the contrary, CEAA relied upon conclusions presented in proponent-funded studies which have not been subjected to independent peer-review and disregarded a large and growing body of relevant independent scientific research, much of it peer-reviewed and published…The CEAA draft report for the Pacific Northwest LNG project is a symbol of what is wrong with environmental decision-making in Canada.[/quote]
Citizens can add their voice
The window for public comment on CEAA's draft report remains open until Friday end of day (see instructions for submission here). After that, the review panel will weigh the feedback it has received and produce a final report sometime in the coming months. It will then fall to the Trudeau government to decide whether or not it wishes to issue an environmental certificate for the project, over these serious climate and salmon concerns.