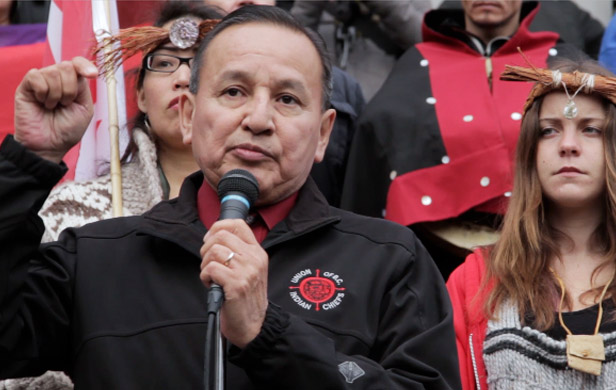 BC Hydro is intent on bulldozing ahead with Site C Dam construction in the coming weeks, despite seven different federal and provincial court cases currently in progress over the $9 Billion proposed project. That attitude is rubbing First Nations leaders the wrong way.
Hydro above the law?
The First Nations Leadership Council, comprised of the three big provincial First Nations bodies – the Union of BC Indian Chiefs, the First Nations Summit and the BC Assembly of First Nations – came out swinging Thursday in defence of the Treaty 8 First Nations whose land would be flooded by the dam.
"The provincial government seems to have tunnel vision when it comes to building this project. Pushing ahead with construction activities at this time is premature and dishonourable," said Robert Phillips of the First Nations Summit political executive.
[quote]All citizens of BC should be deeply concerned; by denying the Treaty 8 First Nations their day in court, the government is making an outright statement that they are above democratic rights and the judicial system. This approach is unacceptable and an affront to the cultivation of constructive government-to-government relations between the provincial government and BC First Nations.[/quote]
Dawson Creek councillor: lawsuits are like a lien
The statement comes on the heels of a 30-day notice from BC Hydro that work on the project could commence as soon as July 6, regardless of multiple ongoing court cases. The revelation baffled Dawson Creek Councillor Charlie Parslow, who confronted Site C Community Relations Manager David Conway at a recent council meeting. Conway told council he expects these cases "will be ongoing through the early stages of construction."
According to the Alaska Highway News, "Parslow said he was 'shocked' that BC Hydro is not waiting on the outcomes before putting shovels in the ground."
"I would have thought it's like buying a house," he told the local paper.
[quote]You don't own it until there's been some research on whether the title is clear, that there are no liens against it. In my naivety I thought these lawsuits were like a lien against a property. I thought it would be an impediment to them clearing land and blocking rivers.[/quote]
Hydro, province up to their necks in lawsuits
Two of the cases are being brought against the dam are by local farmers and landowners, while another pair are on behalf BC Treaty 8 First Nations, with their Alberta Treaty 8 neighbours pursuing their own federal and provincial cases. A final case, brought by the Blueberry River First Nation of northeast BC, is a wide-ranging challenge based on broken treaty promises which threatens all future development in the region.
Crown shut down
A recent attempt by the federal crown to gut key provisions from the BC Treaty 8 case was rejected by the court. The next phase of that case goes to court this summer, after Hydro's planned construction start.
Scarring the land and relationships
 "The provocative activities that the BC government is recklessly trying to advance are irreversible, and will leave an irreparable and permanent scar on the land," said UBCIC President Grand Chief Stewart Phillip.
[quote]These deliberate actions will also indefinitely scar BC's relationships with First Nations. If construction begins, it will be understood as a clear message that this government has absolutely no respect for the Treaty 8 First Nation people, and is blatantly disregarding constitutionally recognized Aboriginal Title, Rights, and Treaty Rights. Further, rushing ahead of the courts to build this project is an irresponsible and negligent use of tax dollars.[/quote]
The BC Treaty 8 First Nations leading these court actions are currently in the midst of a funding drive to support their legal activities. They have already raised over $50,000 towards these efforts, while their farmer neighbours raised well over $200,000 over the past year.