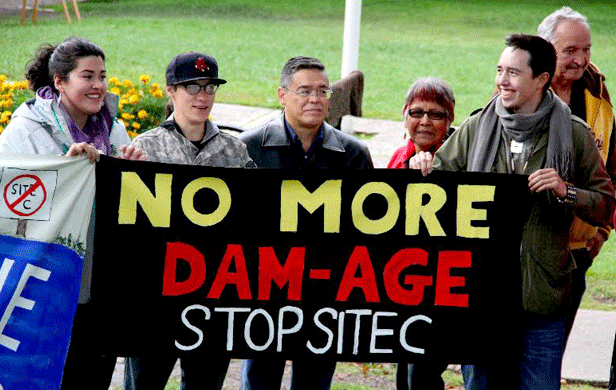 Submitted by Andrea Palframan
On
September 12
, the Federal Court of Appeal in Montreal will hear the latest legal challenge to the massive Site C hydroelectric dam already under construction on Treaty 8 territory in northeast British Columbia. First Nations community members from Treaty 8 are travelling on a caravan across Canada to focus attention of the importance of this case to the rights of all treaty nations and to Prime Minister Justin Trudeau's promised new relationship with First Nations.
The Justice for the Peace caravan has been supported by LeadNow and is endorsed by the Assembly of First Nations British Columbia, the First Nations Leadership Summit, and the Union of BC Indian Chiefs.
Prophet River and West Moberly First Nations have been fighting the Site C hydroelectric dam project for close to five decades. Site C is a disastrous plan to build a giant dam in the Peace River Valley of northeastern BC. It's an $8.8 billion project that will flood 83 km of farmland, drown wildlife habitat, and trample indigenous rights — all to supply electricity for dirty tar sands extraction and fracking.
Site C Dam is a litmus test of the commitments made by Canada to have a renewed, nation-to-nation relationship with First Nations. Treaty 8 Justice for the Peace Caravan are joining thousands of supporters in calling for a respectful relationship that honours Treaties and the United Nations Declaration on the Rights of Indigenous Peoples.
Grand Chief Stewart Phillip, head of the Union of B.C. Indian Chiefs, called the federal government's permitting of the Site-C Dam "an absolute betrayal of all of the commitments and promises Prime Minister Trudeau made during the last election." He called on young people to be a part of history by stepping up and taking action to protect the Peace River: and they are.
Youth delegate Helen Knott, who is blogging about the caravan at 
reclaimthewarrior.wordpress.com
, says that although dam construction is underway, "Only a small fraction of land has been cleared and the earth is so resilient that it has already begun to heal itself. It is not too late to stop this dam. It can and will be stopped."
Says Caleb Behn, Treaty 8 member and Executive Director of Keepers of the Water:
[quote]We are the heart and soul of the oil and gas economy in this country. We have given coal. We have given oil. We have given trees. My dad went to residential school. We gave souls…And this is how you're going to treat us in the 21st century? This is the kind of hypocrisy that makes me question the wisdom of my ancestors choosing to sign on to treaties.[/quote]
With their Justice for the Peace Caravan, Treay 8 members and their allies are make it loud and clear that if the Trudeau government is serious about a renewed relationship with First Nations, it is unacceptable to issue construction permits while there's an outstanding First Nations legal challenge about the Site C dam.
The West Moberly and Prophet River First Nations are appealing a federal Judge's decision to approve the construction of Site-C despite the project's violation of their constitutionally-protected rights to hunt, fish, and trap. After months of waiting for a trial date, they're appearing in court on
September 12
. When the House of Commons resumes sitting a few days later, they'll head to Ottawa to deliver 20,000+ petition signatures and meet with key Ministers on the file.
"We've raised nearly $300,000 for Treaty 8 First Nations' legal challenges," says Susan Smitten, executive director of RAVEN Trust.
[quote]The caravan is a powerful demonstration of unity and hope, and what it means to bring people together to support communities who are on the frontline of disastrous projects like the Site C dam. Legal challenges are expensive, and a major financial burden on First Nations. But Treaty rights of First Nations offer some of the strongest environmental protections in the world.  They stand a good chance of victory in the courts.[/quote]
The cross-country Justice for the Peace Caravan will stop in communities all across Canada, sharing stories, connecting struggles, and building support for the just resolution of the Treaty 8 First Nations' case against the Site-C dam. 4,432km is a long way to go.