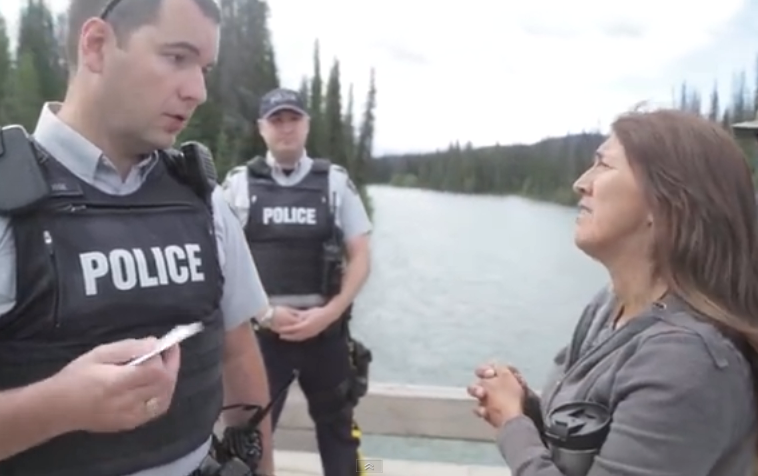 You'd hope we'd come a long way since the crises of Gustafsen Lake and Oka . You'd hope.
This is, after all, 2015. Post-Tsilhqot'in decision. Post-Truth and Reconciliation Commission – out of which the Chief Justice of the Supreme Court of Canada used the words "cultural genocide" to describe the treatment by the crown of generations of aboriginal peoples.
To top it all off, we're in the midst of a federal election – hardly the time for strong-armed tactics driving forth federal energy policy.
And yet, in the recesses of the ivory tower that is the PMO in Ottawa, there has likely been a running conversation in recent days and weeks about directing the RCMP to dismantle a First Nations-led encampment on the Morice River, wherein indigenous titleholders to those lands and waters are peacefully denying access to surveyors from TransCanada Pipelines who want to build a natural gas conduit to the coast.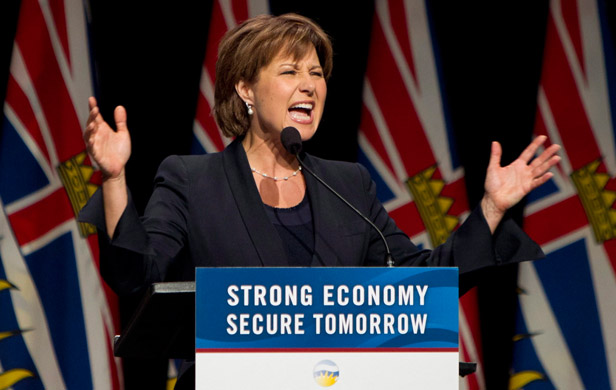 Meanwhile, in the province's northeast, BC Hydro has been preparing to cut down eagles' nests sacred to local Treaty 8 peoples. Why? Because in 7 or 8 years, the Peace River Valley may be flooded yet again for a third dam, billed Site C. That is, if the project survives multiple, constitutionally-grounded legal challenges, horribly flawed economics, the absence of any real need for it, and criticism from all corners – including a former Hydro CEO and the head of the Joint Review Panel that examined the dam – plus about a dozen other good reasons not to build it.
If there is any need to cut down those nests, it won't come for years into the future, when the dam is raised and the valley flooded. But permits were issued by the Clark government to begin cutting them down in a few days. Why? I've thought long and hard about this and can't find any other good reason than out-and-out provocation of First Nations.
They dare to gum up the cogs of the progress machine? Hit 'em where it hurts. Show 'em who's boss.
Pushing buttons
The same can be said for TransCanada's survey work. All summer we've been hearing a familiar, frustrating tune. The company tries to enter this contentious stretch of territory – occupied for years now by members and supporters of one of the five clans of the Wet'suwet'en Nation, the Unist'ot'en. They have made their position clear: No oil or gas pipelines through their territory. They are backed up by the hereditary chiefs of all five clans. They have not been ambiguous in any way.
Yet the company returns, with predictable results. Then, they turn to the police – pitting members of the camp against armed law enforcement.
Now, in recent days we learn, from alarm bells being rung from the camp and supporters around BC and the world, that the RCMP have booked out hotel rooms in nearby communities and may be preparing to descend upon the camp.
RCMP backtracking?
Under intense pressure from social media and concerned citizens, groups and prominent leaders, the RCMP issued the following statement on Friday evening:
[quote]To clarify, the BC RCMP has no intention of 'taking down the camp' set up by the Unist'ot'en…Despite what is being portrayed by some media and on social media, the BC RCMP would like to emphasize that we remain impartial in this dispute. We understand that there has recently been progress made and we are very pleased with these developments. Our Aboriginal Policing Members continue to remain in contact directly with the Unist'ot'en and we will continue to assist in any way we can. [/quote]
If this is true, it's a step in the right direction and an indication that public pressure is working.
But it would be foolish not to take such a statement with a pound of salt. After all, we've seen this before, all too recently, in New Brunswick, where members of the Elsipogtog First Nation stood up to unwanted shale gas exploration in their territory. Rubber bullets, tear gas, jack boots, German Shepherds. Ugly, ugly stuff.
Moreover, note how the above RCMP statement does not preclude arresting the members of the camp – only "taking down" the camp itself. It will be very interesting to see their next move.
What's the rush?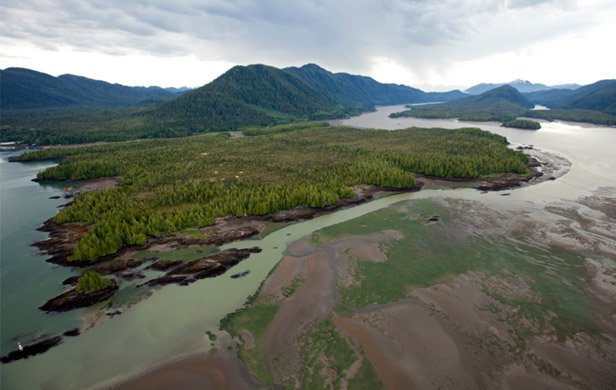 What this issue has in common with the eagles' nests in Peace Country is the unnecessary haste. Wherever you stand on LNG, nothing real is happening anytime soon. Not because of protest – though that's certainly an important factor – but because the market is simply not there. Heck, it was bad at $50 oil and China bailing out in favour of cheaper Russian pipelines. At $40 oil (Asian LNG spot market prices are indexed to oil prices), with Japanese nuclear plants firing back up, the Chinese economy in trouble, and the Malaysian government imploding, you could not pick a worse time to be developing BC LNG.
So when you hear about Petronas' contractors carting in geotechnical instruments to Lelu Island, near Prince Rupert, or TransCanada barging into Unist'ot'en territory for survey work, we're talking early, early, wishful, whimsical, shot-in-the-dark work here. What we are not talking about is anything closely approximating an LNG industry actually being built in BC.
Which brings me to my point: What's the rush? If this stretch of the Morice River is so sacred to and so forbidden by the First Nations who hold title to it, and meaningful development of a hypothetical plant in Kitimat is so far off in the distant future – not to mention bloody unlikely, period – then why risk provoking another ugly chapter in Canadian colonial history?
Hydro forced to stand down…for now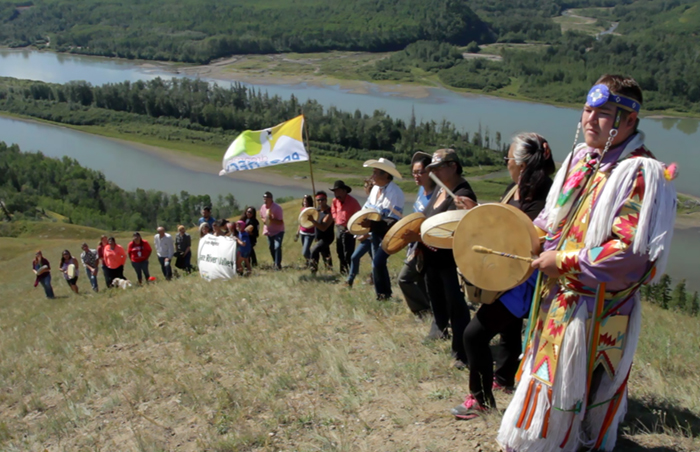 In another piece of encouraging news – depending how you look at it – an injunction hearing brought this month by Treaty 8 First Nations over the eagles' nests and other early work by Hydro yielded some progress with a ruling Friday. While the court declined to issue an injunction, as a part of the proceedings, BC Hydro committed to stand down for now on some of this contentious work – until current cases before the courts have been decided.
"We went to court to protect our old growth trees, eagle nests, beaver dams and our traditional way of life", said Chief Roland Willson of West Moberly First Nations. "As a result, BC Hydro will not be destroying the forests or removing eagle nests and beaver dams in the Moberly River valley [which runs into the Peace River at the dam site]. We asked for those areas to be protected".
Broader concerns over the legitimacy and constitutionality of Hydro's work permits for Site C will be decided at a judicial review hearing in November. Yet these temporary concessions from Hydro are cold comfort amidst the Clark government's obsessive drive to build a $9 Billion-plus project that we plainly don't need and to which First Nations and farmers and many supporters around BC are steadfastly opposed.
What's Harper driving at?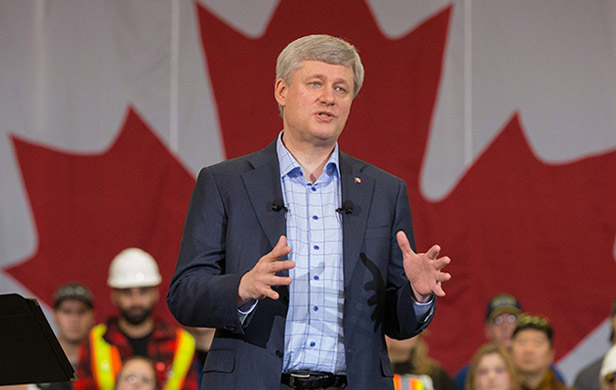 It's not terribly surprising that Clark continues pushing forward her LNG and Site C pet projects while she faces little opposition from an absent NDP and her next provincial election is a ways off yet. But the RCMP's enforcement of pipeline construction is a federal matter that, knowing how the Harper government operates, must be micromanaged from the PMO. This in the midst of a federal election campaign.
Which begs the question: What is Harper up to?
The logical conclusion is that he sees an opportunity to prove his point on Bill C-51 – to offer up an example of the kind of "radical" protest of "critical infrastructure" for which he designed it. If the RCMP were to push their way into the camp and things went badly, in his twisted mind, this would provide fodder for his campaign. "See, I told you. These are the kind of radicals you need my protection from."
If this is what he's thinking, I submit he's wrong. The Unist'ot'en have indicated their intention for peaceful, title-and-rights-based opposition. Nothing good can coming of provoking this sort of conflict. And as I say, there's simply no need for it at this stage in the game. Meaningful LNG development is miles away, if it ever comes.
Time for a Time-Out
So, to TransCanada, I say, you've got 1,000 km of survey work to do. Leave the Unist'ot'en alone.
To Stephen Harper, you just polled 23% to Mulcair's 40% in a major national poll, partly because of this very attitude you continue exhibiting. I suggest you worry more about staying in office than beating the policies of your last term over the heads of the Unist'ot'en and other First Nations and concerned citizens. Canada needs to grow up, not regress to the travesties of Gustafsen Lake and Oka.
And to Christy Clark, I say, your own election campaign is not really that far off. Should you stay this course, your fiscal recklessness, disrespect of the courts and First Nations will come back to bight you in the you-know-what.
The world, as they say, is watching.