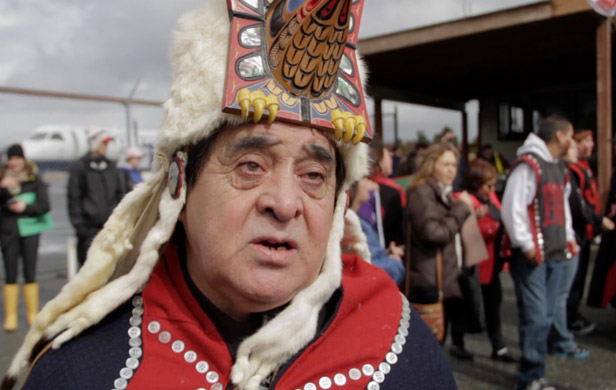 The Heiltsuk First Nation, whose traditional territory encompasses much of BC's Central Coast, is ecstatic at the news of the Federal Court of Appeals overturning the approval of Enbridge's proposed Northern Gateway Pipeline. "This decision marks a huge step in the right direction," said Chief Councillor Marilyn Slett.
"From the moment this project was proposed, Heiltsuk leadership had a powerful mandate from our people to fight for the sake of our future generations. And we have fought hard. To say our community is thrilled is an understatement."
The court's decision stated, "We find that Canada offered only a brief, hurried and inadequate opportunity…to exchange and discuss information and to dialogue."
[quote]It would have taken Canada little time and little organizational effort to engage in meaningful dialogue on these and other subjects of prime importance to Aboriginal peoples. But this did not happen.[/quote]
The decision, signed by two of three justices on the Appeal Court, casts serious doubt on the future of the embattled project. The ruling comes in response to a challenge brought on behalf of seven BC First Nations, including the Heiltsuk.
Consultation standard not met
The judges found the federal government did not meet the minimum standard of "reasonable efforts to inform and consult" First Nations.
[quote]The inadequacies — more than just a handful and more than mere imperfections — left entire subjects of central interest to the affected First Nations, sometimes subjects affecting their subsistence and well-being, entirely ignored," the ruling says.
Many impacts of the project — some identified in the Report of the Joint Review Panel, some not — were left undisclosed, undiscussed and unconsidered.[/quote]
A brief celebration, then back to work
The Heiltsuk will be hosting a celebratory rally in Bella Bella on June 30, but they're not stopping for long to savour a hard-won legal victory – instead turning their attention to Trudeau government's next steps on the file, noting:
[quote]Now all eyes are on Trudeau. It's time to end this project once and for all, to implement a tanker ban that safeguards our precious coast, and to meaningfully model a relationship with Indigenous peoples that respects our sovereignty and our title and rights.[/quote]
In a statement released by the community's leaders, they indicate, "The Heiltsuk Nation is committed to working alongside [Prime Minister Trudeau] to ensure the coast is protected for the generations to come."
Video of contentious Enbridge NEB hearing in Bella Bella in 2012: