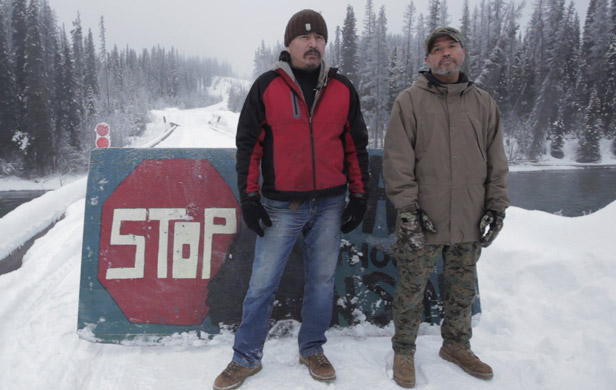 UPDATE: Fort Nelson First Nation drums government, industry reps out of LNG conference, outraged over lack of consultation on surprise gutting of environmental reviews for gas plants. Government issues swift apology and cancels changes (more below).
One of the biggest myths pervading BC's energy dialogue goes something like this: While First Nations stand united against the proposed Enbridge pipeline, they overwhelmingly embrace Liquefied Natural Gas (LNG).
Sure, Premier Christy Clark can tick off a list of aboriginal allies in her effort to build at least five among a dozen terminals proposed for Kitimat and Prince Rupert. Just last week, she announced with great fanfare LNG revenue sharing agreements with two coastal nations – Metlakatla and Lax Kw'alaams.
But a growing group of hereditary leaders, grassroots members and their allies, even some elected governments, are rising up in opposition – from the fracking fields of northeast BC that would supply the industry, to the various proposed pipeline routes across the province, to the coastal communities that would house the hulking terminals.
LNG is designed to achieve higher prices for BC's gas in Asia, by cooling it to -160 degrees celsius, thus liquefying it so it can be loaded onto tankers bound for China, Japan, Korea, Malaysia, and India. But it may be investors who are getting cold feet amid the myriad challenges facing the industry.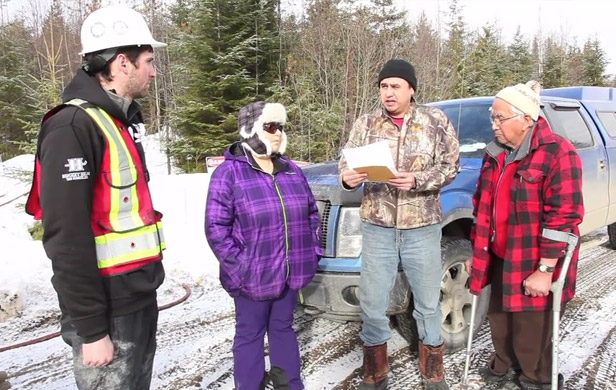 In a little-reported but highly significant development a few weeks ago, a group of Gitxsan hereditary chiefs in the Kispiox Valley, near Hazelton, ordered TransCanada to cease and desist  test drilling relating to the pipeline it plans  to construct to Prince Rupert on behalf of Malaysian, Japanese and Indian LNG partners. 
The issue adds more uncertainty to the province's nascent LNG industry, on top of the unified opposition of all five clans of the Wet'suwet'en Nation to the south; mounting concerns from Treaty 8 and Fort Nelson First Nation in the heart of northeast BC's fracking country; and increasing scrutiny of the proposed Woodfibre LNG Plant in Squamish territory, near Vancouver.
A brief survey of the geography and indigenous territorial boundaries of BC, juxtaposed with these respective challenges, reveals a far more perilous landscape for this industry to traverse than the rosy picture being painted in Victoria and on press junkets to Asia.
Whether you're a BC taxpayer about to commit massive public subsidies to this industry, or a board member or shareholder of a company contemplating investing the tens of billions of dollars required to build LNG infrastructure, it may be useful to know the real odds before laying a bet on BC LNG.
A tale of two nations: Hereditary vs. Elected
Understanding the discrepancy between the official story on First Nations' support for LNG and the emerging, contrary reality requires some sense of the different – often competing – systems of governance amongst BC's aboriginal communities.
Broadly speaking, there are two main forms of aboriginal government: elected and hereditary. The former is a product of the Indian Act – elected band councils which govern reserves created by the Crown. The latter is an ancestral system of  leadership made up of houses and clans – the specific makeup varying from nation to nation. Hereditary governments may also incorporate democratic elements – i.e. not strictly "hereditary" per our western concept of the term – whereby chiefs' names are passed on through decisions reached in the feast hall or by presiding chiefs or house groups.
Where these systems still exist, hereditary chiefs may hold jurisdiction over their nations' often vast, resource-rich traditional territories. The Canadian case law on this subject is relatively new and not well defined, but individual nations often have their own laws or internal protocol agreements on the subject of jurisdiction. Elected band councils, meanwhile, are responsible for the much smaller reserves which many First Nations inhabit today. Jurisdiction remains a contentious legal issue, specific to individual nations.  That said, a number of deals involving pipelines and energy terminals have been signed by elected councils, which is sewing conflict in some communities.
Gitxsan: Home of Delgamuukw
In Gitxsan territory – which covers some 53,000 square kilometers surrounding the mighty Skeena River in northwest BC – a rogue chief and head of the nation's treaty society (another entity which can hold considerable sway in aboriginal communities), Elmer Derrick, stoked a firestorm when he signed an unauthorized deal with Enbridge in 2011. Derrick and his cohorts were promptly evicted from the treaty office and the deal was torn up – by the very hereditary chiefs whose support he had erroneously claimed.
The hereditary system is deeply rooted in Gitxsan culture, as it is with their neighbours to the south, the Wet'suwet'en. These two nations together won the landmark Delgamuukw v. British Columbia case at the Supreme Court of Canada. Some of the same 48 hereditary chiefs who initiated the case in 1984 are still alive today, standing in the path of myriad proposed pipelines.
As this federal government summary of the case explains, Delgamuukw legally entrenched the existence of aboriginal title and rights contained in the country's constitution:
"Delgamuukw confirmed that common law Aboriginal title, recognized as a common law Aboriginal right prior to 1982, was "constitutionalized … in its full form" by section 35 of the Constitution Act, 1982 (par. 133)"
The ruling itself noted: "[A]boriginal title confers more than the right to engage in site-specific activities which are aspects of the practices, customs and traditions of distinctive aboriginal cultures…What aboriginal title confers is the right to the land itself." However, the court stopped short of confirming Gitxsan and Wet'suwet'en title, requiring a new case be brought to address that matter specifically.
The ripple effects of this decision continue to be felt today and weigh heavily upon the LNG issue.
Gixtsan chiefs evict TransCanada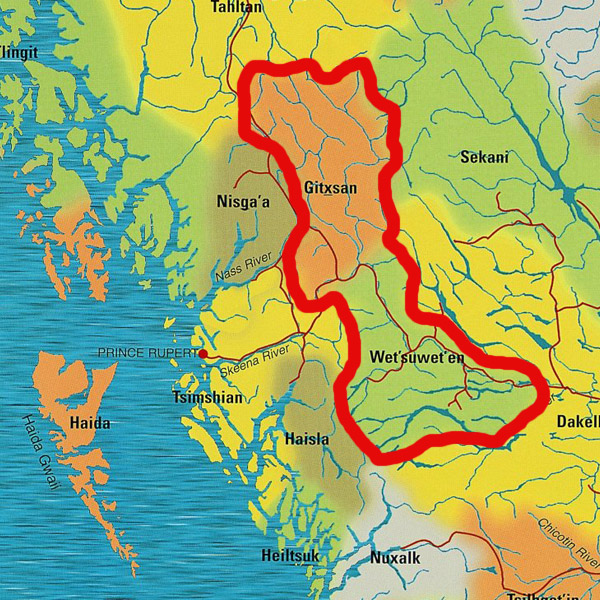 Take a look at the BC Government's map of First Nations territories. Now, draw a line around the neighbouring Gitxsan and Wet'suwet'en nations (pictured to the right). Note how they form a 500 km-long vertical wall, smack in the middle of every major pipeline route proposed across northern BC. Now you have a glimpse of the trouble awaiting these projects, were both nations to block their path.
And that is precisely what's taking root on the ground right now, though you wouldn't know it from Christy Clark's endless stream of LNG photo-ops touting First Nations' embrace of the industry.
In late March, Gitxsan Hereditary Chief Wa'a (Samson Muldoe) delivered a letter to TransCanada workers conducting test drilling in the Kispiox Valley, related to one of the two major pipelines being eyed to take fracked natural gas from northeast BC to Prince Rupert (see video below).
The letter, signed by a number of high-ranking hereditary chiefs, stated, "As rightful guardians of the territory on which this work is being carried out, this is to instruct TransCanada Pipelines and its contractors and representatives to cease and desist from this work immediately and to remove all their equipment, vehicles and personnel by the end of Tuesday, March 25th, 2014, and to not return thereafter."
To the point of governance and jurisdiction, the letter continued:
"We assert that the persons representing the Gitxsan Nation, with whom TransCanada Pipelines has been dealing to this point, do not have legitimate right to make decisions with regards to [the territory] where the work mentioned is now taking place – and that TransCanada Pipelines has thus failed to properly consult, as required pursuant to the Delgamuukw Supreme Court of Canada 1997 ruling."
The chiefs identified impacts on Skeena River salmon from pipelines, LNG terminals and potential fracking in the region as the prime motives for their action.
Petronas' magic trick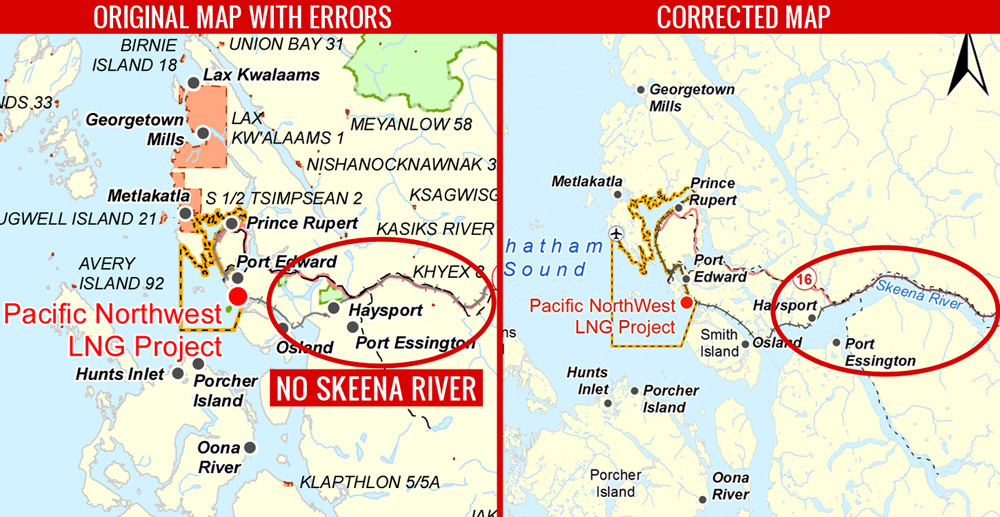 The issue is of particular sensitivity given pipeline owner Petronas/Progress Energy's attempt to erase the Skeena River and estuary from its project description maps (a story broken by The Common Sense Canadian last year). The uproar over the issue, combined with concern about the impacts of the proposed LNG plant on vital estuary habitat during the worst year on record for Skeena sockeye, forced a significant extension to the initial public comment period on the project.
The eviction order is a wake-up call for TransCanada and it should come as no surprise if Spectra Energy, the proponent of the other major pipeline to Prince Rupert, met with a similar notice from the chiefs.
Wet'suwet'en chiefs ban all pipelines
Meanhwhile, several hundred kilometers to the south, Wet'suwet'en hereditary chiefs banned all pipelines – including the proposed Enbridge pipeline and two major gas conduits – through their territory last summer.
Hereditary Chief Na'moks, leader of the Tsayu Clan, explained to me on camera last October that the heads of all five Wet'suwet'en clans had voted to ban all pipelines through their 22,000 square kilometer territory – with unmistakable resolve.
Like the Gitxsan chiefs, Na'moks raised fracking – the ultimate source of this gas – as a key concern in reaching their decision:
"When you're talking about fracking and the dangers that come with it – the waste of water, the poisoning of water, the waste of land…when we allow pipelines, we have to take that responsibility that we're supporting this industry to continue that. As Wet'suwet'en, we can't do that."
LNG means 50,000 new holes in the ground: geoscientist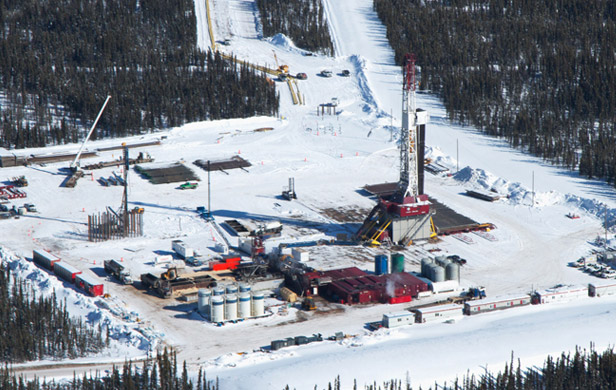 Why all the concern about fracking? Because, despite the oxymoronic "Clean LNG" label applied so liberally by the Clark government, the reality is the enormous volume of LNG exports already licenced by the National Energy Board would require the ramping up of environmentally damaging fracking to supply the feedstock – as much as a five-fold increase from present levels in the province.
According to the retired leader of the Geological Survey of Canada's national shale gas potential review, globally renowned geoscientist David Hughes, BC's LNG plans would require 50,000 new fracked wells by 2040 – double all the gas wells drilled in the 60-year history of the province's natural gas industry to date. This would result in the contamination of tens of billions of litres of fresh water every year – while the LNG and fracking program could very well more than double BC's entire carbon footprint! 
So these chiefs are right to be concerned about the implications of LNG plans in terms of increased fracking and environmental impacts.
Unist'ot'en Clan holds the line
At the end of a series of forest service roads west of the sawmill town of Houston, BC, lies a solar-powered cabin on the banks of the Morice River. It may soon become ground zero in the battle over BC's proposed pipelines.
There, members of one of the five Wet'suwet'en clans, the Unist'ot'en, have been strategically occupying their land – directly in the path of two gas pipelines and the Enbridge pipeline –  for several years now. Their position is simple: No pipelines will cross their territory, period. They've already evicted contractors doing survey work for one of the proposed pipelines, Chevron and Apache's Pacific Trails project.
I've visited the camp on two occasions – this past winter and in its early days in the summer of 2012 – for my forthcoming film Fractured Land. It's a beehive of activity, with supporters regularly joining the camp for weeks to assist with various chores, the construction of new facilities, and gathering and preparing food.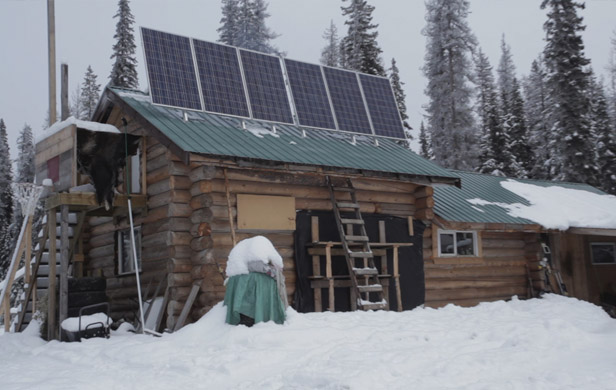 They work to feed themselves in a traditional manner from hunting, trapping and fishing, though one of the camp's leaders, who goes by the traditional name of Toghestiy, acknowledged to me on a tour of their trapline this winter that with diminished wildlife following years of logging in the region, they are forced to supplement their traditional diet with other food sources.
Though the group runs the risk of being characterized as militant radicals, that would appear, on closer inspection, to be a gross misunderstanding of their motives and philosophy. "We're not about a fight," camp regular Mel Bazil explained on our last trip. "I don't wake up thinking, 'Is the fight coming on today?'…We're prepared to protect ourselves, but we're more prepared to build with people a shared responsibility that we can really believe in – that will not occur from a board room or a government level."
Many of the camp's members are are schooled in both western universities and the traditional ways of their people, having left high-ranking jobs in aboriginal governance, social work and other fields to embrace a different way of life, in reaction to serious challenges facing their land and people.
"This planet is in trouble. If we can all agree upon that and not worry about how media and governments are spinning it, we really must all, as a people, take control of ourselves."
Injunction being sought?
Born into another Wet'suwet'en clan, Toghestiy is married to Freda Huson of the Unist'ot'en, the camp's frequent spokesperson. The pair were in Vancouver last week for an emergency press conference, after they caught wind of an alleged plan by government and industry officials to obtain an injunction against their camp.
When pressed by the Globe and Mail's Mark Hume, Chevron representative Gillian Robinson-Riddell denied seeking an injunction. She did, however, seem to acknowledge that the company has yet to secure the social licence it requires from First Nations to commit fully to the project financially:
"We're working toward a final investment decision but there are a few factors [that have to be confirmed] yet…We are looking for further First Nation support.
Video by Eric Doherty
Camp building broad support
The Unist'ot'en are currently running a crowd funding campaign to further build up their camp. With several weeks to go, they've nearly met their goal of $20,000 – evidence of the broad support their cause is attracting. From the looks of it, the group isn't going anywhere – certainly not without a Herculean effort on behalf of government, industry and law enforcement that could well backfire under public scrutiny.
Canada: The world is watching you
When I asked Ms. Huson what would happen if authorities tried to serve an injunction, she replied:
"Supporters would walk off their jobs and come join us. People from all over have said busloads would come to our camp." Others as far away as Ontario "would close highways" in sympathy.
"My message is: "Canada, the world is watching you."
I asked Ms. Huson what she would say to the elected chiefs who have signed LNG deals. "I would ask them, 'Have you done your homework?'" she replied. "Have you investigated how LNG plants affect the air and water; how you will affect not just your communities, but people upstream and downstream?…And what would your ancestors do?
More First Nations opposition brewing
In northeast BC, First Nations leaders have long worked to balance the natural gas industry's job benefits to their members with its environmental impacts. But with the shift from conventional gas to riskier fracking, change is in the wind.
Now, as they peer over the horizon at a massive build-up of fracking to feed these proposed LNG terminals, they are  increasingly expressing concern for the future. The Fort Nelson First Nation came out swinging in 2012 against 20 proposed long-term water licences for fracking in their territory, forcing the government to pull them off the table – with the exception of one, which is currently being litigated by the band.
In 2013, Chief Sharleen Gale and Lands Manager Lana Lowe co-penned an op-ed in The Globe and Mail, which stopped short of opposing the industry, but raised alarm bells over the implications of LNG for their territory – calling for increased environmental standards and royalty sharing to compensate their community. If anything, their estimate of future impacts was highly conservative, in light geoscientist David Hughes' figures and the Clark government's bullish outlook for building LNG plants:
"Should a modest number of LNG plants be built we anticipate at least 3,000 new wells will be drilled and fracked over the next decade. This will remove millions of tonnes of frack sand from our land, and trillions of litres of water from our rivers, unleashing a race for large-scale industrial frack sand mining and freshwater withdrawals…Industry has already proven unable or unwilling to stay within the generous water allocations provided to them for fracking."
Fort Nelson's Treaty 8 neighbours, in BC's Peace Valley Region to the south, have also expressed growing concern about the impacts of water withdrawals for fracking on the drought-stricken territory.
The final straw
Finally, in a surprise turn of events this week, Fort Nelson First Nation members, led by the strong words of Chief Gale, literally drummed out government and industry representatives from a conference the band was hosting on liquefied natural gas (LNG).
The 3-day conference, titled "Striking the Balance", was designed to discuss both the economic opportunities and potential environmental impacts of increased fracking in the nation's territory. But things got off on the wrong foot when the BC Liberal government made a surprise announcement on Tuesday that new sweet gas processing plants would be exempted from environmental assessment.
Chief Gale alluded to the betrayal in her comments from the podium at the event today:
"The word from my elders is you treat people kind. You treat them with respect even when they're stabbing you in the back…so I respectfully ask government to remove themselves from the room."
Several dozen government officials promptly arose and left, to the beating of Dene drummers. LNG and shale gas industry representatives were asked to stay behind for a few minutes to hear about the nation's concerns in greater detail, after which they too were dismissed. (see video here).
The message was received loud and clear by the Liberal government, as Energy Minister Mary Polak issued a swift, statement repealing the planned change to the province's environmental assessment laws.
"I would like to acknowledge First Nations concerns about amendments to the Reviewable Projects Regulation under the Environmental Assessment Act," stated Polak. "Our government apologizes for failing to discuss the amendment with First Nations prior to its approval."
Non-BC First Nations take hard line against fracking
Fracking faces increasing opposition from First Nations in other Canadian provinces too. The Council of Yukon First Nations – which represents the majority of aboriginal groups in the territory – imposed a ban of their own last year, on top of the Yukon Government's own, albeit temporary, moratorium.
Meanwhile, in Mi'kmaq territory last year, test drilling by American fracking company SWN Resources triggered a heated clash between Elsipogtog First Nation protestors and RCMP riot police. The incident sparked a wave of protests in sympathy, as far away as Vancouver. While the issue temporarily cooled off after SWN wrapped up its testing, it is sure to flare up again if and when they return to commence fracking.
As Common Sense Canadian contributor Kevin Logan asked last year, is Elsipogtog the spark that will light the fire of fracking protest amongst other First Nations in places like BC and Alberta? Fort Nelson Chief Gale and Lands Manager Lowe suggested as much in their Globe editorial at the time:
[quote]Sadly it has taken the images from New Brunswick over the past two weeks to raise the debate around "shale gas" to the national stage. It has taken Elsipogtog people being arrested, and images of burning vehicles to illuminate how raw the tension is between the indigenous peoples, and the federal and provincial governments around unchecked resource extraction…We feel particularly close to our relatives in New Brunswick. We share a connection through our treaties and our concern for the land, water and air and the future generations in the face of shale gas.[/quote]
BC LNG a risky bet
The BC Liberal government is banking on support for LNG from First Nations based on the jobs it is dangling before them – as bloated and unrealistic as these claims clearly are. Now-Minister of Natural Gas Development Rich Coleman told political pundit Vaughn Palmer in 2012, "One of the greatest outcomes for this would be that every First Nation young person coming through in the next ten years can get a trade or a job…in the LNG business."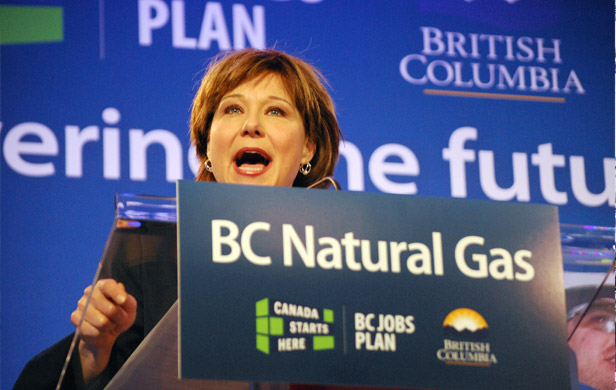 But in order for BC LNG's ship to set sail, it will require hundreds of billions of dollars in private capital – not to mention huge taxpayer subsidies. And there are already myriad signs that this boat won't float – from the government's difficulty in developing a long-delayed export tax regime, to the lack of a single major investment commitment from any proponent in the 8 or so years the industry has been brewing.
At some point, investors will be confronted with the fact that, on top of all the other risks associated with this incredibly costly and volatile industry, they face growing opposition from First Nations.
Even in the best of circumstances, LNG is a gamble. Given the odds facing BC's attempts to build an industry, I'd think long and hard before laying my chips on the table.
EDITOR'S NOTE: The passage on hereditary vs. elected governments has been updated since original publication to better reflect the nuances of this subject.