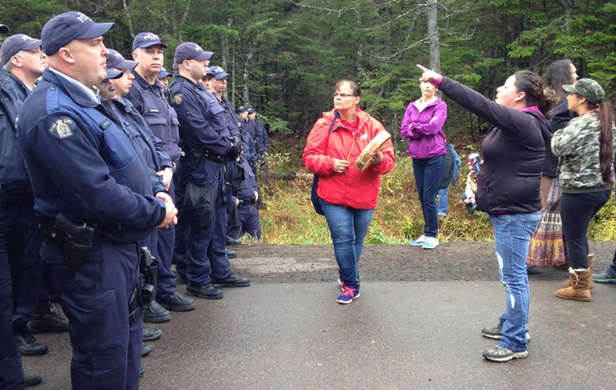 They may call themselves the Mi'kmaq Warrior Society, but from all indications, this group of indigenous peoples was leading a peaceful protest against fracking in their territory when a platoon of heavily-armed, camouflaged RCMP officers descended upon their camp in Rexton, New Brunswick, early this morning.
The officers were enforcing an injunction against a two-week-long blockade of shale gas exploration activities by a subsidiary of Houston-based Southwestern Energy. The injunction was sought by the company, with whom the government has explicitly declined to broker a stand-down. According to an RCMP statement, at least 40 arrests have been made, with "hundreds" of RCMP officers now on the scene, according to a Mi'kmaq witness.
Heavy-handed tactics
APTN has been reporting on the heavy-handed tactics deployed by the RCMP on the peaceful gathering – including the use of dogs and firing of rubber bullets at protestors from the trees surrounding the camp.
APTN reporter Ossie Michelin says she heard one of the officers shout:
[quote]Crown land belongs to the government, not to fucking natives.[/quote]
A former chief of the Elsipogtog First Nation who is acting as a liaison between protestors and police, Susan Levi-Peters, told the Globe and Mail by phone:
[quote]It is really very volatile. It's a head-to-head between the people and the RCMP right now and the Warriors are in the middle surrounded by the RCMP and then the RCMP are surrounded by the people…There are people who have been tasered.[/quote]
Not a criminal problem, but a political one
The RCMP, province and courts apparently fail to recognize that this is not a criminal matter (injunctions fall outside of the criminal code), but a political one. These Mi'kmaq peoples have identified a very real threat to their lands and waters from fracking and they aren't being meaningfully listened to by any of the above parties.
The clash comes on the heels of France's constitutional court ratifying a permanent national ban against fracking – and while neighbouring Quebec faces a NAFTA challenge from an American company over its moratorium on shale gas.
In BC, various First Nations are raising serious concerns over fracking and the proposed Liquefied Natural Gas (LNG) industry that it would feed. The Mi'kmaq are right to be wary of letting this industry in the door.
Government sitting on sidelines
And yet, any solution to this plainly political dilemma is being undermined by an American company, at whose behest the RCMP acted today, while the government sits on the sidelines.
During an emergency meeting last week between NB Premier David Alward and Elsipogtog First Nation Chief Arren Sock, Alward declined to ask the company to withdraw its injunction to allow time for a proposed government-nation working group to resolve the underlying issues that prompted the blockade.
According to APTN, "Alward said he would not be contacting the company to discuss the situation because the issue was out of his hands.
[quote]The government does not direct how an injunction or how a legal process takes place.[/quote]
A letter delivered to Southwestern Energy by a Texas environmental group on behalf of the Mi'kmaq Warrior Society failed to persuade the company to back down from serving the injunction this week.
"These attacks to our people's water source infringe on the integrity of our cultural resources and heritage in our region," the letter said. "Allowing further development violates our treaty rights to not only hunt, fish and gather…but our treaty right, Aboriginal right and title right to the land and water itself."
Another Oka?
There are still many unanswered questions about today's standoff, but it is clear that these legal and police tactics will only further inflame the situation.
Ms. Levi-Peters raised the spectre of Oka – the armed standoff between Mohawk protestors and Quebec police, RCMP and military that gave Canada a black eye on the world's stage.
[quote]It's Oka all over again and it's sad because we said all we need is public consultation…These Warrriors, they are not militant. They are youth and they have had enough.[/quote]
The blockade was being mounted with drums and feathers, Levi-Peters told the Globe and Mail, "and instead the government sent in the army on them."
Now, more than ever, there is a need for peaceful, rational dialogue around an industry that poses significant environmental, health and economic threats to Canada's indigenous peoples and citizens.
Premier Alward had the right idea establishing a working group to foster vital dialogue with Mi'kmaq leaders – but those good intentions have been severely undermined by the arcane, heavy-handed actions of an American fracking company and the RCMP.
[signoff1]