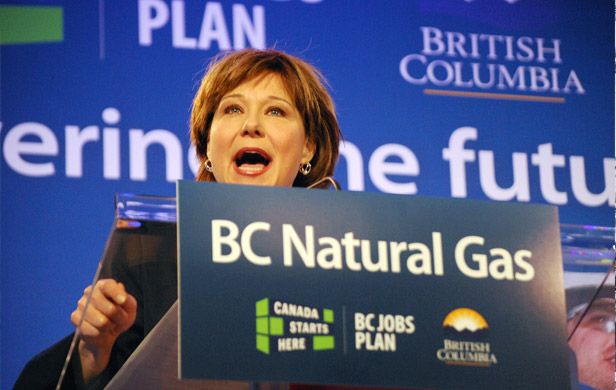 By Dirk Meissner, The Canadian Press
VICTORIA – The British Columbia government has moved to bring First Nations on board its much-anticipated multibillion-dollar liquefied natural gas boom.
Two north coast First Nations signed revenue-sharing agreements Wednesday with the government related to the development of a proposed liquefied natural gas export terminal on their traditional territories near Prince Rupert.
It's a deal that could be worth up to $15 million for the Metlakatla and Lax Kw'alaams nations.
Related Stories
Premier Christy Clark and leaders from the First Nations who participated in formal signing ceremonies at the legislature called the agreements — the first such connected to LNG — historic.
Clark said the revenue-sharing agreements signal her government's aims to include First Nations in the province's LNG development plans, which she says represent a generational opportunity that will rival Alberta's oilsands.
The First Nations' leaders said the achievement indicates willingness among some aboriginal groups to embrace some forms of resource development.
A majority of First Nations have opposed the proposed Northern Gateway pipeline project that would move Alberta oil products to B.C.'s coast for export to Asia.
The LNG revenue-sharing agreements were negotiated with the First Nations because their communities, located north of Prince Rupert, are close to a proposed Aurora LNG development at Grassy Point.
Aurora LNG is a proposed joint venture by Nexen Energy ULC (TSX:NXY), a wholly owned subsidiary of CNOOC Limited, INPEX Corporation and JGC Corporation.
"Agreements like this plant the seed for prosperity that lasts for generations," Clark said at the signing ceremony. "This kind of an opportunity, this kind of co-operation, the stability that this agreement represents today, between First Nations, between government and industry, is going to play a crucial role in creating the confidence that investors need to make sure that their final investments come to fruition."
By signing the agreements, the First Nations give their support and co-operation for prospective LNG development on their territory, she said.
Metlakatla Chief Harold Leighton said the status quo is no longer acceptable for First Nations who want to be part of development efforts in northwest B.C.
"Revenue sharing agreements related to Grassy Point are a good example of how things can happen when we approach LNG and other types of development in the spirit of partnership and co-operation," said Leighton. "We have an opportunity to build an economy and improve the social well-being of the Metlakatla and northwest."
The agreements with Metlakatla and Lax Kw'alaams involve sharing portions of B.C. government revenues related to the Grassy Point lands.
Clark has said government revenues from prospective LNG developments in the northwest could erase the province's debt, currently at more than $60 billion.
Earlier this year, the government unveiled a proposed LNG tax that could start at 1.5 per cent but rise to seven per cent.
The rate will rise once the plants recover the capital costs of building what are expected to be multibillion-dollar terminals that will super-cool natural gas into LNG for shipment to Asia. The first such plant could be in operation within four years.
There are about a dozen proposed LNG developments in B.C., but none has moved to the final investment-decision stage.