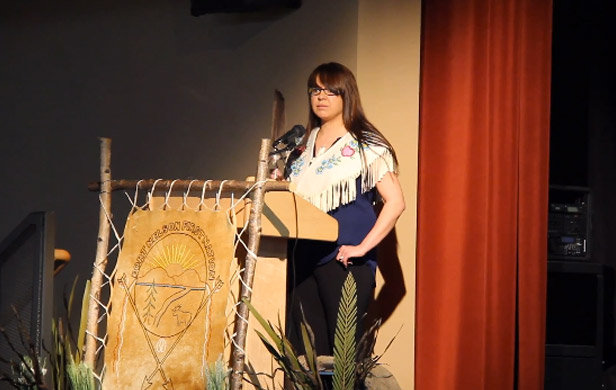 The Council of the Haida Nation (CHN) is vowing to support The Fort Nelson First Nation's tough stand on proposed Liquefied Natural Gas (LNG) development and the 600% increase in controversial shale gas fracking it would represent for their northeast BC territory.
According to The Northern View, a recent visit to Haida Gwaii by FNFN Chief Sharleen Gale was met with sympathy from the Haida audience. Gale was there to bring to light the upstream implications if CHN were to support the province's vision for LNG development, which would also mean significant tanker traffic through Haida waters.
The chief shook up the LNG debate several months ago when she put the BC Liberal government on notice that no development would proceed without proper consultation with her community (see video below).
Haida concerned about upstream impacts of LNG
CHN has been mulling its official position on LNG over the past year. The elected government of the Haisla Nation – across Hecate Strait from Haida Gwaii – has bought into the industry, forging partnerships for LNG terminals in Kitimat. The Haisla quit the Coastal First Nations alliance in 2012 over internal disagreement around LNG development.
Meanwhile, other First Nations along the proposed pipeline routes are opposing this development – many of them citing growing concerns about the upstream implications of these decisions, as support for LNG would mean vastly increased fracking in northeast BC to supply the feedstock.
CHN and other Coastal First Nations members have also been examining the potential impacts of the LNG industry on the coast – everything from air quality and climate issues to the impacts of tanker traffic and dumping bilge water in the marine environment.
Province's 'less-than honourable dealings'
According to The Northern View, CHN President Peter Lantin and Vice-president Trevor Russ have twice ventured to northeast BC to learn about the impacts of LNG development on Treaty 8 and Fort Nelson First Nation territories. 
"It would be irresponsible for us to take a position without understanding the effects on the people most affected," said Lantin following Chief Gale's speeches to CHN and public gatherings in Massett and Skidegate.
Added Russ:
[quote]Their story is of a people and landscape being overrun by natural gas exploration and extraction and less-than honourable dealings from the provincial government.[/quote]
Grand Chief Stewart Phillip, president of the Union of BC Indian Chiefs, went one step further at a recent town hall meeting on LNG at SFU's downtown Vancouver campus. "The economy of this province is being built on the destruction of the Northeast," said Phillip. "The pipelines that are being contemplated by LNG will further destroy the North."
No support for LNG until First Nations' concerns addressed
Following these Haida Gwaii meetings with Chief Gale, the Haida Nation decided not to take an official position supporting or opposing LNG "without ensuring that the interests of the people at the source of the LNG are taken care of," says The View.