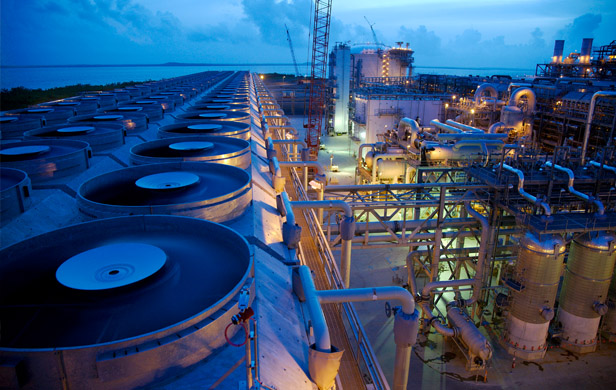 VANCOUVER – British Columbia Environment Ministry staff have warned their minister that the province's dreamed-of liquefied natural gas industry poses some big challenges with greenhouse gas emissions.
Internal briefing notes prepared for Environment Minister Mary Polak since she took office last year and obtained by The Canadian Press, single out methane emissions for concern.
On top of emissions from combustion and flaring of natural gas, methane and carbon dioxide escape during hydraulic fracturing process, or fracking, the documents said. One July briefing note warned:
[quote]Methane emissions are a particular concern since they have a global warming impact 21 times higher than carbon dioxide. A small increase in the percentage of natural gas that escapes can have a significant impact on overall emissions.[/quote]
At a meeting last November, staff warned Polak that the federal government has updated its formula for calculating greenhouse gas emissions and that alone will increase methane values by 20 per cent. The province will need to follow suit, members of the Climate Action Secretariat told Polak.
Premier Christy Clark says B.C. is poised to develop a trillion-dollar LNG industry.
But emissions remain a hurdle for the provinces, which has legislated targets for reductions. Legislation dictates that emissions are to be reduced by at least a third below 2007 levels by 2020.
Polak has also been told that while B.C. estimates that between 0.3 and three per cent of natural gas extracted is lost as fugitive methane emissions, other North American jurisdictions and scientific literature estimate that rate is between seven and eight per cent.
The U.S. National Oceanic and Atmospheric Administration estimates between four and nine per cent is lost.
However, in B.C. regulations are significantly different, the briefing notes pointed out. Because B.C. gas contains toxic hydrogen sulfide, leaks are more tightly regulated.
The province's Climate Action Secretariat and Natural Gas Development Ministry are working with the Canadian Association of Petroleum Producers to test technology to curb emissions, said the internal documents.
"Though significant, this work does not address concerns about potential fracking-related emissions from geological formations, poor cement casing or produced water storage tanks," said the briefing prepared last July.
Polak declined a request for an interview.  In an emailed statement to The Canadian Press, the ministry said:
[quote]Based on academic research and work in the United States, there is concern that fugitive or unplanned emissions from oil and gas facilities are higher than currently reported in B.C.[/quote]
The federal government has updated its greenhouse gas emissions formula and the province "is examining" when to update its own regulations, it said.
The Climate Action Secretariat is working with the association and industry to find ways to reduce emissions and "ensure emissions levels are properly understood," it said.
They've initiated a joint study of emissions levels and, as a result of updated information, the province has removed an outdated metering requirement, the statement said.
"International greenhouse gas (GHG) accounting and measurement practices are changing as research and the understanding of science evolves," the ministry said.
B.C. has been underestimating the impact of methane, said Tom Pedersen, executive director of the Pacific Institute for Climate Solutions, a collaboration between the University of Victoria, Simon Fraser University, the University of British Columbia and the University of Northern British Columbia.
But provincial officials are very aware of the challenges, he said.
[quote]This is not something that they are trying to sweep under the rug. They are concerned about it and they are trying to put in place appropriate regulations to deal with it.[/quote]
That will require intensive monitoring and enforcement of regulations, he said.
"At the same time, one does have to be realistic about this, there is pushback from industry. They would prefer not to have regulations of course."