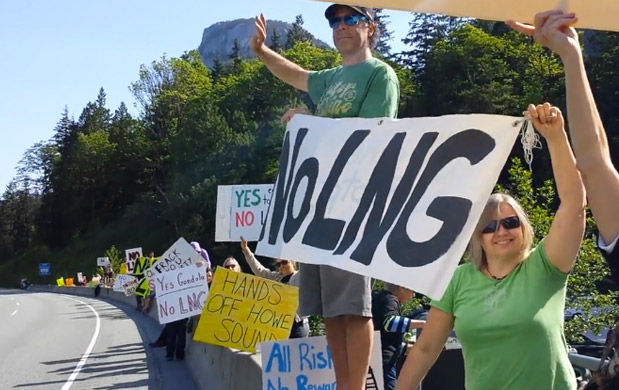 The BC Environmental Assessment Office is now open for public comment on the proposed Woodfibre LNG project near Squamish, BC. The comment period, which includes an open house session in Squamish on June 18, will run for 30 days (more info here).
The project, designed to cool and export gas from BC to Asian markets where prices are currently higher, would be built on the 212-acre site of an old pulp mill at the head of Howe Sound. It is part of conglomerate of companies under the Pacific Oil & Gas Ltd. banner, controlled by Indonesian magnate Sukanto Tonato.
BC LNG's 'Trojan Horse'?
With a 25-year licence to export 280 million cubic feet of gas per day, which the proponent received last December, Woodfibre is on the smaller end of proposed LNG projects in BC. Because of its size and a decision to power the plant with hydroelectricity instead of burning some of its own gas, the project is being held up as a positive example of the proposed industry for BC.
But the BC Tapwater Alliance's Will Koop sounds a cautionary note:
[quote]Woodfibre is the Trojan Horse of BC LNG – the project Premier Clark is using to open the door to a much larger industry in the province.[/quote]
No small footprint
Its environmental impacts would also be significant – from local marine pollution to noise and light pollution for residents, not to mention the impacts of increased fracking in northeast BC to provide the feedstock for the plant.
And despite the effort to minimize carbon emissions from the plant, the considerable energy requirements for cooling gas into liquid will add pressure to develop several local private river diversion projects, which have been shown to cause significant damage to fish populations.
Howe Sound faces industrial onslaught
Moreover, the proposed LNG plant and hydro projects are just two among a wide range of industrial projects that threaten the ecology, tourism, and recreational values of Howe Sound – including a proposed gravel mine at nearby McNab Creek, a waste incinerator at Port Mellon, a 4,000 home development at Brittania Beach, and Fortsis BC's $350 million Eagle Mountain gas pipeline expansion to supply the Woodfibre plant.
As The Common Sense Canadian's Rafe Mair, a resident of Howe Sound's Lions Bay, recently remarked:
[quote]A revitalization program – partly official, mostly just people taking care – has brought Howe Sound back, not quite to where it was when I was a boy, but considerably back to where it  should be. Herring came back, salmon increased, Orcas abound and humpback whales have appeared for the first time in years. The fishing industry has restarted. This, unfortunately, was not to last. Industry has reappeared, big-time.[/quote]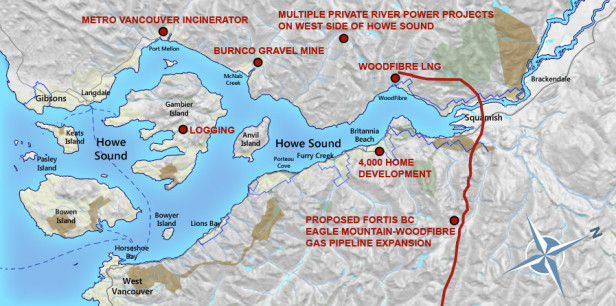 Woodfibre threatens sustainable economic alternatives
All this proposed industrial development – and specifically the $1.7 Billion Woodfibre LNG project – raises concerns amongst local residents like Tracey Saxby that the region's sustainable tourism and other modern industries will be pushed out, just as they're gaining real momentum.
[signoff3]
Representing local citizen group My Sea to Sky at a recent summit on LNG at SFU's Habour Centre campus, Saxby told the crowd of 250, "Squamish is such a special place and this is such an exciting time to be there. It's a community in transition from the old way – the extraction and resource-based industries – to a new economy that has a broader economic base and more diverse and resilient economic base," Saxby explained, noting the various new industries being developed in the community – from academia to the emerging recreation technology sector, to enticing entrepreneurs with the region's spectacular wilderness.
[quote]These things make sense. LNG does not.
[/quote]
Proponent promises 100 jobs
For its part, the proponent is promising 600 jobs during the construction phase and 100 long-term jobs operating the plant, which it is aiming to have up and running by 2017, assuming it secures its environmental permits.
At a recent conference on LNG which her government hosted, Premier Clark and other government spokespeople hinted that Woodfibre is expected to be the first LNG project completed in the province.
Submitting feedback
Comments can be submitted by online form, by mail, or by fax – see details here. The open house takes place on June 18 from 5-8 pm at the Executive Suites Hotel (40900 Tantalus Road, Squamish, BC).
I will also be speaking on the project and LNG development in general alongside the Wilderness Committee's Eoin Madden at an event hosted by My Sea to Sky on Sunday, June 27 (details here).