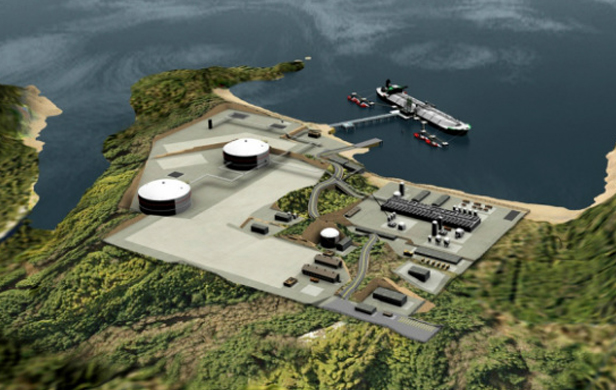 VICTORIA – The B.C. government will spend $650,000 to study potential air pollution impacts of proposed industrial developments — including liquefied natural gas plants — in the Kitimat area, a decision opposition politicians and scientists are calling better-late-than-never.
The Liberals said Thursday the Kitimat Air Shed Impact Assessment Project aims to examine the cumulative air pollution effects of existing and proposed industrial air emissions in the so-called Kitimat air shed area, a long, thin, tunnel-like valley with mountains on either side.
The study will forecast the ability of Kitimat's air shed — which is smaller, but similar in shape to the air shed that runs from Vancouver to Chilliwack in the Fraser Valley — to handle emissions from the existing Rio Tinto Alcan aluminum smelter, three proposed liquefied natural gas terminals, a proposed oil refinery and a crude-oil export facility.
The study will also consider the impact of emissions from gas-turbine powered electrical generation facilities used to create LNG and focus on the sulphur dioxide and nitrogen dioxide emissions from these facilities.
UBC prof: study too rushed
LNG plants require huge amounts of electricity and the companies appear to be looking to generate power by burning natural gas.
Prof. Douw Steyn at the University of B.C.'s earth, oceans and atmospheric sciences department, said the decision to study the ability of Kitimat's air shed to handle potential air pollution from industrial development makes sense from business, social and environmental perspectives.
Steyn said earlier this year that business, government and the community all need to have a better idea of the area's environmental capabilities before massive development occurs.
He said the study is much needed, but he is concerned the March 2014 deadline is too short.
"I think six months is screamingly fast for that," Steyn said Thursday.
[quote]I can understand why they want it. The big question is: 'Is that timeline being driven by the cause of industry or by prudent science.'[/quote]
The government said conclusions from the study will be used to inform environmental assessment work and regulatory decisions in the Kitimat area. A government-hired contractor is set to start collecting surface water and soil samples next week for analysis.
Kitimat prone to air pollution issues
Steyn said light winds and the long, narrow shape of the surrounding Kitimat area makes it prone to holding air for long periods, which could create pollution problems.
"It is trapped both by the topography, the valley that it's in, all the way up from Kitimat to Terrace, down through the Douglas Channel," he said. "It's very restrictive, very tall, with flowing light winds."
Opposition New Democrat natural gas critic Robin Austin, who represents the Kitimat-Terrace area, said the government air shed study should have been undertaken long ago, but at least it's happening now. He said area residents want a better understanding of potential environmental impacts associated with the projects.
"Clearly, they need to examine our air shed and come up with what is the best solution," he said. "How much can the air shed hold? So, I'm glad they are doing this ahead of any of the companies coming to a final investment decision."
BC LNG could be far dirtier than other jurisdictions
Green Party MLA Andrew Weaver, who is also a climate scientist, said the government is taking a responsible approach by conducting the assessment before any major development occurs.
"Doing this all at once is a really wise idea," he said.
Premier Christy Clark has pledged to develop the world's cleanest LNG, an industry that she has touted will represent a trillion-dollar economic opportunity and will create 100,000 jobs for British Columbians.
Last month, Clean Energy Canada, an affiliate of Tides Canada, issued a report that warned natural gas-fuelled LNG operations in B.C. could emit more than three-times the carbon emissions produced at other plants around the world.