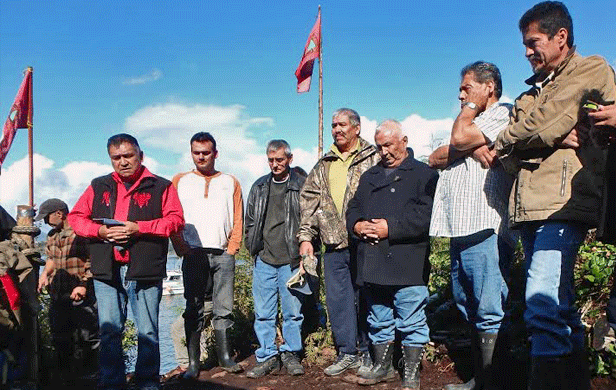 A letter written by Lax Kw'alaams Hereditary Chief Yahaan (Donnie Wesley), calling on Prime Minister Justin Trudeau to reject Petronas' controversial LNG proposal near Prince Rupert, has gained a long list of unlikely, high-profile supporters.
The signatories include over 70 leaders of First Nations, environmental organizations, businesses, unions, university groups and faith groups, plus several scientists and academics such as David Suzuki and Wade Davis. Amongst the notable First Nations leaders are Garry Reece, Chief Councillor of the Lax Kw'alaams Band Council, Grand Chief Stewart Phillip, President of the Union of BC Indian Chiefs, Chief Na'Moks (John Ridsdale) of the Office of the Wet'suwet'en Hereditary Chiefs, and Fort Nelson First Nation Chief Liz Logan.
Federal decision expected soon
The plea comes in advance of a decision on the project's federal environmental permits, expected in early 2016 or sooner – following several delays. By contrast, the BC government has already enthusiastically signed off on the project, but without the support of local First Nations, who rejected the government and proponent's offer of some $1.15 billion in economic benefits and a significant grant of crown land.
Since then, hereditary leaders of Lax Kw'alaams and their supporters have been occupying Lelu Island in defiance of test drilling and exploratory work by contractors for the proponent. This has led to increasing tensions between First Nations and the Port Authority, which claims jurisdiction over the test work.
"The people of Lax Kw'alaams have unanimously voted 'No' against the project because of devastation it would cause to Flora Banks," said Chief Yahaan on the occupation."
[quote]It's a habitat for juvenile migrating salmon, crabs, eulachon, halibut…We are here and we're telling the people of Canada and British Columbia that we're not giving up Flora Banks.[/quote]
"Lelu Island is part of the Yahaan's tribal territory of the Gitwilgyoots," according to a media release on today's letter.
Watershed moment for LNG opposition
The letter could signal a watershed moment in the growing movement against LNG development and the fracking that would supply it with fuel. "This is the first time that such widespread and unprecedented agreement has been reached in BC on LNG", said Greg Horne of the Skeena Watershed Conservation Coalition. "From every corner of the province, we are all in agreement that Lelu Island and Flora Banks is the worst possible spot on the north coast to site an LNG facility".
Whereas projects like the Enbridge Northern Gateway pipeline and Kinder Morgan's TransMountain project have seen strong, clear resistance from early on – especially amongst First Nations – LNG has proven a more complex issue. The combination of economic benefits offered to communities and the perception that LNG is somehow less dangerous environmentally than Tar Sands bitumen has meant that traditional oil and gas opponents were slower to take on the Clark government's LNG vision. But that has changed over the past year, as more groups have connected the dots between fracking in northeast BC and the LNG industry; while the enormous climate impacts of the industry have begun to become clear.
Meanwhile, risks to marine habitat and wild salmon from LNG terminals have sparked a backlash amongst coastal nations and communities along the proposed pipeline routes, where several resistance camps have emerged in recent years.
"Of all the thousands of miles of coastline, they chose the one location most critical for Skeena salmon", said Des Nobels, Northern Outreach Coordinator, T. Buck Suzuki Environmental Foundation. A separate letter from the United Fisherman and Allied Workers Union (UFAWU) and environmental groups emphasizes the same point to the new PM:
[quote]We urge you to reject this project outright because mitigation will not be possible. The importance of this specific site is long standing common knowledge in the scientific community.[/quote]
Even if it receives its federal permits, Petronas faces un uphill battle to get its project built – including potential court challenges from First Nations and a rapidly cooling global market for LNG – which led a leading Malaysian business publication to predict the project would be put on hold for a number of years.