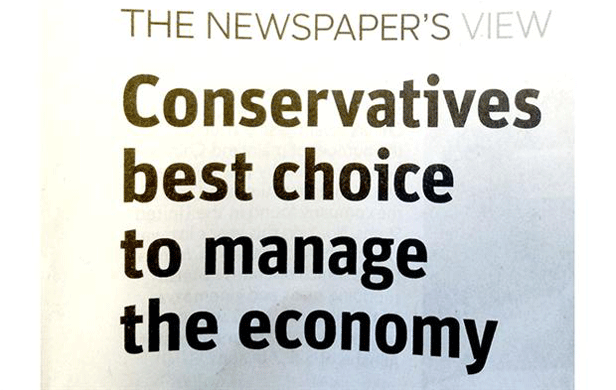 Rafe Mair here – may I have your attention for a moment?
When you're advised how to vote, common sense tells you to ask whether or not this is advice comes from a bias based upon strong personal financial commitments.
The Vancouver Sun and Province,  both wholly owned by Postmedia, have declared that we should vote for Stephen Harper for economic reasons. Their cousin, the National Post followed suit in a last-minute Conservative endorsement today. It's therefore critical that we understand where these papers are coming from.
Newspaper editorials are written by an editor on instructions from the Publisher. Postmedia has a huge commitment in this election, creating an enormous conflict of interest, thus cannot possibly be seen as remotely independent.
I have carefully documented this conflict in the Common Sense Canadian and those articles are freely available in these pages.
The fact is that the Vancouver Province is an official partner with an outfit called Resource Works, an organization dedicated to getting approval for an LNG plant in Squamish at the head of Howe Sound.
More than that, Postmedia's flagship paper, the National Post, is on the public record as supporting the fossil fuel industry without reservation.
In sum, the owners of the Sun, the Province and the National Post are not, as they allege, independent journalists, giving you their considered, unbiased opinion, but publicly committed shills for the Canadian Association of Petroleum Producers (CAPP), Woodfibre LNG (run by a big-time tax evader) and the development of fossil fuels in such manner as industry wishes.
The Canadian voter, in my respectful opinion, would be wise to bear this in mind when considering the editorial opinion of any paper owned by Postmedia, specifically the Vancouver Sun, the Province, and the National Post – all of which circulate in British Columbia.