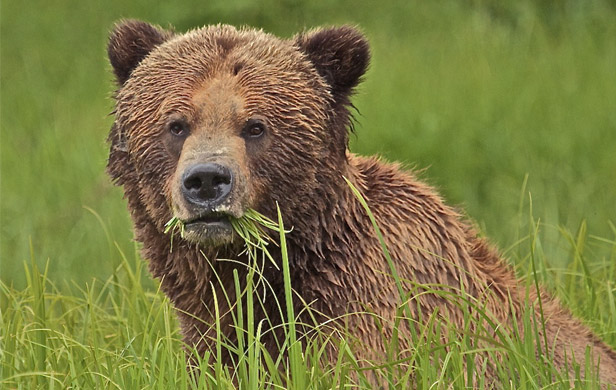 A new study on trophy hunting in BC's Great Bear Rainforest found that bear-related ecotourism generates "12 times more in visitor spending than bear hunting and over 11 times in direct revenue for BC's provincial government." The study, from the Centre for Responsible Travel (CREST), also found that bear viewing companies create roughly 50 times as many jobs as do bear hunting guide outfitters in the same region (510 vs. 11 in 2012).
In other words, conservation pays. That should be common sense. A bear shot by a camera instead of a rifle lives another day, providing further economic opportunities. Naturally, bears have their own reasons for living – and there are many other strong reasons to ban trophy hunting in BC – but since politics seems to be all about money and jobs these days, it's a point worth considering, and one which applies far beyond bear viewing.
Tourism worth far more than pipelines to BC
Though you'd hardly know it from listening to Christy Clark or Stephen Harper, tourism is the cornerstone of BC's economy, at a value of $13.4 Billion a year. Critical to the larger toursim sector is the billion-dollar wilderness tourism industry and "Super, Natural BC" brand upon which it is rests. So when you hear about oil and gas pipelines, terminals and tankers and the short-term jobs they will provide British Columbians (Enbridge would offer just 78 direct, permanent jobs in BC), consider the potential trade-offs they carry in the damage a single spill would wreak upon that brand.
Kayaking more valuable than logging
Another example of the economic value of conservation lies in a proposal to log 60 hectares near Boat Bay on West Carcroft Island. The logging would destroy kayaking values in a world-famous orca haven in nearby Robson Bight. The kayaking company operating there did some math to determine which form of mutually exclusive economic development was of greater value to the local economy. As Ray Grigg described in a story last year:
[quote]It calculated that the economic value of the 60 hectares of timber to be logged was $3,600,000. Since the regeneration cycle meant the area could be cut only once every 60 years, the yearly economic value of the timber was $60,000. The economic value to the kayaking company, however, was $416,000 per year, or $24,960,000 for the same 60 year period.[/quote]
The kayaking operation would provide 20,160 person-days of employment versus just 300 person-days from logging. "And this simple economic analysis didn't include the employment and earnings for the 40 other ecotourism businesses using the same area," Grigg continued. "These calculations suggest that logging, when it is in conflict with high-use ecotourism areas, is economically and socially indefensible."
Sport fishing trumps salmon farms
The same lesson can be applied to managing our salmon economy. The health of wild salmon is jeopardized by the impacts of open-net-pen salmon farms. Yet these farms provide just 800 direct jobs – with most of the profits of the 90% Norwegian-owned industry leaving BC – compared with 8,400 jobs from local sport fishing, which also contributes more than 5 times more to BC's GDP. Revenues for sport fishing in  2011 were close to a billion dollars, but salmon farms are given priority over wild fish by regulators. More than that, they receive huge taxpayer subsidies for their fish that die from disease.
Conserving what precious little nature we have left in BC – in the world, for that matter – is about far more than dollars and cents. But, for what it's worth, let us not forget that the principles of sustainability and conservation often apply as much to the economy as they do to the environment.