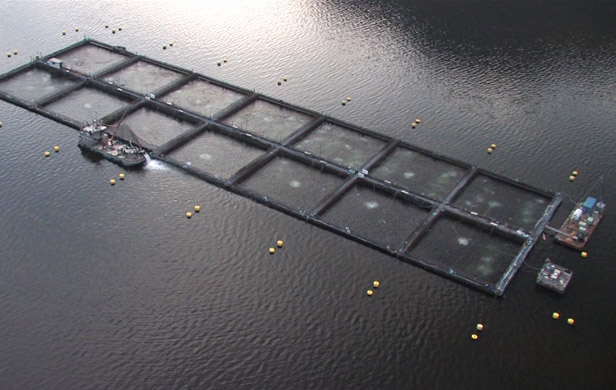 The only thing keeping a number of Norwegian salmon farms afloat in Canada is the hundreds of millions of dollars they net from taxpayers when their fish die of disease.
You might think the multi-billion dollar fish farm industry was a licence to print money. You'd be almost right, but not for the reason you might think. Norwegian aquaculture giants Marine Harvest, Cermaq Mainstream and Grieg Seafood comprise 90% of BC's farmed salmon industry and Marine Harvest operates in 22 countries. What you don't know is that taxpayers, meaning you and me, pay big money to them when their fish get diseases and have to be slaughtered.
Food safety regulator's fishy business
Once the Canadian Food Inspection Agency detects a reportable disease, it issues a slaughter order and the fish are destroyed. Then the CFIA sends a very large cheque to the fish farm. This taxpayer cheque compensates them for disposable items like infected nets, cost of transport and offloading, cost of sequestering diseased carcasses in perpetuity, and disinfecting all other items that came in contact with the fish, including the boat that transported them. In addition to all this, the commonly accepted extra payment for each fish is up to $30. This figure really comprises an average payment because of all the other costs mentioned.
You'd think the fish farms would have insurance for losses, but my conversations with a marine insurer tell me they have difficulty getting insurance because they lose so many 'crops' to – wait for it – disease. So why are we, the Canadian taxpayer paying these foreign, multi-billion dollar corporations?
Industry loses up to a half of its fish to disease
Fish farms like to say their fish get diseases from wild salmon because the latter don't get sick, as if that's a justification for cash. Not so. A recent PHD dissertation from Norway showed that the problem with farmed fish is that they are stressed – the cages are overcrowded. This results in high output of the stress hormone cortisol and that weakens immune systems in farmed fish, thus they get disease. They actually change benign viruses into infectious killers.
How much product is lost to disease? One third to one half of all aquaculture products in the world are lost to disease every year, some $35 – $49 Billion (1). I started a Freedom of Information request to the CFIA and DFO to find out just how much we taxpayers in Canada pay to these billion dollar foreign corporations. I have been waiting 10 months now with no answer, so, let me give you a reasonable estimate.
Some fish farms only make money when their fish die
Overall, my expectation is that the cross-Canada disease total will come in at several hundred million taxpayer dollars over the past decade for BC, NS, NB and recently NL. Here in BC, Cermaq Mainstream's Dixon Point and Millar Channel 2012 IHN slaughters would have paid them, in my estimate, about $35 Million of our cash. That's so much money that it moved this boom/bust business into positive earnings before interest and taxes (i.e., EBIT), when it lost money the year before – and only made money this year because of having disease. They've had a decade of problems before.
See fis.com on November 8, 2013:
[quote]Mainstream Canada reported an EBIT pre fair value and non-recurring items of NOK 43 million, an improvement from a loss of NOK 26 million the previous year, even though volumes sold declined from 5,600 tons to 4,400 tons. EBIT per kilo was 9.6 NOK. Good prices in the North American market and the IHN outbreak last year are the main factors behind the improved result.(2)[/quote]
So Mainstream lost money when they didn't have disease and made money when they did have disease – because you and I paid them. And they shipped far less fish, even though a third farm, Bawden Point, posted a weak positive for IHN – they were quickly harvested and sent to humans to eat. This should not be the case. Do complain, as I did, to Gail Shea, Minister of DFO (Min@dfo-mpo.gc.ca).
Fish Farms reel in another $400 million in Canadian subsidies
On another aquaculture front, you may be even more unhappy to know Shea announced $400 Million in gifts to the aquaculture sector in Canada last week.  That's a lot of dead, diseased fish. I have asked her for $400 million be given to the commercial, sport and processing sectors in BC that provide 600% more in contribution to gross provincial product than fish farms. I'll let you know.
Fish, profits turn to mush
And fish farms in BC have been losing money. Mainstream lost money in 2012. Marine Harvest has lost money in the last few years, too, largely due to Kudoa, a fungal disease that cost them $12,000,000 in 2012 – and just prior, in 2011, things were so bad they laid off 60 employees – right before Christmas. Nice guys.
Kudoa results in myoliquifaction that makes farmed fish into mush. Would you buy salmon you had to put in a container with a spoon?
Grieg losing money, drowning sea lions
Oh, and then there is Grieg. They got IHN too, last year, in their Cullodon site in Sechelt. Fortunately, we did not have to pay for that as well. Grieg is also the company that had to pay a fine of $100,000 for drowning 65 – 75 sea lions in their Skuna Bay nets in 2010 – they tarted up that site to sell to the unsuspecting in the USA as environmentally-sustainable, organic farmed salmon. Where is PETA when you need them?
Grieg has also been losing money:
[quote]In Canada, the company cut losses, with a negative ebit [sic] before fair value adjustment of the biomass of NOK 2.71/kg, compared to a loss of NOK 8.22/kg in the same quarter of 2012.[/quote]
And the kicker? Cermaq is owned 59.2% by the government and thus the people of Norway. Why do we give another government our money for their killing our fish in our ocean rather than raising their fish on land in closed containers? This does not make sense.
Ask Shea for BC's $400 million. We can spend it on habitat restoration, something DFO has been sadly remiss about in BC for decades. This year's total DFO habitat projects for BC is a measly $900,000, only 2.6% of our own money Ottawa sent to diseased fish farms in BC.
  1.
View Powerpoint – LABORATORY ISSUES – AQUATIC ANIMAL DISEASE, DIAGNOSIS AND GLOBAL TRENDS
by Dr. Fred Kibenge   2. Mainstream did a write down of Dixon Bay for $4.5 Mil for biomass insurance purposes. Millar Channel is the other farm slaughtered.