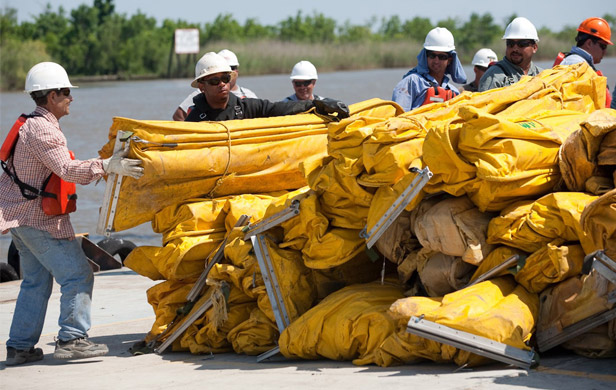 By Stacey Plaisance And Kevin McGill, The Associated Press
CHALMETTE, La. – When a BP oil well began gushing crude into the Gulf of Mexico four years ago, fisherman George Barisich used his boat to help clean up the millions of gallons of spew that would become the worst offshore spill in U.S. history.
Like so many Gulf Coast residents who pitched in after the April 20, 2010, explosion of the Deepwater Horizon rig, Barisich was motivated by a desire to help and a need to make money — the oil had eviscerated his livelihood.
Today he regrets that decision, and worries his life has been permanently altered. Barisich, 58, says respiratory problems he developed during the cleanup turned into pneumonia and that his health has never been the same:
[quote]After that, I found out that I couldn't run. I couldn't exert past a walk.[/quote]
His doctor declined comment.
Medical settlement reached with BP
Barisich is among thousands considering claims under a medical settlement BP reached with cleanup workers and coastal residents. The settlement, which could benefit an estimated 200,000 people, received final approval in February from a federal court. It establishes set amounts of money — up to $60,700 in some cases — to cover costs of various ailments for those who can document that they worked the spill and developed related illnesses, such as respiratory problems and skin conditions.
It also provides for regular physical examinations every three years for up to 21 years, and it reserves a worker's right to sue BP over conditions that develop down the road, if the worker believes he or she can prove a connection to the spill.
Clean-up workers participate in massive, long-term health study
Some 33,000 people, including Barisich, are participating in a massive federal study that aims to determine any short or possible long-term health effects related to the spill.
"We know from … research that's been done on other oil spills, that people one to two years after … had respiratory symptoms and changes in their lung function, and then after a couple of years people start to return to normal," said Dr. Dale Sandler, who heads the study overseen by the National Institutes of Environmental Health Sciences, an arm of the National Institutes of Health.
[quote]What nobody's ever done is ask the question: Well, after five years or 10 years are people more likely to develop heart disease, or are they more likely to get cancer? And I'm sure that's what people who experienced this oil spill are worried about.[/quote]
Sandler planned to discuss some early findings Friday during a midday news conference.
The study is funded by NIH, which received a $10 million award from London-based BP, part of $500 million the oil giant has committed to spend over 10 years for environmental and health research.
Researchers compiled a list of 100,000 candidates, drawn from sources including rosters of mandatory safety classes that cleanup crews attended and from records of people who were issued badges permitting access to oiled areas.
They reached about 33,000 for interviews; and 11,000 of them agreed to physical examinations that include blood and blood pressure tests and measurements of lung function. Water and air samples taken during the spill also will be used to attempt to pinpoint how much exposure workers may have had to toxic substances.
Proving correlation is a challenge
Sandler emphasized that making any direct correlation between health concerns and the spill could prove challenging because many of the workers held other jobs that put them in contact with oil. Some worked with boat engines, did regular hazard mediation work or worked at chemical plants. Many also are smokers.
The researchers will try to account for smoking or other factors that could ruin health, and narrow in on problems tied to spill exposure. They plan to monitor the health of study participants for at least 10 to 15 years.
Aside from physical health, Sandler also is interested in knowing whether chemical exposure, in addition to the stress of working the spill, might have contributed to any mental health problems.
"We're not in a position to say that yet," she said.
Money will never replace quality of life
Fisherman and former cleanup worker Bert Ducote says he knows the physical and emotional pain. Ducote said dozens of boils have turned up on his neck, back and stomach since the spill — and he theorizes, though shared no medical records that could prove, that his problems stem from the cleanup.
Ducote said he spent months handling the boom used to corral oil. Even with protective gear and rubber boots, he said his shirt often got wet with the combination of crude oil, sea water and chemical dispersant. Ducote, like Barisich, said he is filing a claim under the medical settlement.
"That has been a disaster in our lives," said Ducote, from the town of Meraux, in coastal St. Bernard Parish.
[quote]The little amount of money they're trying to give us, it's never going to replace our quality of life, our health.[/quote]
BP claims settlement was fair
In response, BP points to language in U.S. District Judge Carl Barbier's order approving the medical settlement. Barbier noted that both sides said the settlement was a fair and reasonable alternative to litigation, and that fewer than 100 of 200,000 potential class members objected.
BP also lists numerous steps it took after the disaster to protect workers' health, including protective clothing and safety classes.
Cleanup workers who faced possible contact with oil and dispersants were "provided safety training and appropriate personal protective equipment, and were monitored by federal agencies and BP to measure potential exposure levels and help ensure compliance with established safety procedures," BP said in an email to The Associated Press.
Many clean-up workers lacked protective gear
Not all used that equipment, however. Dr. Edward Trapido, a cancer specialist and the lead researcher on a study of cleanup crews and their families that is underway at the Louisiana State University Health Sciences Center, said many worked without the protective clothing because of sweltering heat.
Trapido said results of the long-term health studies could help improve response to future oil spills and other disasters.
"Oil is not going away, and whatever kind of energy it is — whether it's nuclear, whether it's coal or oil — all of these have had problems in recent years where people get exposed to it," Trapido said.