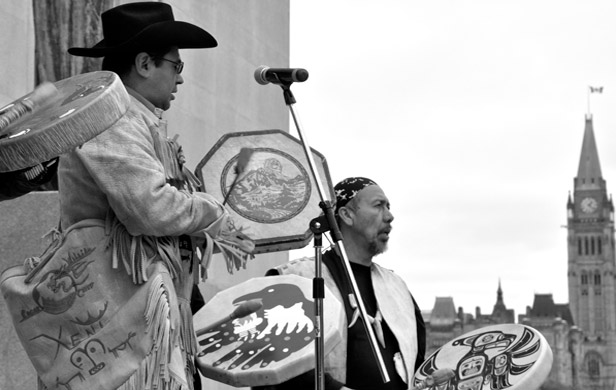 The Tsilhqot'in First Nation's Roger Williams case victory settles the question once and for all: there is aboriginal title, it is effective, and it can be enforced by aboriginal peoples.
This is a long way from where the law was 25 years ago and for many people that will take some getting used to. No doubt there will be gnashing of teeth and suggestions that perhaps Parliament should change this. Forget it – get used to it – Parliament has no such power as this was a Supreme Court of Canada interpretation of Canada's Constitution. The only way it can be changed is by a constitutional change and that simply is not going to happen.
There are unanswered questions, of course. What about other aboriginal claims than the ones ruled upon here?
[quote]Canadians are going to have to adjust their attitudes. This is now the law, not some speculative, temporary rule.[/quote]
Decision makes it easier to assert aboriginal title
Each of those of course stands on its own merits. What this case does, however, is make it much easier for aboriginal communities to prove that they are entitled to the land. No longer must they show continuous habitation from ancient times – the fact that they can show a usage going back a reasonable period of time is enough. There will be arguments, of course, but I think one can understand, finally, that the Supreme Court of Canada is going to tend its judgments towards First Nations.
The question, of course, is what will this mean to development in British Columbia. Does this mean that hereafter we become a barren land where no development takes place?
The answer is, of course, no. Aboriginal peoples are going to favour development in certain areas, consistent with their laws and customs. There will continue to be logging, mining, etc., but it will be on entirely new terms. It also will be far more environmentally sensitive.
Enbridge, Kinder Morgan face uphill battle
What this is going to mean, of course, Is the laws of the province and federal government will change, as will be the procedures of business. It is no longer a question of consultation which implies that once that takes place, one can go ahead with what one planned. Now the operative word is "consent" – a very different thing indeed.
There will be something of immediate consequence, of course. In my opinion the Northern Gateway project is as dead as a door nail. There are numerous unceded First Nations territories in question and especially to be noted are those on the coast near Kitimat. Without any doubt, some of these nations will nix the project.
It would be merciful to all concerned if both the Northern Gateway and the Kinder Morgan projects were terminated now.
First Nations could block LNG
There are other projects which are in jeopardy. Much of the proposed infrastructure for liquefied natural gas (LNG) would fall on First Nations territories and will be subject to their veto. It seems to me that the BC government would be very wise to canvas this situation now, rather than wait and have them done individually as they come up. While some nations have embraced LNG, others are already voicing serious concerns.
[signoff3]
This could be a very substantial blow to Premier Clark's plans to make us all rich by LNG. No doubt some of them will be approved, but not all. How wise it would be to sort this out now rather than wait, pretending everything will be OK?
Fear of aboriginal title unfounded
Many of the fears of those who worry about these things are unjustified. From the outset, First Nations have excepted private property from their claims. They have generally made no claim that cities and other settlements within their boundaries should all of a sudden belong to them. The city of Vancouver, for example, covered with aboriginal claims can rest easy at night in the knowledge that their homes and buildings are not going to be torn down and taken away.
In fact, when one looks back at this whole process of some 20 or 30 years, the reasonableness of First Nations in this regard stands out. One is so used to confrontations where everything in the world is demanded in hopes that there be some settlement at the halfway point that the fact that the First Nations have respected the private property of other British Colombians is to be noted.
What does Williams case mean for future?
I arrive back to conclusions about the Williams case.
British Columbians specifically and Canadians in general are going to have to adjust their attitudes. This is now the law, not some speculative, temporary rule. There will be no going back. In fact, there is a great deal of work yet to be done and some of this will be uncomfortable.
There is a power in the Crown, if a project is compelling and substantive, to interfere if to do so is consistent with its fiduciary obligation to aboriginal peoples. I take this to be almost meaningless. It is not a duty to consult, etc., but a power to completely change a decision by a First Nation.
I cannot see any government using this clause – if only for political reasons. It is there as a safeguard but in my view is all but unenforceable. Its only use I can see is as a threat in extraordinary circumstances.
For First Nations, this has been a long struggle, going back perhaps 200 years or more. The issue was not settled by conquest, if only because no conquest existed. Even then, lands conquered are not ordained by God to stay that way. Obviously, there were no treaties involved. The Europeans simply came in and took the land.
It's under those circumstances congratulations are due First Nations and the rest of the community must simply resolve to make the best of the situation.
In my view, life will go on.