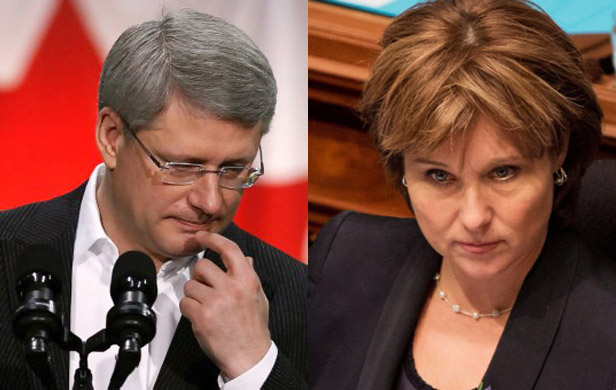 By Geoff Salomons
To many, the recent decision by the Harper Government to approve the proposed Enbridge Northern Gateway pipeline – a project it has so emphatically been pushing – is not surprising at all. What was surprising was the relative lack of fanfare in which the announcement was released. As Jennifer Ditchburn noted, there was no MP, let alone the minister responsible, to make the announcement: just a simple press release four paragraphs long entitled "Government of Canada Accepts Recommendation to Impose 209 Conditions on Northern Gateway Proposal".
In this release, the government highlighted the role of the (emphasized) independent panel in making the recommendation. It noted that this is another step in a long, thorough process. It urged Enbridge now to demonstrate how it will meet the 209 conditions the independent panel put forth, as well as the additional work Enbridge has to do to "fulfill the public commitment it has made to engage with Aboriginal groups and local communities along the route" (ignore for a moment the fact that the "duty to consult" is 1) the Crown's responsibility, not Enbridge's; or 2) one would assume extends to Coastal First Nations that are adamantly opposed to the pipeline due to spill potential, and isn't restricted to First Nations living along the pipeline Right-of-Way). Finally, it stated:
[quote]It [Enbridge] will also have to apply for regulatory permits and authorizations from federal and provincial governments.[/quote]
Enbridge faces big hurdles with First Nations
All of this seems all well and good. Shortly thereafter, the First Nation groups stood up to voice their continued opposition and, to be clear, the "duty to consult" provision will likely be the most difficult hurdle for Enbridge to overcome – especially in light of the Supreme Court's Tsilhqot'in decision, which closely followed the Enbridge announcement.
What was more intriguing for me was the response from BC Environment Minister Mary Polak. She noted that this was just the first of BC's five previously stated conditions. She then went on to note that "the Federal government also highlights the fact that there are important permitting decisions that are properly the jurisdiction of the provinces." Interesting.
Harper couldn't reject Enbridge
What is interesting is that in no plausible scenario could Stephen Harper reject the Northern Gateway pipeline, given this government's behaviour in backing the oil industry generally speaking, doing its best to discredit environmental opposition and going so far as to label such opposition "radicals" with an ideological agenda, and criticizing the Obama administration for delaying its decision on Keystone XL.
Once the Joint Review Panel gave its approval – subject to its conditions – the door was wide open. The problem is the political opposition, not only within the "radical" environmental circles, but broadly speaking in British Columbia is increasing. 300 scholars signed a letter arguing that the Joint Review Panel was fundamentally flawed, particularly because it included upstream oil sands development as a benefit, while excluding the environmental and climactic costs associated with such development.
[signoff3]
Numerous polls have come out showing increasing opposition to the project (to be fair, the polls do vary, depending on whether pro-pipeline or anti-pipeline framing is given to the questions – yet even the most pipeline-friendly polling questions show 50% opposition). If Harper rejects the project based on political calculations, it looks bad, particularly to his base in Alberta. If he approves the project, he potentially loses BC in the 2015 election, which doesn't look bad, it is bad.
The question is whether the Northern Gateway project has become such a political landmine that Harper has essentially written it off (knowing the likely outcome of First Nation challenges in court) and is searching for a way to reject the project, without him rejecting the project.
Where does BC govt stand?
Enter British Columbia. It is at this point that the comments made by BC Environment Minister Polak seem much more significant. Opposition to Northern Gateway is significant. Christy Clark has issued five conditions which must be achieved in order for her to approve the project. One of them – "Ensuring British Columbia receives its fair share" – seems almost impossible, given the structure of federal equalization payments.
In either case, it is a way for Premier Clark to publicly look like she is saying "help me find a way to yes" when she knows, politically, that she'll have to reject it anyway. If public opinion in BC is truly in opposition to the extent that it seems, and the Federal Government's press release makes me think that it is, then rejecting the pipeline is a political win for Premier Clark.
In addition, it would take the Northern Gateway off Stephen Harper's agenda and let him focus his attention on other, less politically volatile pipeline proposals. The emphasis of the provincial role in issuing permits by the federal government, and shortly thereafter re-emphasized by Minister Polak could very well be coincidental. Unless this is exactly what Stephen Harper wants.
Geoff Salomons is a University of Alberta Political Science PhD student studying environmental policy, democratic theory and long-term policy problems.