A group of citizens from the Kispiox Valley – northwest of Smithers, BC – has signed a declaration "against the LNG projects proposed to pass through their community."
The approximately 160 signatures from local landowners and residents represents a significant proportion of the valley's population. Located along two pipeline routes designed to carry shale gas from northeast BC to proposed liquefied natural gas terminals in Prince Rupert, the residents are strategically positioned to cause problems for the province's LNG vision.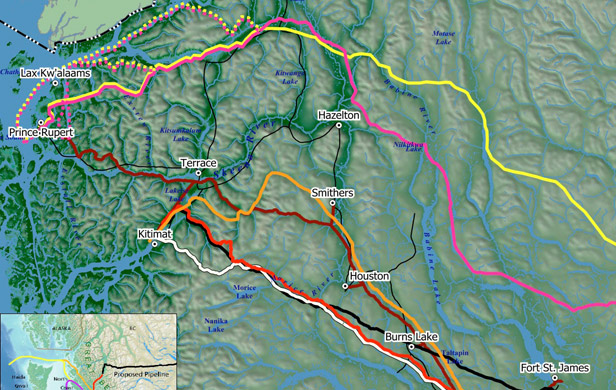 The declaration cites impacts to "northern rivers, salmon, air and water quality" as key issues for the community. Citizens of the region have expressed concerns about early work by Spectra Energy and TransCanada Pipelines – the former slated to build a line servicing BG Group's proposed terminal north of Prince Rupert; the latter hired to construct the proposed Petronas/Progress pipeline to the same coastal region.
Initial work surrounding these projects has already sparked concerns from bear biologists about impacts on grizzly bears in the Khutzeymateen Inlet Conservancy – widely thought to have driven the gutting of the BC Parks Act through Bill 4, which opened protected areas up to pipeline construction.
First Nations and local environmental groups have also pointed to the potential impacts on wild Skeena River salmon from Petronas' proposed plant on Lelu Island, amid prime eelgrass habitat for out-migrating smolts.
The full declaration reads:
Be it known that we, the undersigned community of the Kispiox Valley, British Columbia, believe that the well-being of ourselves and our neighbours, our livelihoods and economy, and our lands and waters are paramount. We highly value intact ecosystems that sustain and support a vibrant and diverse watershed.

This includes thriving populations of wild Pacific salmon and steelhead, healthy forests with abundant wildlife, and clean air. These lands and waters are woven into the fabric of our lives, and are deemed as vital and necessary elements that support our economy, our community, and our way of life. We recognize and honour the Gitxsan, and hold in high regard their culture and traditional methods of responsible stewardship.

Our rural community is a proven model of economic and social resiliency, comprised of diversely skilled professionals, trades people, farmers, forest and resource workers, guides/outfitters, and creative and versatile entrepreneurs. We support common sense practices of conservative resource management, renewable energy production and use, agriculture as the basis of a strong local food system, and the long-standing wild salmon economy of our region.

The Skeena, as one of the last great salmon rivers of the world, connects our livelihoods to our communities, and our communities to each other. What occurs upstream or downstream affects us all. In recognition of this, we accept a shared regional and global responsibility to protect our water and air.

Therefore, we cannot stand by and allow any industrial presence, including oil and gas development, that would threaten or harm our values and responsibilities as outlined in this declaration.
[signoff3]