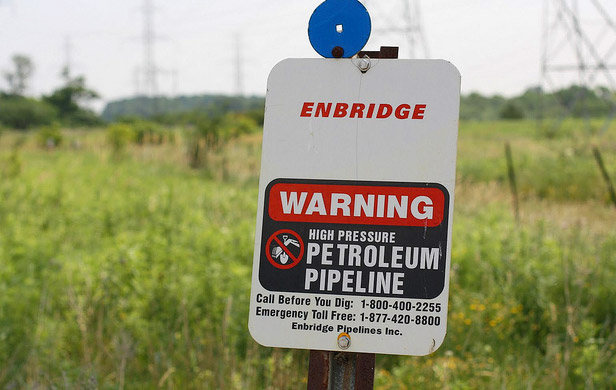 TORONTO – Ontario won't conduct its own environmental assessment of a plan to reverse the flow of the Line 9 oil pipeline that runs through the province, Energy Minister Bob Chiarelli said Monday.
Calgary-based Enbridge Inc. (TSX:ENB) wants to reverse Line 9 and increase its capacity to move 300,000 barrels of crude oil per day, up from the current 240,000 barrels.
It has also asked for permission to move different types of oil between southwestern Ontario and Montreal, including a heavier form of crude.
Liberals abandon provincial assessment
The proposal has sparked protests by hundreds of demonstrators, who have rallied outside the National Energy Board hearings in Toronto and Montreal.
Ontario's New Democrats are pushing for a separate provincial assessment of the proposal, but Chiarelli said that's not necessary.
The assessment is a federal responsibility because the pipeline crosses provincial boundaries, he said.
Ontario has intervened in the recent hearings to emphasize that public safety and environmental protection must come first, he said.
The province also called for a "stress test" for the whole system to be assured that the pipeline is safe, Chiarelli said.
"At this point in time, constitutionally we have to rely on what's there in federal legislation," he said.
Complain to your local MP
Chiarelli said that if residents feel that the National Energy Board isn't doing its job to protect the public, then they should complain to their local MP and Prime Minister Stephen Harper.
"If Ontario does its own environmental assessment … that cannot override," he said.
"That might inform, but the National Energy Board is responsible for getting the right information on which to make a decision."
NDP: Ontario has responsibility for protecting water
It's not the black-and-white issue that Chiarelli makes it out to be, said NDP energy critic Peter Tabuns.
Ontario has passed legislation that spills into areas of federal jurisdiction, such as the Toxics Reduction Act, he said. Other provinces are looking at consultations over pipeline projects.
"The NEB may have jurisdiction over approving a pipeline, but Ontario has a responsibility for protecting its water, it has a responsibility for protecting its land and its air," he said.
[quote]The federal government can challenge Ontario if it wants, but Ontario is the only jurisdiction that's going to look out for itself on this.[/quote]
Sending the Tar Sands East
Line 9 originally transported oil from Sarnia, Ont., to Montreal but was reversed in the late 1990s to pump imported crude westward.
Enbridge is now proposing to flow oil back eastward to service refineries in Ontario and Quebec.
The NEB panel has heard from interveners who said the reversal would put First Nations communities at risk, threaten water supplies and could endanger vulnerable species in ecologically sensitive areas.
The Common Sense Canadian has documented similar criticism of the BC Liberal Government's choice to forgo a provincial assessment of the proposes Enbridge Northern Gateway pipeline.