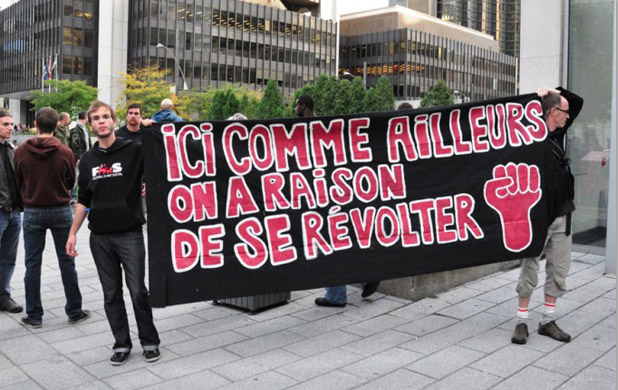 TORONTO – The final day of hearings on a proposal to reverse the flow of a pipeline that runs between southern Ontario and Montreal were cancelled Saturday due to security concerns.
But that didn't deter dozens of protesters who rallied outside the site of the scrapped hearing to oppose Enbridge's plan to reverse its Line 9 and increase its capacity to carry crude oil.
"They try to make it seem like we're not going to have a spill. And it's very likely that a spill will happen somewhere along this line," said protester Nigel Barriffe, who lives near Line 9 in northwest Toronto.
Enbridge was to make its closing submissions to the National Energy Board on its plan to reverse the line and increase the pipeline's capacity to move crude oil.
But the National Energy Board announced late Friday that Saturday's hearings were off, saying the way the previous day's hearings ended raised concerns about the security of participants. Protesters were out in force for Friday's panel hearing, but there was no violence during that demonstration or Saturday's rally.
The NEB didn't provide a date for when Enbridge will present its closing arguments.
Protest organizer Amanda Lickers said the NEB should have found a way to let Enbridge make its case in support of the reversal.
[quote]I think that if they were really concerned about security they could have still done it over the web… there could have been ways to make the presentation happen.[/quote]
The panel heard this week from interveners stating the reversal would put First Nations communities at risk, threaten water supplies and could endanger vulnerable species in ecologically sensitive areas.
Jan Morrissey of a Toronto residents' group showed up early Saturday morning for the hearing, only to learn it was cancelled.
Morrissey said she's disappointed she won't get to hear Enbridge's final reply to arguments made to the board by critics of the reversal.
"It's sort of like reading a book and not getting to see the last chapter," she said.
The reversal would increase the line's capacity to 300,000 barrels of crude oil per day, up from the current 240,000 barrels.
Enbridge has also asked for permission to move different types of oil, including a heavier form of crude from the Alberta oilsands.
Opponents claim the crude Enbridge wants to transport is more corrosive and will stress the aging infrastructure and increase the chance of a leak.
But Enbridge has said what will flow through the line will not be a raw oilsands product — although there will be a mix of light crude and processed bitumen.
Line 9 originally shuttled oil from Sarnia, Ont., to Montreal but was reversed in the late 90s in response to market conditions to pump imported crude westward.
Enbridge is now proposing to flow oil back eastward to service refineries in Ontario and Quebec.