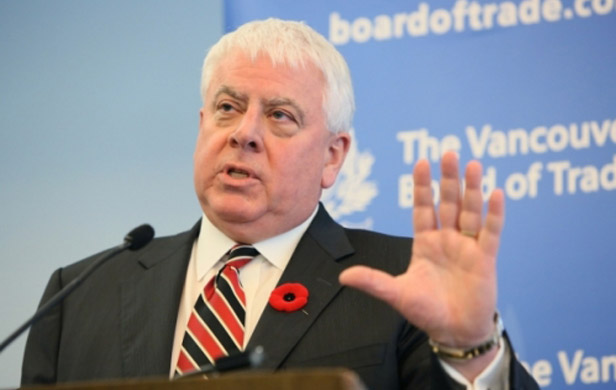 It's official. Just days before the National Energy Board is expected to announce its findings on the controversial, proposed Enbridge Northern Gateway Pipeline, US pipeline giant Kinder Morgan has filed its application to build a massive new oil pipeline to its tanker terminal in Vancouver's Burrard Inlet.
The eight-volume submission – covering everything from project design to aboriginal relations, environmental compliance and risk management – will take some time to chew through. For starters, though, the proposal would add a new pipeline carrying 590,000 barrels per day of diluted bitumen and synthetic crude from the Alberta Tar Sands to the company's Burnaby terminal.
It will inevitably be presented as a logical alternative to Enbridge, as merely a "twinning" of the 50-year-old TransMountain pipeline – but it is much more than that.
Before the Texas-based company, helmed by former Enron executive Richard Kinder, bought the old TransMountain line in 2005, its function was mainly to supply local refineries with crude and bitumen products for the region's energy needs. At that time, a small bit of surplus oil was loaded onto tankers – on the order of 15 per year – and shipped to other local refineries like the one in Cherry Point, Washington.
From 15 to 400 tankers  a year
Since then, Kinder Morgan has increased the old line's capacity from 200,000 to 300,000 barrels of oil products per day – without any environmental assessment. It has also moved aggressively to ramp up exports – meaning on the order of 5 times as many tankers leaving Vancouver Harbour every year, as the lone remaining local refiner, Chevron, has struggled to get its hands on oil from the pipeline.
But with this "twinning" project – which is really a new pipeline with 590,000 barrels a day of capacity, scalable beyond that – Kinder Morgan would go full hog, transforming Vancouver into a major international oil export hub. Those 15 tankers would explode to upwards of 400 a year, considerably escallating the risk of an diluted bitumen spill.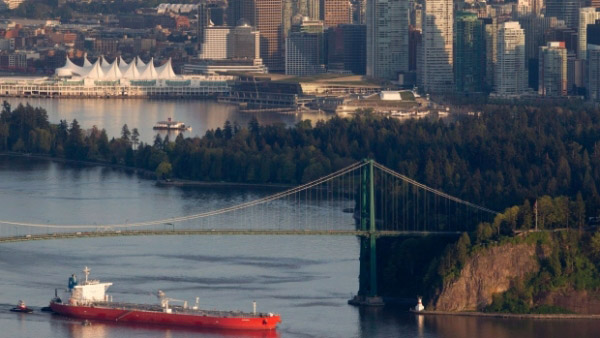 Kinder Morgan and its Harper Government backers will present the project as a breath of fresh air compared with the intractable dispute with First Nations over the Enbridge project. That too is inaccurate, as the three major Vancouver-area nations – the Squamish, Tsleil-Waututh and Musqueam – have all signed onto the "Save the Fraser Declaration" against oil pipelines and tankers on the coast, making it clear that they're no more amenable to this project than to Northern Gateway.
Pre-Christmas filing no accident
In filing the application the week before Christmas, Kinder Morgan demonstrates that it has every intention of sailing under the radar with its project. The timing of the announcement is no coincidence. But expect this issue to stoke considerable opposition across one of Canada's largest metro regions.
Some things to watch for in the New Year:
With the Enbridge announcement out of the way, to what extent will First Nations and environmental groups turn their attention to the Kinder Morgan file? The significant infrastructure, mailing lists, social media networks, volunteers, and alliances between different groups already in place from the Enbridge battle could easily be redeployed towards this issue.
The growing divide between the Lower Mainland's progressive mayors and councils – i.e. Gregor Robertson and Burnaby's Derek Corrigan – and provincial and federal governments intent on pushing this project through. The popular Robertson is the ace up Vancouver's sleeve in opposing Kinder Morgan, as he continues to show real leadership on the subject.
Where the NDP goes with its opposition to the project. After Adrian Dix fumbled the party's announcement on Kinder Morgan in the May election, the NDP is likely to be gun shy on the topic. It shouldn't. That's what oppositions are for. And I predict this will be a popular position if they handle it right, which would include giving the lead to local MLAs David Eby and George Heyman, both of whom leveraged the issue successfully in their urban ridings. West End-based Environment Critic Spencer Chandra Herbert should really step up on the file too.
How the Harper Government attempts to further restrict public participation and fast-track the hearings to avoid a repeat of the contentious, drawn-out Enbridge process. It should consider such moves very carefully, as they stand to backfire with the public.
The effect the pipeline debate has on largely Conservative ridings in the Interior and Fraser Valley, whose properties would be straddled by the new pipeline.
Finally, the extent to which Vancouver rediscovers its activist roots. This is, after all, the birthplace of Greenpeace and a formidable anti-nuclear movement in decades past. Kinder Morgan could well ignite something this country hasn't seen for awhile: a massive urban environmental movement.