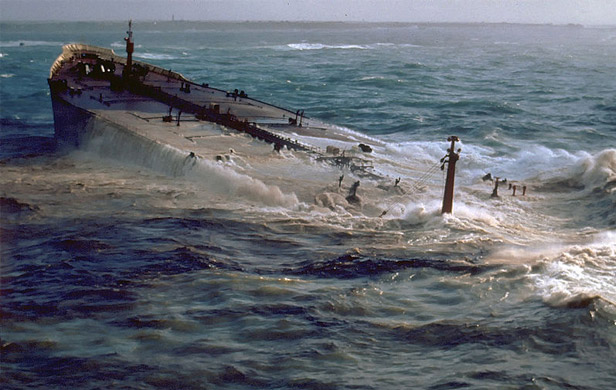 While the Harper Government reacts to this week's release of a federal report containing 45 recommendations on improving oil spill response capabilities on BC's coast, a group of professional engineers is launching a campaign to point out the flaws in Enbridge's tanker safety plans.
Concerned Professional Engineers (CPE) is a BC-based group boasting "many decades of experience in the design, construction and operation of large projects for the extraction and transportation of natural resources like coal and oil."
Enbridge downplaying spill risks
The group recently kicked off an online "crowd funding" campaign to help publicize its work, which has involved in-depth analysis of Enbridge's tanker plans and detailed submissions by its members to the National Energy Board hearings on the project. They say Enbridge's claim of a 10% oil spill risk from tankers connected to its proposed Northern Gateway pipeline is far too low.
"We've performed our own, independent review and found Enbridge's analysis to be lacking," says CPE.
[quote]This is not good engineering.
[/quote]
Some of the group's key concerns are as follows:
Enbridge provides no justification or documentation for the 'scaling factors' they used to calculate the 10% risk of a major spill.
Enbridge's liability ends when the tankers leave the terminal.  Who's responsible for a spill along the narrow 300 km waterway from Kitimat to the open ocean?
Enbridge's risk analysis planned for 220 tankers per year through Douglas Channel.  New LNG projects will bring that number to over 600.
Federal scientists, testifying during the JRP hearings, say more research is needed on diluted bitumen before they can be sure a cleanup is even possible.
CPE also focuses on the proposed tanker route down BC's treacherous coast:
[quote]The proposed route to the open ocean is nearly 300 km (186 miles) long through constrained channels, some of which are less than 1400 m (4600 ft) wide.  This may seem large until you realize that the proposed ships are more than 300 m (1,000 ft) in length and can take several kilometers to slow down or stop.  Furthermore, the route is on the northern BC coast, a place famous for its challenging weather, winds, waves, and heavy fog.[/quote]
Getting the word out
The group, whose members were official interveners in the National Energy Board's Northern Gateway Joint Review Panel, is seeking to raise $20,000 to produce and distribute educational media that goes into detail about the real risks posed by Enbridge's plan. It is careful to point out that it is not opposed to development and trade, rather to unsafe practices:
[quote]We are not opposed to the development and export of natural resources, but we feel very strongly that these projects must be done in a safe and responsible manner, with a full accounting of the risks and visibility to the public.[/quote]
First Nations still unconvinced by safety measures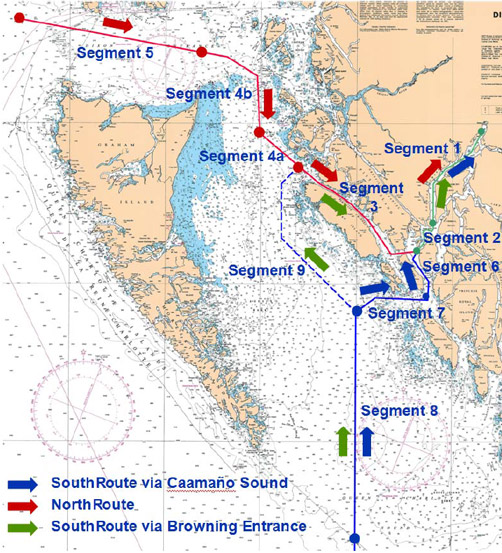 First Nations leaders who attended a press conference held Tuesday in Vancouver by Natural Resources Minister Joe Oliver and Transportation Minister Lisa Raitt were also disappointed with the government's reaction to the new federal report on tanker safety measures, compiled by a panel of three experts appointed by the government.
In particular, Coastal First Nations President Art Sterritt told me after the conference, "There were no new technological advancements in spill clean-up and no commitment from the government to follow the report's recommendation of removing an oil spill liability cap for operators."
As it stands, oil spill liability along the tanker route is capped at $161 million – something the federal report recommends changing – but Oliver and Raitt have shown no indication of acting on that point.
Federal departments question tanker safety
The report follows the revelation that a number of federal departments – including Fisheries and Oceans and Transport Canada – concurred in a 2010 meeting that "Enbridge had not submitted enough information on the pipeline route," according to a 2012 Postmedia story drawing on Access to Information documents.
More risks coming down the pipeline
It isn't just oil tankers that are stirring up concerns with Enbridge's proposal. Independent economist and former ICBC CEO Robyn Allan has also flagged the lack of safety with Enbridge's proposed pipeline across northern BC, noting the province lags far behind other jurisdictions in terms of funding for oil spill preparedness – despite claims of "world-leading" safety. In a recent Tyee op-ed, Allan said neither Enbridge nor the province have made any real progress on meeting Premier Christy Clark's pipeline safety condition – one of 5 for endorsing Northern Gateway.
Allan raised the increased risk of moving diluted bitumen by pipeline – a core concern for CPE with tankers in the marine environment – which the BC Liberal Government seized upon during its own submission to the Joint Review Panel, but seems to have subsequently forgotten:
[quote]The province also raised unique challenges posed by diluted bitumen when it sinks in fresh water. Enbridge consistently denied this at the hearings, despite its own spill experience with the Kalamazoo River in Michigan. Enbridge did not include the results of the Kalamazoo spill in its statistics or analysis of spill risk. Enbridge aggressively resisted filing as evidence the U.S. National Transportation Safety Board (NTSB) report on how the company handled the spill at the hearings.[/quote]
The CPE campaign runs for another three weeks on the crowd funding website Indiegogo – which has become a popular grassroots fundraising tool in recent years.