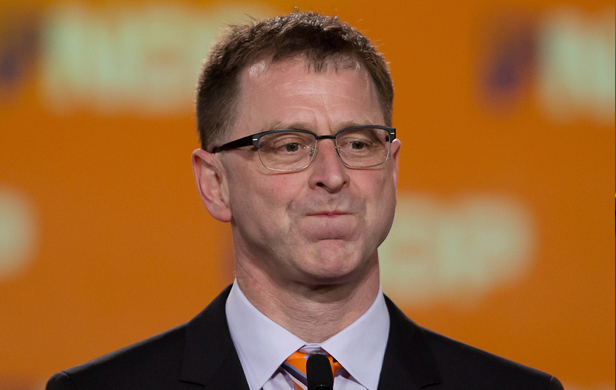 The annals of contemporary political history make one thing clear: Elections are invariably won and lost on a single issue – and that issue is most often the economy. To borrow a slogan coined by Bill Clinton's enigmatic campaign strategist, James Carville, "It's the economy, stupid." You can win issues two through ten, but if you screw up the first one, you're toast.
The NDP lost this election for three reasons – all of which relate back to that one central point: 1. Despite compelling evidence in their favour, the NDP failed to destroy the Liberals' economic credibility; 2. Mr. Dix failed to understand the difference between being fair and being nice;3. Unlike their opponents, the NDP have no sense of storytelling, no simple narrative arc to which they can attach their myriad policy points.
Plainly put, the NDP and leader Adrian Dix lost this election by running a terrible campaign. The out-to-lunch polls and the mainstream media that allowed Clark a free pass on the Liberals' true economic record didn't help matters, but this was Dix's to lose, and lose he did.
There is one invaluable lesson I gleaned years ago from Karl Rove, the mastermind strategist behind George W. Bush's victories. His candidate bears some striking resemblances to Christy Clark, in fact – both highly unpopular at times, neither one the most cerebral of leaders, yet eminently personable, and both able to win elections they probably shouldn't have.
Rove's most important insight was this: You don't attack your opponent's weakness; you attack their greatest strength, because if you take that leg out from under them, they have nothing left to stand on.
For Bush in 2004, that wasn't the economy but rather national security. As his campaign quickly understood, you can't win on national security as a draft dodger running against a decorated war hero. Enter the "Swift Boat Veterans".
Rove also understood – as does Team Obama – the importance of crafting a simple, clear, overarching narrative, to which every press release, photo-op, position paper, soundbite, and campaign ad links back. Christy Clark's campaign did this very well – everything came back to how voters could trust her to run the economy while they couldn't trust "Risky Dix" and the NDP.
This is where Dix fell down. Not only did he choose the wrong issues on which to attack his opponents – he didn't attack, period. The HST, BC Rail, rip-off private power contracts, boondoggle projects like the convention centre, stadium roof and "world's tallest wood building", and, most significantly, the Liberals' abysmal fiscal record. Any and all of these issues – which encompass other things like corruption and incompetence – can be linked back to a master narrative that demonstrates the NDP are really the best choice to lead BC's economy into the future.
But Dix seized on none of these opportunities, preferring instead to run a nice, safe, "no mistakes" campaign. If Ms. Clark and the mainstream media that fawned over her proved anything, it's that it's better to look nice and act tough than look tough and act nice. Why Mr. Dix – not known as a "nice guy" politically prior to this campaign – mistakenly equated being tough on the Liberals' truly appalling record with being a jackass is a mystery to me. Christy Clark, like Danny Williams, Bill Clinton, Pierre Trudeau and many other successful, charismatic leaders before her, demonstrated you can wield a sledge hammer with a smile on your face.
I joined others in pressuring the NDP to take a stronger stand against Kinder Morgan. There are those within the party who will blame this decision for their loss, cursing what they see as succumbing to the unreliable environmental vote. Bollocks. A Justason poll revealed that Dix's Earth Day announcement was positively received by voters. But even if you want to discard that finding based on the wholesale discrediting of the polling profession last night, the decision itself is not the problem. The problem is, again, failing to frame it properly.
Kinder Morgan would bring a few dozen permanent jobs to its updated tanker terminal in Burnaby, and truly paltry revenues to the province. Compare that with our "Super, Natural BC" brand and the $13.4 Billion a year tourism economy and 127,000 jobs it supports – all of which would be put at grave risk by an oil tanker spill. With a proposed 400 tankers a year through Vancouver Harbour, compared with just 20 before Texas energy giant Kinder Morgan bought the existing Trans Mountain line in 2005, we're talking an exponential increase in risk. A simple cost-benefit analysis shows this is a terrible proposition for BC.
Other leaders like Burnaby Mayor Derek Corrigan, Vancouver Mayor Gregor Robertson, and former ICBC CEO Robyn Allan get this and are able to articulate the Kinder Morgan issue effectively in an economic context. Not so with the provincial NDP.
Dix's failure to attack the Liberals' claims of overall economic superiority is even more puzzling. As we've stated in these pages, time and time again – based on information from the Auditor General and the research of independent economist Erik Andersen – the Liberals have raised our real provincial debt from $34 Billion to $171 Billion since they came to power. The NDP, by contrast, raised it by $17 Billion over a similar period.
About $100 Billion of that new Liberal debt is hidden in another category called "contractual taxpayer obligations". This is where they hide the estimated (because they're secret, even though you pay for them) $55 Billion in sweetheart, rip-off private power contracts that are causing your power bills to soar; this is where they stash the real costs of public-private partnership contracts for multi-billion dollar bridges, highways and Olympic infrastructure.
This story contains everything the NDP needed to beat the Liberals: corruption, deception, secrecy, gross fiscal mismanagement, controversial IPPs, boondoggle bridges that don't work properly and pile on costs to drivers through tolls…In short, everything they needed to take that one leg out from under their Liberal rivals.
By contrast, they could have offered a bold vision of a stronger, greener economic future for BC – one built on innovation, clean technology, public transit, rebuilding local, value-added manufacturing, supporting our vital film industry and creative sectors, harnessing the true potential of "Super, Natural BC"…Alas, they did some of these things, but in piecemeal fashion – detatched from any central narrative. And they failed todistinguish clearly their own record and vision from those of their opponents.
It's a frustrating feeling sitting on the sidelines, uncomfortable with the NDP but viewing them as the only viable alternative – in our broken, first-past-the-post, parliamentary system – to the worst government in BC history. It's awful feeling so powerless, watching the NDP fuck it up yet again. This isn't their loss alone. This is a travesty for the people and environment of BC. Their incompetence impacts us all.
We need electoral reform. We also need better than the second worst voter turnout in the country – even more pathetic by the standards of most of our fellow western nations. It is a great societal failing that we can't manage to get out more than half our eligible citizenry for half an hour to vote, once every four years. Something needs to change on this front.
While we're at it, we could use an honest mainstream media that digs up the facts and looks out for the public interest – though we can expect to wait about as long for that as the characters in Samuel Beckett's famous play. That's why people like Rafe Mair and I are trying so hard to build an alternate media.
For now, I'd settle for someone taking a fire hose to the backrooms of the NDP and flushing them clean. There are many quality people within the NDP – Adrian Dix included (though not as a candidate for Premier). They've staked out some strong positions that are in line, I would still argue, with the public will on many key environmental and social issues. There are some exceptions, granted – salmon farms, Site C Dam, and a need for more clarity on their position regarding fracking and LNG. My complaints here are less about their policies than about the way they sell them.
There are also some small but heartening positives which progressives can draw from last night. For the NDP, George Heyman and David Eby's victories in Vancouver come to mind – two of the NDP's brightest new prospects, both very strong on environmental and social issues, both worked their asses off running good, tough campaigns and were rewarded for their efforts.
I was also happy to see Independent Vicki Huntington win re-election in Delta South, though sorry to see sitting Independent MLA Bob Simpson from Cariboo North narrowly miss out on another term. Both did a great service to British Columbians as hard-working, competent Independents in the Legislature.
Meanwhile, the Green Party ran a solid campaign and it's encouraging to see them break through with their first provincial MLA in Andrew Weaver. Any NDP'er who dares blame the Green Party for their loss needs to examine both the facts and their own head. The Greens did a smart and noble thing choosing to target their efforts on a few select ridings, rather than feeling the need to run a full slate.
At the end of the day, if the NDP can't look inward and recognize the deep flaws in its brand, its personnel, and the way it campaigns; if there isn't some serious bloodletting following this inexcusable failure, then maybe British Columbians are ready for a new progressive party.