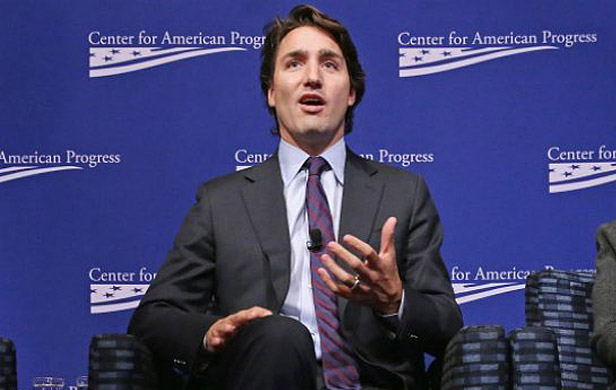 To Justin Trudeau, it's not that Keystone XL is a bad idea, it's that Stephen Harper can't sell it.
For many Canadians, Liberal Leader Justin Trudeau represents a fresh-faced, progressive alternative to Prime Minister Stephen Harper's Conservative Government. And yet, in terms of energy policy, it's increasingly clear that he and Harper differ little. Both support the development of the Tar Sands and are backing efforts to move bitumen to new customers in Asia. Both are championing the controversial, proposed Keystone XL pipeline to the US Gulf Coast.
Through a series of recent speeches advocating for Keystone and other projects, it appears the biggest distinction the Liberal leader offers between himself and his chief political rival is the manner in which he sells the Tar Sands.
Justin made Alberta his first destination after being minted as Liberal leader, suggesting at the time that Mr. Harper was doing a bad job of representing Kesytone and the Tar Sands.
Harper alienates both friend and foe
Mr. Trudeau echoed those sentiments in a speech last week (read in full here), on the eve of the Conservative Party convention, at Calgary's Petroleum Club. There, he made the case to a room full of western energy power brokers that Mr. Harper's political style is hamstringing their efforts. "Alberta's interests have been compromised more than just about anyone else's by Mr. Harper's divisiveness," he told them.
"It has made enemies of people who ought to be your friends, and turned what should have been a reasonable debate into an over-the-top rhetorical war. Most importantly, it has impeded progress."
Mr. Trudeau's comments follow those of Kinder Morgan Canada CEO Ian Anderson, also delivered at Calgary's Petroleum Club a few weeks ago, criticizing Harper's Natural Resources Minister Joe Oliver for his heavy-handed tactics with pipeline critics. Anderson suggested the Harper Government's approach has only made life more difficult for companies like his, which is seeking to build a controversial pipeline expansion to Vancouver.
Justifying Keystone
In his own speech to Canada's oil men and women, Mr. Trudeau made no bones about his support for projects like Keystone:
[quote]Let me be clear: I support Keystone XL because, having examined the facts, and accepting the judgment of the National Energy Board, I believe it is in the national interest…On balance, it would create jobs and growth, strengthen our ties with the world's most important market, and generate wealth…Most of all, it is in keeping with what I believe is a fundamental role of the Government of Canada: to open up markets abroad for Canadian resources, and to help create responsible and sustainable ways to get those resources to those markets.[/quote]
So it's not the idea of Keystone or potential east and west-bound pipelines in Canada on which Justin disagrees with the PM. It is simply that Mr. Harper lacks the diplomatic chops, the soft touch required to peddle this economic vision to Canadians and the world.
"Whether it is the bullying around Keystone and Northern Gateway, their one-sided approach to regulation with C-38, or the demonization of people who care about the environment, the message from Mr. Harper and his government has been clear: this is a black and white, us vs. them world, and you are either with us or against us," Trudeau told his Calgary audience.
Mr. Trudeau goes to Washington
Justin is shopping his message abroad as well. Two weeks ago, he was in Washington, DC, delivering a speech to a generally anti-Keystone crowd at the Centre for American Progress. "The challenge is to demonstrate that it can be done in the sense that we're protecting our environment and making sure that we're making the right gains toward sustainable energy sources in the long run," Trudeau declared.
And there is evidence that his approach is gaining traction. According to the Toronto Star, Matt Brown, a senior fellow at the Centre – which has taken a position against Keystone –  observed later on Twitter, "many in the room had found the Liberal leader's position 'compelling' and 'balanced'."
How Mr. Trudeau's remarks struck Canada's energy moguls is another question. But one thing is clear: this bunch has money and isn't shy about getting involved in elections. In BC's recent contest, they played both sides, funnelling millions to the Liberal and NDP campaigns.
If Justin Trudeau really does have their back…If he's able to spin a kinder, gentler Tar Sands…If he's able to persuade our southern neighbours in ways Mr. Harper can't, all while the PM's political woes mount…surely these Calgary nabobs will give serious thought to backing young Justin.
And – who knows – an honourary membership at the Petroleum Club.