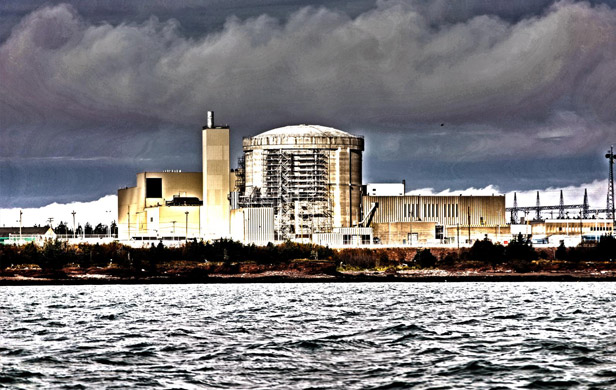 LEPREAU, N.B. – NB Power says the Point Lepreau nuclear power plant recently released water containing low levels of a chemical used in its steam generators into the Bay of Fundy.
The provincial Crown utility says the release of hydrazine occurred Sunday from a valve located on the non-nuclear side of the station.
NB Power says the release was contained and subsequent testing on Monday showed the chemical had dissipated to levels below detection.
The company says the release won't harm marine life or ecological systems and nobody was injured.
Hydrazine is used to remove the oxygen from the water in the plant's steam generators and helps protect tubes from corrosion.
Claire Harris, manager of health, safety and environment at Point Lepreau, said when the valve malfunctioned, the liquid containing hydrazine flowed into the Bay of Fundy rather than to a treatment system.
When employees conducted tests in the area of the spill, they found the concentration of hydrazine was less than one part per million of the water samples taken, she said.
Utility downplays risk
"The concentrations we're talking about are not considered toxic," said Harris. "It amounts in laymen's terms to one drop of water in a 40-gallon drum."
She said a team is still evaluating precisely how much of the liquid was released.
NB Power says it is continuing to monitor the spill area and has reported the incident to the Canadian Coast Guard and the provincial Environment Department. The company has repaired the broken valve.
"This was brought about by a small relief valve that failed as part of our startup processes," said Harris.
[quote]From time to time we're going to see equipment failure and we want to make sure we learn from this.[/quote]
It's not the first time hydrazine has been released at the plant. In December 2011, water laced with hydrazine was released by accident into the Bay of Fundy.
Kathleen Duguay, a spokeswoman for NB Power, says that earlier incident was different and links should not be drawn between them. She said the first leak was caused by a drum that overflowed rather than by a piece of broken equipment.