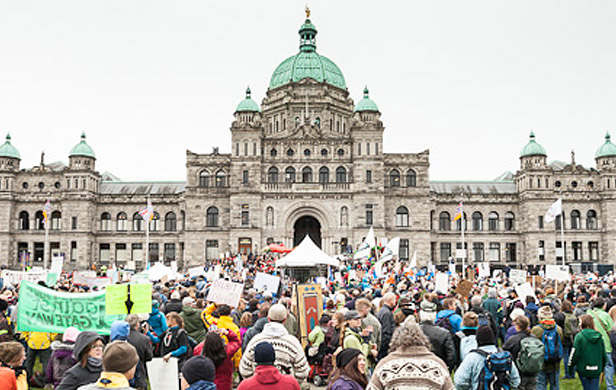 Just this morning, BC Premier Christy Clark and Alberta Premier Allison Redford have announced that they have penned a deal to ram a pipeline from Northern Alberta's oil sands fields to the West Coast. And according to news reports, there is "tentative" support for other pipelines.
In Canada we are at a major cross-roads, with some big government leaders pushing pipelines that will lock the country permanently into the "petro-state" column, while at the same time scientists, environmental experts and economists saying that we are lighting a "carbon bomb" for the long term.
Politicians, like Stephen Harper, Justin Trudeau, Clark and Redford think building massive pipelines to the US and off our coasts to send unprocessed oil sands from Alberta to out-of-country export facilities is a wonderful idea.
At the same time, scientists at esteemed scientific organizations like NASA, say that building Keystone and pumping more oil sands out of Alberta pretty much 
guarantees runaway climate change
 and atmospheric disruption.
On one hand, a political win and some short term payouts that will mainly go to foreign oil companies like ExxonMobil and PetroChina. On the other hand, extreme weather, droughts, wildfires and heat waves for generations to come.
Big bucks for foreign oil companies, drought and wildfires for Canadians! The choice is yours. Seems like a no-brainer to me. I think my kids deserve a safe and stable future.
Time to stand up.
On Nov. 16th, Canadians from coast-to-coast-to-coast will gather at events to voice their opposition to the direction politicians like Stephen Harper want to take our country.
Will you be there?
Vimeo video by Zack Embree