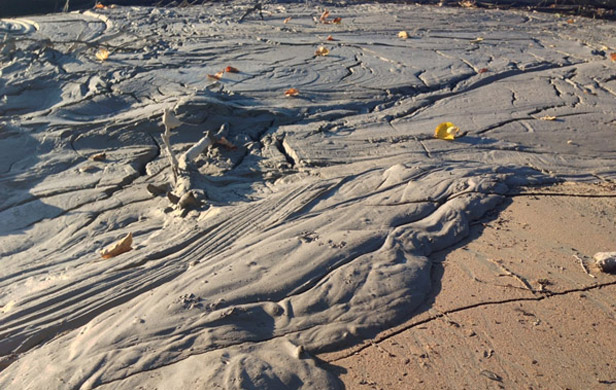 In a Labour Day update on the Mount Polley mine disaster, owner Imperial Metals boosted its estimates of tailings, water and debris released into the environment by the failure of its tailings dam on August 4.
Compared with earlier estimates of 10 million cubic metres of water and 4.5 million cubic metres of solid tailings, the company is now figuring the following:
Supernatant water 10.6Mm3 
Tailings Slurry: tailings solids 7.3Mm3; interstitial water 6.5Mm3
Construction materials 0.6Mm3
Combining supernatant (water lying above the tailings within the "pond") and interstitial (water trapped within the tailings), an extra 7.1 million litres of water poured forth from the burst dam than originally estimated. At 7.3 million cubic metres of solid tailings, the new estimate is nearly 3 million higher than the original 4.5 million – also making it the largest tailings pond disaster of its kind in history.
Added to that are 600,000 cubic metres of construction materials.
Imperial Metals was also not carrying any proper environmental disaster insurance, though it maintains in this latest update that it will be able to clean up the spill:
[quote]…we believe the costs can be managed over time given the underlying value of Imperial's assets, the commitments for the additional $100 million financing announced on August 14 and insurance proceeds. [/quote]
Water quality concerns renewed
The revelation comes as fresh concerns surface regarding water quality, human and animal health in the region.
Last weekend, Interior Helath issued a new advisory warning residents of Likely, BC that – despite the lifting of an earlier water use ban – increased turbidity in the water column warranted caution in terms of drinking water from Quesnel Lake.
At the same time, independent biologist Alexandra Morton made waves reporting on a mysterious blue film covering much of Quesnel Lake and the Quesnel River.
The Ministry of Environment was allegedly aware of the situation and taking samples but has yet to report back to the public regarding the issue.
Finally, recently released data from the ministry's water tests on August 13 reveal a major a spike in total copper levels from its "deep" station at the mouth of Hazeltine Creek –  "two orders of magnitude higher than on August 8th," according to biologist John Werring of the David Suzuki Foundation. Topping out at 325 ug/l, says Werring, they vastly exceed aquatic life guidelines of just 4 ug/l.
CEO Kynoch: Thanks for understanding
Imperial Metals CEO Brian Kynoch included a personal message in his company's update. "We thank all our employees and stakeholders who very quickly responded to offer help following the August 4 breach at our Mount Polley mine," Kynoch says.
[quote]We also appreciate the offers of support from our colleagues in the mining industry and residents of BC and beyond, who understand the complexity of responding, planning and working toward mitigating the effects of this event.[/quote]