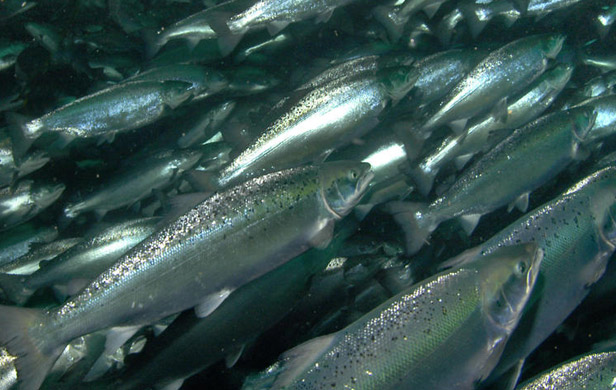 A new study published in ICES Journal of Marine Science estimates that that up to 1.5 million farmed Atlantic salmon escape from Norwegian netpens into the wild every year – far more than acknowledged by the industry. 
The study was led by Ove T. Skilbrei of the Institute of Marine Research in Bergen, Norway, assisted by researchers at the University of Bergen and the International Institute for Applied Systems Analysis in Austria.
The risk is that escaped farmed salmon mate with wild fish, impacting survival rates.
After tagging and simulating some 90,000 escapes in various near-shore and marine environments on the coast of Norway at different times throughout 2005, the researchers followed these fish over the next five years, observing how many were recaptured by fishermen.
According to the study:
[quote]Post-smolts that escaped during their first summer were capable of rapid migration towards the open sea. A small fraction returned to spawn and were recaptured after 1–3 years at sea (0.4%, range 0.0–1.1%). A total of 13% of the post-smolts that escaped during autumn were reported in nearby fisheries during subsequent months, partly because they had grown large enough to be caught in the gillnets used, but more importantly because migratory behaviour diminished towards the end of the year. The mean recapture rate of adult salmon was high after releases in fjords (7 – 33%), lower after coastal releases (4 – 7%), and zero on the outer coast. [/quote]
Based on mathematical probabilities for recapturing escaped fish, the researchers predict that up to 1.5 million farmed fish escape from Norwegian farms each year, evading recapture.
"Importantly, our analysis suggests that the total numbers of post-smolt and adult escapees have been two- to fourfold as high as the numbers reported to the authorities by fish farmers," the study concludes.
According to a 2008 report by the World Wildlife Fund, escapees can be far ranging – "usually recorded within 500 km of the escape site, but [they] have been recorded up to 2,000 – 4,500 km from the escape/release site."
An earlier study led by UVic scientist Dr. John Volpe, published in Conservation Biology, also reported that escaped Atlantic salmon (the vast majority of farmed salmon in BC are also non-native Atlantics) have been discovered in more than 80 wild salmon spawning streams (Conservation Biology 14: 899-903).
"Farmed salmon grow very fast, are aggressive, and not as clever as wild salmon when it comes to dealing with predators," says Professor Matt George of the University of East Anglia, who led a study on the subject released earlier this year.
[quote]These domestic traits are good for producing fish for the table, but not for the stability of wild populations…The problem is that farmed salmon can escape each year in their millions, getting into wild spawning populations, where they can then reproduce and erode wild gene pools, introducing these negative traits.[/quote]
In light of these new statistics from Bergen, the problem may be far more serious than perviously thought  – and especially cause for concern with embattled wild salmon populations in places like British Columbia.