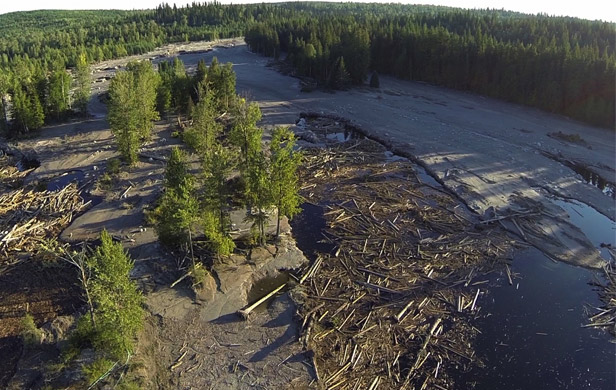 An advisory from Interior Health yesterday raises fresh questions about the quality of drinking water from Quensnel Lake following the Mount Polley tailings dam breach.
"Although test results continue to show that water sourced from Quesnel Lake is safe to drink, reports indicate that water quality is changing as lake water and the sediment plume shifts," the advisory notes, raising doubt about the earlier lifting of a drinking water ban for the town of Likely, on Quensnel Lake.
The reappearance of water quality concerns on Quesnel Lake may be linked to the government's initial cleanup plan, which has involved pumping contaminated water out of Polley Lake, next to the collapsed dam, and into the larger and deeper Quesnel Lake, via Hazeltine Creek.
"Residents who source their water from Quesnel Lake may notice increased turbidity, sediment, and/or a change in taste or odour," the latest advisory states.
[quote]In these cases, residents may wish to consider using alternate sources for their water. Specifically individuals are reminded they should not be drinking cloudy water…Interior Health is continuously reviewing data provided by Ministry of Environment.[/quote]
The warning comes on the heels of independent biologist Alexandra Morton's documentation of a mysterious blue film covering Quesnel Lake and river – and the discovery of elevated levels of toxic selenium in fish found in Polley Lake and Quesnel Lake.
"A Do Not Use order for drinking water, personal, and recreational use remains in effect for the impact zone directly affected by the by the Mount Polley Mine tailings pond breach," the advisory reminds the public. The ongoing Do Not Use order encompasses Polley Lake, Hazeltine Creek, and "the area within 100 metres of the visible sediment plume where Hazeltine Creek runs into Quesnel Lake".
A map of water restriction areas can be found here.
As for what to make of these conflicting statements coming from government officials, local biologist and consultant to Soda Creek First Nation Rick Holmes recently told Desmog.ca, "At this stage the impacts on Quesnel Lake are virtually unknown." 
[signoff3]