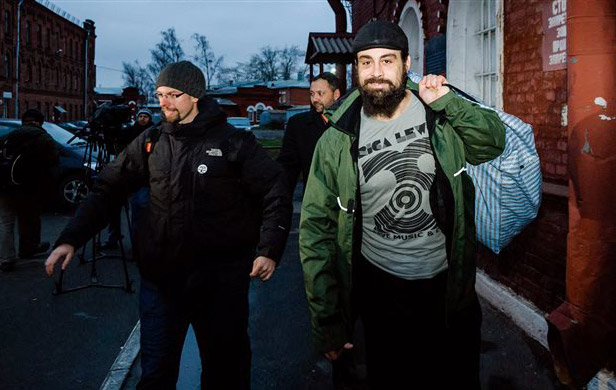 MONTREAL – Even after getting arrested at gunpoint, spending two months in a Russian jail, and a third in limbo while awaiting his exit visa, Greenpeace activist Alexandre Paul says the protest was worth it.
In fact, the 35-year-old Montrealer doesn't hesitate when asked whether he would do it again. Said Paul in an interview Friday at Montreal's Pierre Elliott Trudeau airport, shortly after arriving home:
[quote]Give me two weeks vacation and I'd go back out there (on another boat).[/quote]
Paul said the whole ordeal helped raise awareness about climate change and the effects of Arctic drilling.
The career activist, who worked on Greenpeace boats several times in the past, was among those arrested during a September protest against a Russian state-owned offshore drilling platform in the Arctic.
The group included 28 Greenpeace members and two freelance journalists. They were originally charged with piracy after some of them tried to scale the platform.
Paul greeted by parents
Paul and the other activists had their cases closed this week under a recent amnesty passed by the Russian parliament.
On Friday, Paul was greeted at the airport by his teary-eyed mother, his father, a small group of friends, and a swarm of reporters.
"I'm really, really happy to be back home," Paul said, flanked by his mother Nicole and father Raymond.
[quote]It wasn't the most joyous experience, I can tell you that. But every moment I spent behind bars was worth it.[/quote]
Second Canadian Arctic 30 member released
Fellow Canadian Paul Ruzycki, of Port Colborne, Ont., also arrived home on Friday, Greenpeace Canada said in a release.
Ruzycki declined interview requests, but said through Greenpeace that he's "very happy to be back home in Canada."
"I'll be taking some private time now to be with my family and friends … and have that Christmas turkey dinner I missed," Greenpeace quoted Ruzycki as saying.
Like something out of an action movie
Paul recalled the arrest as "a scary moment, something really out of an action movie," with Russian authorities rappelling onto their ship from a hovering helicopter. They forced him and other Greenpeace members to their knees at gunpoint, he said.
Paul originally set out on a Greenpeace boat in mid-July and expected to be home by early autumn, only to end up spending two months in jail.
When Paul realized the piracy charges could carry a 15-year sentence, panic set in, he said.
"I realized my parents might not be around for that length of time," he told a news conference at the airport.
The charge was later downgraded to hooliganism.
Kremlin brushing up images before Games?
The decision to grant the activists amnesty has been seen by many as part of an attempt by the Kremlin to dampen criticism of Russia's human rights record ahead of the Games.
Russian oligarch Mikhail Khodorkovsky was also released after a decade in prison and members of the activist group Pussy Riot were pardoned and freed.
Paul told the news conference he appreciated the support he received during his experience and said he was treated well in jail.
Paul: Harper Government did nothing to help Arctic 30
He thanked Canadian consular officials for helping him keep in touch with his family as well as bringing him books.
But he had harsh words for the federal government.
Asked what he thought about Canada's intervention in helping him return home, Paul replied: "What intervention? That's my question.
"I was a bit disappointed, but it's time to move on. We know that in Canada we have a government that's been put there by the petroleum industry. That's known.
"But the word I'd use to describe the involvement of Mr. Baird or the entire federal government would be 'disappointed, really disappointed'."