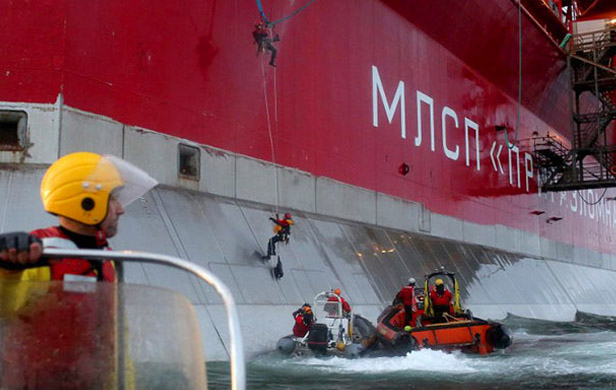 The Russian Coast Guard says a Greenpeace ship it stormed, with two Canadian activists among people they are holding, is being towed toward the nearest port.
It said Friday the ship's captain refused to operate the Arctic Sunrise, so a Coast Guard ship has arrived at the scene to tow the ship to the nearest port, in the city of Murmansk.
The trip will take three to four days.
Arctic Campaign Co-ordinator Christy Ferguson said Paul Ruzycki of Port Colborne, Ont., and a man from Montreal whose name was not released, were arrested when Russian Coast Guard officers boarded their vessel, which Greenpeace says was in international waters.
Ferguson said at least 15 members of the Coast Guard used helicopters and ropes to rappel on board the Arctic Sunrise, a Greenpeace ship carrying a crew bent on protesting offshore oil drilling in the Arctic.
The crew were being held in the ship's mess, she said, adding no injuries have been reported.
The incident took place Thursday as the ship was circling an oil platform in the Pechora Sea, an arm of the Barents Sea. The platform was owned by Gazprom, a Russian oil company.
[signoff1]
Faiza Oulahsen, one of the activists aboard the vessel, said its captain was held separately on the bridge.
A day earlier, two activists were arrested following an attempt to board an offshore drilling platform belonging to Gazprom.
Russia's Interfax news agency quoted the Russian Foreign Ministry as saying the crew of the vessel took "provocative" actions and posed a threat to human life and the environment in the Arctic region.
Greenpeace said Friday it has not received any formal confirmation of possible charges and that the activists have been denied access to legal or consular assistance.
— With files from The Canadian Press