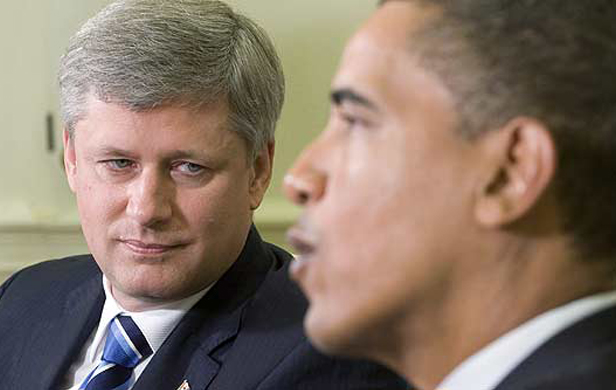 While Stephen Harper was busy trying to green-wash his image with Barack Obama – acquiescing to climate targets to improve prospects for the Keystone XL pipeline – Green Party Leader Elizabeth May dropped a bombshell: the suggestion that the Conservative Government is spending $120 million in tax dollars to "grease the wheels" for Enbridge and its Northern Gateway pipeline bid.
May and her only elected Green cohort, BC MLA and Nobel Prize-winning UVic climate scientist Andrew Weaver, discussed the allegation at a press conference in Victoria on Wednesday. Said Weaver:
[quote]Documents obtained from Environment Canada and the Department of Fisheries and Oceans reveal that at a time when core science is being cut across the Government of Canada, tax dollars are being spent to do Enbridge's homework for them.[/quote]
Harper tries to turn over new leaf
The revelation was bad timing for the prime minister, coming on the heels of a letter he sent personally to Obama, promising "joint action to reduce greenhouse gas emissions in the oil and gas sector."
According to CBC, Harper reached out to his US counterpart in late August, in an attempt to persuade him to approve the controversial Keystone XL pipeline from Alberta's Tar Sands to refineries in Texas. The project is in limbo, with Obama twice delaying his decision on the matter, recently bumping it 2014.
[signoff1]
The Harper Government's considerable lobbying efforts have yet to move Obama on Keystone. Some have even hampered their mission – like Natural Resources Minister Joe Oliver's attack of renowned former NASA climatologist James Hansen at a Washington, DC event. This failure is now compelling the prime minister to back off his earlier opposition to hard climate commitments, says CBC:
[quote]Sources told CBC News the prime minister is willing to accept targets proposed by the United States for reducing the climate-changing emissions and is prepared to work in concert with Obama to provide whatever political cover he needs to approve the project.[/quote]
Those sources also say Harper wanted to address Keystone with Obama at this week's G20 Summit in Russia, but the pipeline project was drown out in the tempest surrounding Syria.
May's allegations can't be of help to the Prime Minster's attempted image makeover, which is why his government was quick to respond this week. Harper's top lieutenant on pipeline matters, Joe Oliver, fired back:
[quote]While the Green party and the New Democratic Party oppose resource development projects before the science is in, our government will not make decisions until an independent, scientific review determines they are safe for Canadians and safe for the environment.[/quote]
According to the Canadian Press, Ottawa said the money is going to "oil tanker safety studies on Canada's coastlines…announced last March in Vancouver by Natural Resources Minister Joe Oliver against a backdrop of tankers and shipping vessels in Burrard Inlet."
(You may recall this event for the irony of a federal oil spill clean-up ship running aground en route to the press conference)
Government handout to Big Oil
May and Weaver aren't buying this defense. To them, Ottawa is using tax dollars to subsidize things that Enbridge should be doing at its own expense – like $78 million for bitumen-specific marine spill studies. Add to that another $42 million to develop improved weather monitoring systems for the rugged north and central coast waters which tankers would transit if Northern Gateway goes ahead.
Federal monies for such core elements of Enbridge's National Energy Board application amount to a government hand-out, says Weaver:
[quote]This is another example of federal money being used to essentially subsidize industry, and industry's inability to actually provide effective response to marine dilbit (bitumen) oil spills because the tools don't exist.[/quote]
For a leader who has spent the past several years gutting environmental laws, monitoring and enforcement staff, cutting research monies, and muzzling scientists, it won't be easy now to suddenly convince Obama that he's turned a new leaf. This is, after all, a president who has been heading in the opposite direction of late, earning accolades for his progressive talk on climate action.
By contrast, Harper's egregious environmental record has spurred criticism from all corners – even two former Conservative fisheries ministers – leading to a series of "Stand Up for Science" rallies across the country on September 16.
If Keystone fails, it will be partly because the prime minister's war on science and the environment finally caught up with him.