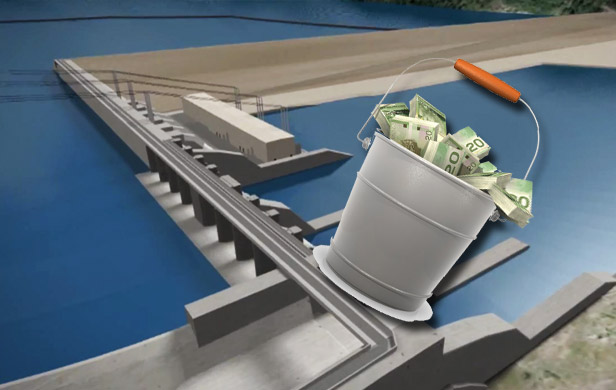 If you live in BC, it will cost you, conservatively, $10 Billion – paid through skyrocketing power bills and taxes. It will flood tens of thousands of acres of excellent farmland – sacrifices you will make entirely for the benefit of multinational oil and gas companies.
And here's the kicker: you have no say in the matter. The environmental hearings into the proposed Site C Dam currently underway in northeast BC have utterly excluded the people who will be paying the lion's share of the financial costs: you. No hearings in Vancouver, Victoria, or anywhere outside of the Peace Valley, of which 50,000-plus acres of quality wildlife habitat and farmland would be flooded for the project.
Debunking Site C's myths
Let's begin by setting aside a few popular myths, peddled by your government, often repeated by the mainstream media.
First, when you hear $7.9 Billion, remember that dams all around the world run notoriously over budget – an average of 27%, according to the World Bank. Add to that the dismal track record of cost overruns for major capital projects under the supervision of the BC Liberal Government – from the convention centre to the stadium roof to the Port Mann Bridge – and we'll go ahead and call Site C Dam a $10 Billion project…at least.
Second, whenever you read that Site C Dam would power 450,000 homes, remember that this power is not for yours or anyone's home or small business. And that comes straight from the horse's mouth – BC Premier Christy Clark, that is. She has told us repeatedly that Site C is necessary to power BC's much-vaunted, proposed liquefied natural gas (LNG) industry.
You see, BC is totally self-sufficient in electricity now and well into the future. According to Stats BC, we exported a surplus of over 5,800 gigawatt hours last year – about 10% of our total domestic demand. That trend shows no sign of reversing for decades to come…unless, that is, we decide to power enormously energy-intensive LNG plants on the coast with subsidized public power.
If we go that route, BC Hydro has nowhere near enough power – even with Site C – as its befuddled, draft Integrated Resource Plan recently demonstrated.
These plants have been granted special permission to break the Liberals' own climate laws and burn some gas to power the cooling of the rest of the gas into liquid – bringing massive air pollution and climate impacts. Site C would provide only enough energy for one of the larger proposed LNG plants, so it makes little sense for the beautiful Peace Valley, its environment, farmland, First Nations and citizens to make such a costly sacrifice at the altar of LNG.
$10 Billion, zero voice
For all the environmental and food security costs, the widespread opposition from local First Nations, the enormous cost to your pocket book, you get no say in the matter.
With these hearings scheduled over the holiday season and only in the north, the message from the BC Liberal government could not be clearer: They do not want your voice to be heard. Just sign the cheque, give the land and the power to someone else, and keep your mouth shut.
$10 Billion of your money for a dam you do not need: That's Site C Dam in a nutshell.
So whether they want to or not, this BC Liberal Government needs to hear from its constituents in the Lower Mainland, the Kootenays, the Cariboo, the Interior  the coast. With a government that's already racked up more debt – both hidden and obvious – than all its predecessors over the past century combined, the people of BC cannot afford to allow it to add another $10 Billion to their children's Visa.
The founders of the American republic had it right: No taxation without representation. This government badly needs a refresher in that concept.