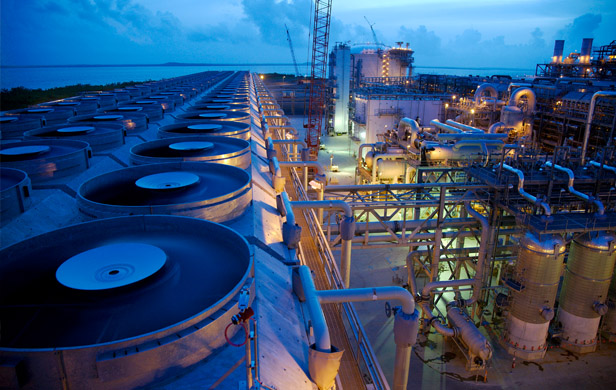 VICTORIA – A report presented to the United Nations indicates British Columbia is meeting its legislated targets to cut greenhouse gas pollution, but environmental leaders say that won't last much longer even if the province sets up a smokescreen to hide the air pollution created by proposed liquefied natural gas operations.
Environment Canada's national inventory submission in April to the United Nations Framework Convention on climate change shows B.C.'s greenhouse gas, or GHG, emissions have declined almost six per cent since 2007 when the province passed its law to cut the emissions by 33 per cent by 2020.
The inventory report, which measures GHG emissions from farms, factories, vehicles, gas fields and numerous other entities, measured B.C.'s carbon dioxide emissions at 59,100 kilo tonnes in 2011 — the most recent numbers. In 2007, when B.C. passed its Greenhouse Gas Reduction Targets Act, Environment Canada reported that B.C. emitted 62,600 kilo tonnes of GHG's.
The report stated Canada's total GHG emissions for 2011 measured 702 megatonnes, up 19 per cent since 1990, when the report first started measuring pollution emissions.
Liberals not serious about GHGs: Former climate science advisor
But B.C. climate scientist Mark Jaccard, who helped the Liberal government develop its climate targets law and implement the carbon tax, said he's given up on Canada's GHG reduction plans and is now working with the California Energy Commission which is advising U.S. President Barack Obama on cutting emissions.
Jaccard said if B.C. really wanted its residents to know if the province was hitting or missing its targets Premier Christy Clark would call in independent reviewers to examine the results.
"If Christy were like (former premier Gordon Campbell), she would have them estimate, and then publicly release, the effect of LNG and other policies on B.C.'s GHG target," he said. "If Christy were like (Prime Minister Stephen) Harper she would not."
Jaccard said the B.C. government needs to feel continuous pressure from British Columbians about its legislated goal to cut GHG emissions by 33 per cent within the next seven years. Said Jaccard:
[quote]They are not interested in climate and GHG reduction. I work with groups making suggestions to the Obama government and associated institutions. And I work directly with the California Energy Commission. And I have done a bit for Canada's Auditor General. But since Gordon Campbell left and since Stephen Harper got a majority there is no interest in people like me from our provincial and federal governments.[/quote]
B.C.'s Greenhouse Gas Reduction Targets law mandates regular reporting of the most up-to-date emissions numbers.
Campbell's Liberals also established a Climate Action Secretariat to support programs across the province that reduce GHG emissions. The secretariat now is part of the Ministry of Environment.
Weaver: LNG emissions make BC's climate targets 'meaningless'
Victoria-area Green party MLA Andrew Weaver, who with Jaccard once served on Campbell's blue ribbon environmental advisory Climate Action Team, said Wednesday the B.C. Liberals want to tell British Columbians the province is meeting its reduction targets, but once the LNG plants fire up, those targets are meaningless.
"They simply cannot go down the path and produce the LNG they want to produce and stay within their targets without abandoning them," said Weaver, also a noted climate scientist.
[quote]Natural gas is not clean energy. I always call it cleaner energy. It's cleaner than coal, but it's not clean energy.[/quote]
Weaver said clean energy is renewable energy like electricity or wind.
cleanest LNG in the world"British Columbians are essentially being sold a bill of goods when they are told that somehow we're going to have the because the reality is we are not on that path," he said. "Some honesty in this discourse would be really appropriate."
Liberals water down Clean Energy Act for LNG
Earlier this week, a report by Tides Canada released a report that concluded B.C. will not achieve its goal to develop the cleanest LNG plants in the world because natural gas fuelled operations will produce LNG emissions three times dirtier than electricity-driven plants in Australia and Norway.
In July 2012, the Clark government amended its Clean Energy Act to declare that the natural gas used to fuel LNG operations would be clean energy, but Weaver said calling natural gas clean may help the B.C. government get around its own emissions law, but Canada is duty-bound to report the real numbers to the United Nations.
"We have to have an honest discussion, a transparent discussion, one where you're constrained by the truth to say that we are heading down a path where we are willingly and knowingly going to break this law," he said. "That to me is troubling."
NDP vows to hold Liberals to GHG targets
Outgoing New Democrat Leader Adrian Dix said his Opposition party intends to hold the government to its emission targets.
"This is an example of a government divorced from reality," he said.
[quote]They claim emissions aren't emissions anymore.
[/quote]
Government offers no specifics on meeting targets with LNG emissions
But Environment Minister Mary Polak steadfastly maintains the government is committed to meeting its emissions reduction targets and she's counting on industry and governments, local and provincial to find ways to cut GHG emissions.
She said her major challenge remains developing a clean environmental policy that doesn't adversely impact the bottom line of the companies looking to develop the LNG market.
Polak wouldn't speculate on suggestions by Weaver and Jaccard that the government will completely exempt emissions from natural gas fuelled LNG plants from the targets law.
"You're still dealing with a hypothetical," she said. "On top of that, there's every likelihood that you will see a range of approaches from different companies and different technologies," she said.
[signoff1]