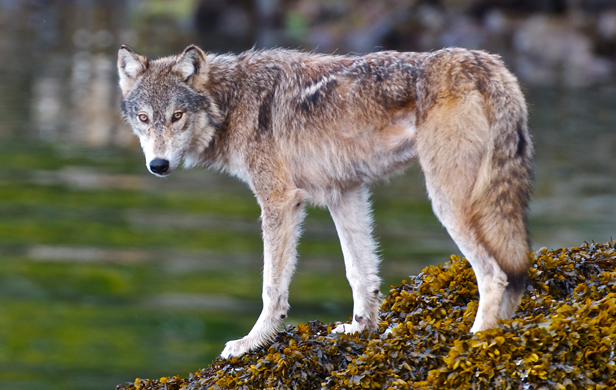 A BC-based conservation group is taking the popular concept of nature cameras to a whole new level. This week, Pacific Wild launched a pair of 24-hour, live video feeds from the heart of BC's Great Bear Rainforest – with one camera trained on a busy salmon river, the other a sea lion rookery.
The High-definition cameras beam their images to the organization's lab on Denny Island, through a mountaintop relay site. The shots of of sea mammals, wolves and salmon in action are then instantly streamed to your computer via satellite link. Anyone can check out the live feeds anytime on Pacific Wild's website.
The cameras can be remote-controlled from the lab, enabling operators to pan, tilt, and zoom in on their wild subjects.
Already today, visitors to the site have been treated to live images of wolves feeding on salmon and a colony of sea lions tending to their young.
Says Sarah Stoner of Pacific Wild:
[quote]Along with our Heiltsuk First Nation partners, we are using this camera technology in conjunction with our hydrophone network to enhance our marine mammal monitoring efforts. As well, we bring the high quality feeds into the Bella Bella Community School where students can operate the cameras as a part of the SEAS Community Initiative.[/quote]
The organization has been at the forefront of conservation efforts in the Great Bear Rainforest – on BC's central coast – for a number of years, leveraging leading-edge photography and video to show the world what is at stake from logging and oil tanker proposals.
Users can sign up for alerts via text message, email, facebook and twitter, to catch the action when it's happening.
[signoff1]