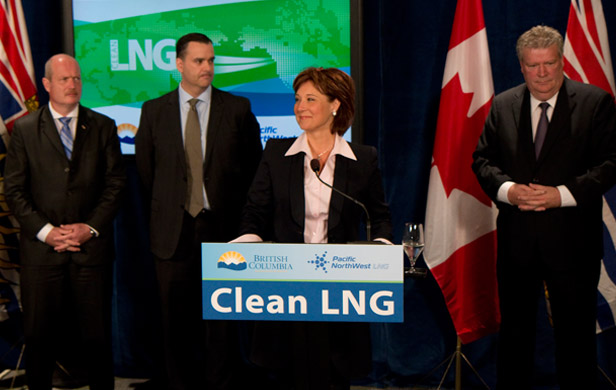 For all the fanfare of yesterday's press conference, you'd think Premier Christy Clark would have some big, new development to announce for her much-vaunted but yet-to-be-built LNG industry. Sorry folks, nothing to see here.
All Clark had to offer was warmed up leftovers from the umpteen previous press conferences, media advisories and political speeches she's been making for the past several years. Still no final investment decision from Malaysian energy giant Petronas – only "the beginning of the company's final decision path toward an investment decision", whatever the heck that means. The "path" to any real bucks being forked out by a single one of the 18 companies and global consortia proposing LNG plants is proving to be a long and winding road.
Are we there yet?
For years now, we've watched the likes of Chevron and Petronas punt their promised final investment decisions to next quarter, next year, some vaguely defined point in the future – while many others have outright fallen by the wayside (BG Group, Apache, Encana, EOG to name a few). But we never seem to get there.
And what if we did ever get there? At this point, after all the slashing of royalties and taxes, all the gutting of environmental protections, all the deals with China, India and Malaysia to supply the labour via foreign temporary workers, what's actually left for the people of BC?
Take your ball and go home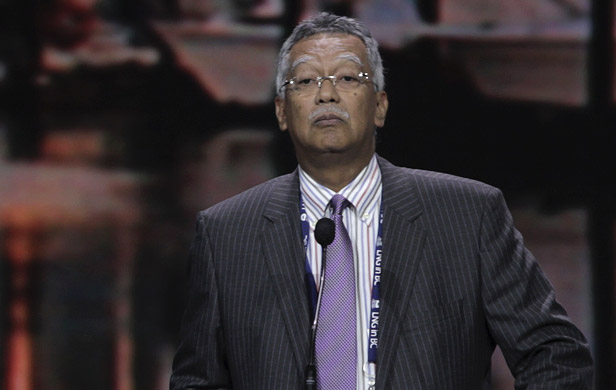 In her press conference yesterday, Clark boasted that the "memorandum of understanding" with Petronas locks in low royalty and tax rates for years to come. This is supposed to be good news for the people of BC?
As I noted back when Petronas CEO Shamsul Abbas took the stage at a glitzy, taxpayer-funded BC LNG conference last year – to lecture us about not "killing the goose that lays the golden egg" – if these are the only terms under which the likes of Petronas will come set up shop here, then we don't need them. It's as if they're saying, "Cut your public benefits and environmental standards to zero, or we'll take our ball and go home." Well, take your bloody ball and go home then.
It's not all about money
And this is all assuming that with enough money on the table (which of course there isn't), we'd go for this deal. Well, increasingly, the public and First Nations beg to differ. Just look at the Lax Kw'alaams Band and their recent rejection of an unprecedented bag of loot – $1.15 BILLION and $100 million worth of crown land. Apparently, there's more to money for some of us – like protecting wild salmon that would be severly threatened by Petronas' proposed plant on top of the Skeena River eestuary.
That's what yesterday's announcement was really about: quelling investor fears over the very public face plant that was the failed Lax Kw'alaams deal. Except that Clark has nothing meaningful or new to offer. And she's panicking now. After all the big promises of a $100 Billion "Prosperity Fund" in the last election – the thing that vaulted her past the NDP, long favoured in the polls – even she now must realize that it's time to put up or shut up (well, we can dream on the latter)
Yet that's looking less and less likely. Her other favourite horse – tax fraudster Indonesian billionaire Sukanto Tanoto – is facing an uphill battle in Howe Sound. First Nations and citizens along the various pipeline routes are digging in their heels. Asian LNG prices have plummeted to well below the break-even point for BC LNG exports, obliterating the entire business case for the industry.
In fact, about only way the Petronases of the world can hope to see a profit from BC LNG is by picking your and my pockets. The only way this industry makes sense is with huge, unbilled environmental externalities and massive taxpayer subsidies.
Take it or leave it, says Mr. Abbas.
Leave it, then.