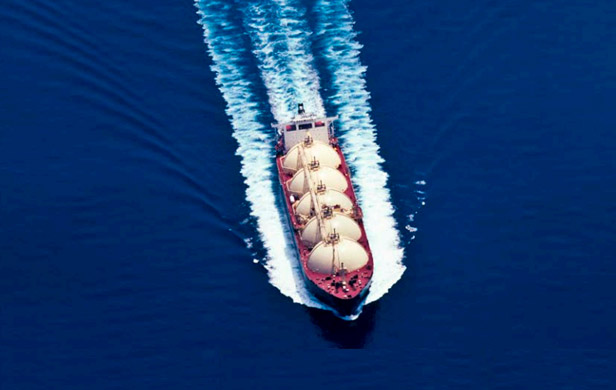 Asian spot market prices for liquefied natural gas (LNG) have plunged by a single year record of 61.7% since February 2014, according to Platts JKM (Japan/Korea Marker) – a leading source of benchmark prices for the industry.
Average prices for March delivery peaked at a historic high of $20.20 per million British thermal units (MMBtu) on February 14 ,2014. By February of this year, prices for March delivery had tumbled to$7.44/MMBtu – representing the largest year-over-year drop since Platts began tracking the market in 2009, and the lowest benchmark price for Asian LNG since 2010.
Said Stephanie Wilson, managing editor of Asia LNG at Platts:
[quote]Moderate temperatures and high buyer inventories continued to cap demand for spot cargoes in northeast Asia, despite the lower prices in March. Exacerbating the oversupply were cheaper competing fuels, which many utility power generators opted to burn rather than LNG.[/quote]
Taking its nuclear reactors offline post-Fukushima, Japan drove up LNG prices from 2011 on, sparking a global race to supply the Asian market with LNG. But subsequent weakening demand, increased competition and lower oil prices – to which Asian LNG prices are indexed – have all exerted significant downward price pressure on the resource.
What is the Clark government thinking?
This should leave British Columbians doubting the wisdom of betting the province's economic future on Asian LNG exports – underscored by one after another global energy player backtracking on its investment plans.
These prices match up perfectly with predictions of two years ago by business news leader Bloomberg, which foresaw precisely a 60% drop in Asian LNG prices – the only difference is the speed at which the drop has occurred. Bloomberg saw it coming by 2020. In the same story, Bloomberg calculated this would mean a $6 million loss per tanker, pegging the break-even point for shipping LNG from North America to Asia at around $9/MMBtu (in some of Northern BC's shale gas plays, this figure can be as high as $10-13/MMBtu). With current Asian LNG prices, we are already well below that point, calling into question the entire business case for BC LNG.
Yet, somehow the Clark government remains bullish on the industry, leaning heavily on future anticipated revenues in its recent Throne Speech.