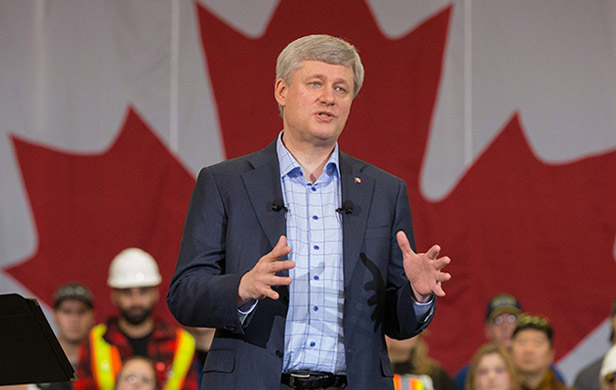 Prime Minister Stephen Harper jumped on the BC LNG ship this week with the announcement of federal support for the embattled industry during a speech in Surrey, BC.
A PMO press release trumpeting the commitment stated:
[quote]Prime Minister Stephen Harper today announced the Government's intent to support the creation of new and well-paying jobs in the emerging liquefied natural gas (LNG) industry.[/quote]
Give 'em what they want
The move follows BC Premier Christy Clark's pattern of caving to the demands of foreign energy titans like Malaysia's Petronas – slashing local taxes to counteract the failing economics of the Asian LNG market. Petronas CEO Shamsul Abbas has been vocal in demanding reductions in BC's planned export tax regime, as well as more favourable federal capital cost allowances. With this week's announcement from the Prime Minister, he has received essentially everything he asked for – including the fast-tracked approval of environmental permits for its controversial gas plant in the midst of the Skeena River estuary.
"In order to ensure that Canadian natural gas can reach new and growing international markets, and make it accessible for new domestic uses, the Government intends to establish a capital cost allowance rate of 30 per cent for equipment used in natural gas liquefaction and 10 per cent for buildings at a facility that liquefies natural gas," the PMO's statement noted.  "This tax relief will be available for capital assets acquired after February 19, 2015, and before 2025."
The Conservative Government is also helping the LNG industry with the proposed weakening of environmental regulations for fossil fuel ports in its latest Omnibus bill.
What jobs?
Harper touted the job benefits from supporting the industry, yet many of the potential local jobs have already been promised to China, India and Malaysia through government agreements to import cheaper foreign temporary workers.
Meanwhile, even the enormous tax benefits the industry has already been granted can't make up for the fact that Asian LNG prices have plummeted a record 61.7% over the past year – to a point well below the profitability line for BC exports. No wonder companies like Petronas, Chevron, BG Group, Apache, EnCana and EOG have already stalled on their final investment decisions or altogether abandoned ship on the fledgling industry.
It is a mark of sheer government incompetence – or utter neglect for the public benefit – to give an industry everything it asks for and still get nothing in return for the citizens of BC and Canada.