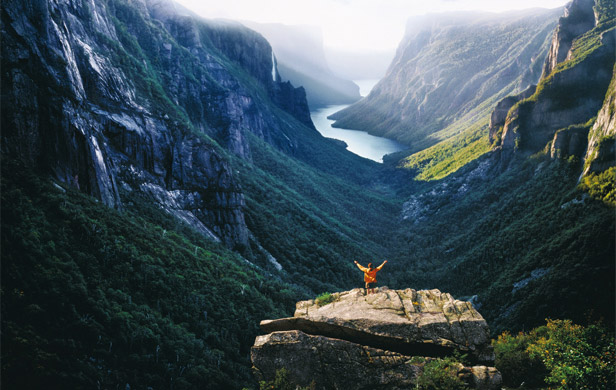 ST. JOHN'S, N.L. – An oil exploration company that set off intense debate with plans to frack near Gros Morne National Park in western Newfoundland says it will lose its licence next month to drill wells near the UNESCO world heritage site.
CEO Mark Jarvis of Shoal Point Energy Ltd. (CNSX:SPE) said his company's bid to extend one of three exploration licences it holds in the province was rejected Dec. 5 by the Canada-Newfoundland and Labrador Offshore Petroleum Board.
The company said the decision means his company will lose the licence as of Jan. 15 as well as a $1-million deposit made last January for a one-year extension on drilling exploration wells.
"We are disappointed by this decision," Jarvis said in a statement Thursday.
Shoal Point Energy and Black Spruce Exploration, a subsidiary of Foothills Capital Corp., had proposed to hunt for oil in shale rock layers in enclaves surrounded by the park using hydraulic fracturing, also known as fracking.
The process involves pumping water, nitrogen, sand and chemical additives at high pressure to fracture shale rock formations and allow gas or oil to flow through well bores to the surface.
The prospect of drilling in the Green Point shale near the picturesque park raised alarms about groundwater pollution and other risks.
Last month, the provincial government shut the door on applications for hydraulic fracturing for oil and gas while it reviews regulations and consults residents.
In a statement issued Friday the offshore board said it considered and rejected three separate proposals from the company for a one-year extension to its exploration licence.
The board said in making its decision it considered that the licence was issued based on conventional exploration work and that eight years had passed with minimal exploration undertaken.
It said the company's proposal did not identify a plan to proceed with the drilling obligation on the licence and instead identified "a physical and legal impossibility to undertake a drilling program" in the only format now under consideration.
The board also said the company did not incorporate a forfeiture of its drilling deposit for not meeting the obligations of the licence to date.
Shoal Point Energy said it was willing to give up more than half of the approximately 202 hectares covered by the licence if the board approved the extension, including the portion neighbouring Gros Morne.
The company said it was also prepared to make an additional drilling deposit of $250,000, but the board denied both requests.
Jarvis said the Vancouver-based company felt its application respected the importance of the park.
"Our proposal balanced a desire to protect this unique and beautiful park with a desire to safely and responsibly develop a much-needed economic opportunity on the west coast of Newfoundland," he said.
In total, the company's three licences cover approximately 291 hectares in western Newfoundland.
"We still have a very large prospective resource to explore and develop in our remaining exploration licences," said Jarvis. "We believe that the majority of people in this area want economic opportunity, as long as they are satisfied that operations are safe and respect the environment."