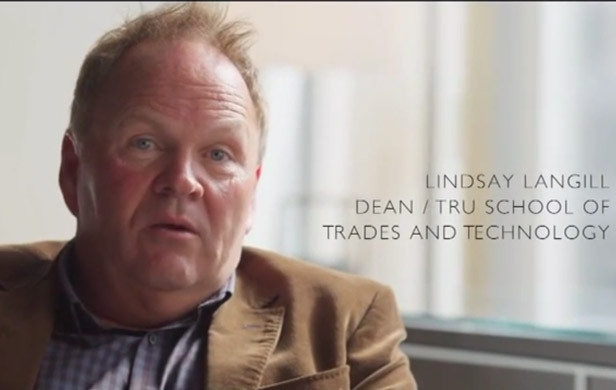 The latest chapter in the controversial Ajax mine proposal planned for the edge of Kamloops, BC was released as a sleek corporate video titled "The Conversation" by mining company, KGHM International. "The Conversation" featured Lindsay Langill, the dean of trades and technology at Thompson Rivers University (TRU), where he publicly expressed his support for the Ajax mine project.
After the video was released earlier this month, TRU received many complaints about Langill's statement in the video.   Discussing the benefits Ajax would provide for his trades students, Langill said :
[quote]If we step back and look at what can be gained by a project such as Ajax, I think that there are many, many opportunities that open themselves up. So we can tell our students, take your training with us, stay in Kamloops, British Columbia and make a difference within the community.[/quote]
The University's Vice-President Advancement, Christopher Seguin, responded to the complaints about Langill's appearance in third-party corporate marketing material, telling Kamloops this Week:
[quote]Participation of the school's dean of trades and technology in a pro-Ajax mine video does not mean Thompson Rivers University is supporting the proposed project.[/quote]
The university may want to maintain a neutral stance on the Ajax mine proposal, but Langill voluntarily allowed himself to be identified as a TRU faculty member, which reflects upon the institution.
The video highlights the job openings Ajax mine would create, its care for the surrounding environment and its neighbourhood approach to the city of Kamloops residents.
Ajax Project – an open-pit copper-gold mine at the historic Ajax-Afton mine site that finished operation in 1997 – is being developed by KGHM International, a wholly-owned subsidiary of KGHM Polska Miedź S.A., a Polish company of which the Polish government owns 80 percent of its shares.
Earlier this month, KGHM announced a new target of March, 2015 for filing its formal application. The delay comes as concern over the environmental footprint of the mine that would be located on the border of Kamloops' city limits prompted the company to modify its design.
Although this plan hasn't been publicly unveiled by the company, external-affairs manager Yves Lacasse said the redesign will allow the mine's infrastructure to move south, away from the city.
After barring users from embedding the video elsewhere, the company took down the original video earlier this week. It was then reposted yesterday.