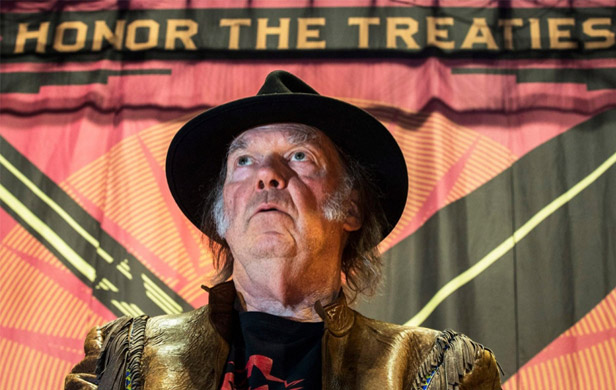 When Neil Young first wandered into Canadian energy politics last year, comparing Fort McMurray to Hiroshima following a trip to the northern industry town in his biomass-powered car, it provoked a handful of rebuttals from conservative columnists. But the legendary Canadian-born rocker's latest wading into that political and geological morass known alternately as the Alberta oil sands or Tar Sands has been a very different story.
Young's Canadian concert tour, in support of an oil sands-related legal challenge by the Athabasca-Chipewyan First Nation, has somehow struck a nerve. The media has been rife with stories on Young's provocative critique of Canadian energy policy and treatment of First Nations, eliciting a tidal wave of responses from everyday citizens, journalists, political pundits, industry advocates and top Harper Government officials.
A google news search of "Neil Young, oil sands" at the time of this writing yielded a staggering 34,000 news items from around Canada and the world.
If the comments posted on this site and others are any indication, Young has somehow fostered a frank debate about the kinds of economic choices we're making for our future.
Round 1: Harper underestimates Young
The Harper Government underestimated Neil Young from the get-go, beginning with a juvenile rebuttal from a spokesperson for the PMO this past weekend: "Even the lifestyle of a rock star relies, to some degree, on the resources developed by thousands of hard-working Canadians every day."
Apparently, to the Harper Government, two wrongs do make a right.
Natural Resources Minister Joe Oliver – the Conservative pitbull on critiques of the government's energy agenda – also chimed in with a rather lame response:
[quote]We don't go ahead with any project unless it's safe for Canadians and safe for the environment – it's a a very rigorous, objective and independent review. We rely on that rather than an entertainer – no matter how talented – who compares Fort McMurray to Hiroshima, which is deeply insulting to the people of Fort McMurray and is both a travesty and a wild exaggeration.[/quote]
This from a government that has spent the past few years gutting environmental laws (most recently handing over fish protection along pipelines to our Calgary-based energy regulator) and "streamlining" and politicizing environmental assessments to facilitate its energy agenda.
Young fires back
Mr. Young – flanked on the four-city tour by First Nations leaders, David Suzuki, and climatologist-cum-BC Green Party MLA Andrew Weaver – wasted no time firing back at Harper and co. through a statement issued yesterday:
[quote]Our issue is not whether the natural resource sector is a fundamental part of the country, our issue is with the government breaking treaties with the First Nation and plundering the natural resources the First Nation has rights to under the treaties…There are better jobs to be developing, with clean energy source industries to help make the world a safer place for our grandchildren.[/quote]
Despite the polarizing nature of his earlier comments about the oil sands as Hiroshima, in his statement yesterday, he expressed compassion for everyday Canadians facing tough choices in today's economy. "As to the thousands of hard working Canadians, we have respect for all working people," Young emphasized. "The quandary we face is the job they are working on. They are digging a hole that our grandchildren will have great trouble digging their way out of."
Canadians chime in
The complex and essential conversation which Young has stoked shows up in the comments section of the many well-read stories appearing on the subject. The sheer volume of responses provides a telling glimpse at the power of Young's voice. Sure, there are plenty of the simplistic barbs that typically pepper Canadian energy stories – on both sides of the conversation. But there is also much heartfelt grappling with what has become perhaps the defining Canadian question: What role should fossil fuel development play in our economic future?
One oil sands worker simultaneously defends Fort Mac and illustrates the plight many Canadian workers face as a result of the country's economic policies: "There is no other place in Canada that you will be able to make the type of money to provide for your family, even without any education."
Another counters:
[quote]Our choices are more like oil vs. electric cars/solar power/biofuels/mass transit expansion/conservation investment/etc. There are so many different paths we could be walking…It's short-sighted, destructive and counterproductive to progress where we need it.[/quote]
Is it because it's Neil Young that this debate has suddenly blown up – or because it's a conversation with which Canadians are about ready to engage? Perhaps it's a bit of both. While it remains to be seen the longterm legacy Mr. Young's tour will leave on the public discourse, for the time being, at least, it's amping up an urgent national discussion.
This site has also seen a fair share of "Neil Young for PM!" comments. That maybe a bit of a stretch –  but, hey, if the whole music thing doesn't work out, Mr. Harper may want to watch his back.