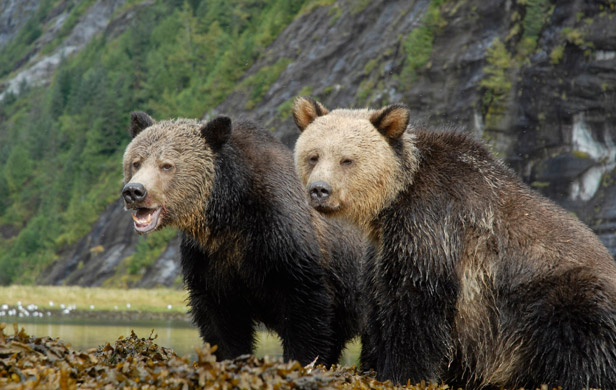 Valhalla Wilderness Society is reporting that a pair of proposed natural gas pipelines connected to liquefied natural gas (LNG) terminals planned for Prince Rupert will no longer pass through two important grizzly bear sanctuaries. The changes come following public pressure from Valhalla and other conservation groups.
The two pipelines – one to be built by Spectra, the other by TransCanada Corp on behalf of Malaysian energy giant Petronas – were due to pass through the the Kwinimass and Khutzeymateen conservancies, created in 2006 to protect important bear habitat. Illegal survey work in the area by a TransCanada subcontractor drew repeated warnings from BC Parks this summer and provoked criticism in the media.
According to a Thursday newsletter from Valhalla:
[quote]The withdrawal of the proposed pipeline routes was apparently due to prompt action undertaken by VWS coastal campaigner, Wayne McCrory along with the protests of many others. Although we do not have 100% confirmation from the companies, themselves, our information comes from very reliable sources in government, and from our legal representative.[/quote]
The Petronas-owned Prince Rupert Gas Transmission Project would be the largest pipeline in Canadian history at 4 feet in diameter, carrying 2-3.6 billion cubic feet per day of gas to a large LNG terminal north of Prince Rupert. The project would require the logging of pristine rainforest for a right-of-way of up to 200 metres wide – plus access roads and compressor stations.
McCrory referred to the plan in the media in September as "a shocking and unconscionable betrayal of the bears, the Park Act, and the Great Bear Rainforest decision of 2006."
TransCanada had also applied for permits to do geotechnical studies that would involve drilling. According to Valhalla, "The park use permit application has now been withdrawn, as well."
The other pipeline proposed for the area, belonging to Spectra, would be the same diameter and carry even more gas – up to 4.2 billion cubic feet per day. "Spectra has told people that it will not be going through the protected areas," says Valahalla. "However, the company's PR person has stated that the Khutzeymateen routing is not yet fully off the table."
These two mammoth pipelines represent only a portion of those currently proposed to criss-cross the wilderness of northern BC, as this new map illustrates. There are five serious gas pipeline proposals, six more that have been floated, plus the Enbridge Northern Gateway twin bitumen and condensate lines – all part of the "gold rush mentality surrounding the BC government's LNG promotion efforts in Asia," says Valhalla.
The Clark Government's LNG vision is being questioned on a number of other environmental fronts – from the increase in fracking that would be required to supply the gas, to local health impacts from air pollution, and the massive increase in BC's carbon footprint that would accompany the program.