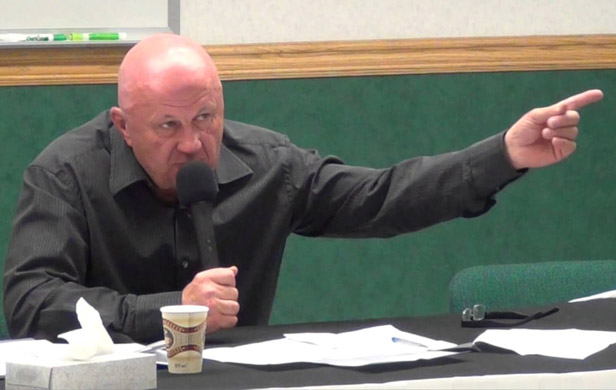 Northern Rockies Regional Municipality Mayor Bill Streeper has publicly called out the local Fort Nelson First Nation (FNFN) over its repudiation of government officials at a summit on liquefied natural gas (LNG) it held last week.
After learning of the surprise elimination of environmental assessments for most natural gas plants in BC – without aboriginal consultation – FNFN Chief Sharleen Gale expelled government officials from the LNG conference. Before asking industry representatives to follow suit, Gale took a few moments to deliver a strong message that in order for BC's LNG vision to work, First Nations must be consulted and respected.
[quote]No shale gas development will proceed in FNFN territory until our Nation and our Treaty are respected and our concerns about our land and our waters are addressed.[/quote]
The chief's decisive actions made headlines across the country, generated a wave of accolades in these pages and other social media, and yielded an uncharacteristically speedy and deferential response from government. Within hours, Environment Minister Mary Polak issued a mea culpa, recanting the proposed regulatory changes. "Our government apologizes for failing to discuss the amendment with First Nations prior to its approval," stated Polak.
"That is why we will rescind the amendment…until we have undertaken discussions with First Nations."
Yet Mayor Streeper, who has long ties to the shale gas industry, doesn't share the government's contrition and agreement with FNFN's position. In an open letter castigating his aboriginal neighbours in Fort Nelson, Streeper called the expulsion a "knee-jerk" reaction that constituted "discriminatory exploitation".
"We're a one-industry town," noted Streeper, who apologized to the provincial government on behalf of his community. Underscoring his perceived urgency of developing the industry at all costs, the exasperated mayor stated:
[quote]If LNG fails, this town will fail.
[/quote]
Yet, at no point did Chief Gale reject the industry outright; rather she highlighted her community's concern with the government's secretive legislative changes and emphasized that in order for the industry to proceed, it must address a number of key environmental concerns:
[quote]The FNFN is not against development but these projects must be consistent with our values and have respect for the land…First Nation people are the governments of their territories and will make decisions going forward on these projects.[/quote]
As we have noted in these pages before, FNFN is far from the only aboriginal community expressing concern with the streamlined manner in which the industry is being pushed forward.
Recent changes to the Parks Act in order to facilitate pipeline construction have also provoked widespread public outrage, with well over 100,000 citizens signing a petition against the legislation.
Meanwhile, even the Clark government's own environment ministry staff are cautioning that the LNG industry would have serious climate implications.
To Streeper, though, there is no room for sober thought, dialogue or delay, imploring in his letter, "Let's get it done."