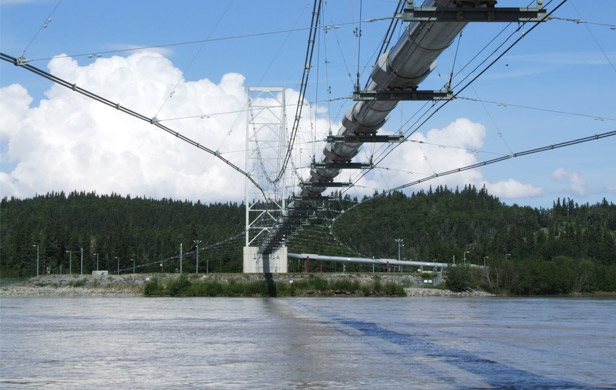 The federal NDP's BC-based deputy fisheries critic is questioning a quiet deal signed just before Christmas that saw the Department of Fisheries and Oceans hand over the protection of fish habitat and species at risk along energy pipelines to the National Energy Board.
"The Conservatives have gone too far," says New Westminster–Coquitlam & Port Moody MP Fin Donnelly.
[quote]They have gutted the Fisheries Act, slashed DFO's budget, launched an all-out attack on science, and now they have handed over the power to make decisions on the environment to a body whose mandate is to deal with pipeline and energy development.[/quote]
The NEB lacks the knowledge to properly assess fisheries issues, says Donnelly. "The federal government is still the only body with the jurisdiction and sufficient expertise to assess potential damage to fisheries."
Deal snuck by over holidays
The deal slid under the radar amid an onslaught of major energy-related announcements involving the NEB over the holidays – including its conditional recommendation of the proposed Enbridge pipeline, its approval of four major liquefied natural gas (LNG) export licences, and receipt of Kinder Morgan's formal application for a major oil pipeline expansion to Vancouver. All of these projects would experience a smoother ride with the watering down of DFO's oversight of habitat alteration for pipeline construction.
Rather than making any legal changes to the Fisheries Act or Species at Risk Act, the deal came in the form of a "memorandum of understanding" between DFO and the NEB, making the Calgary-based energy regulator the point agency in determining whether aspects of a pipeline project could pose a risk to fish habitat or species at risk. Only then, in certain specific cases, would the NEB turn to DFO for what sounds very much like a rubber-stamped permit:
[quote]The NEB will assess a project application and determine if mitigation strategies are needed to reduce or prevent impacts to fish or fish habitat. If the project could result in serious harm for fish then the NEB will inform DFO that a Fisheries Act authorization under paragraph 35(2)(b)  is likely to be required. DFO will review and issue an authorization when appropriate, prior to project construction. Authorizations issued by DFO would relate to those watercourses impacted, not the entire project.[/quote]
"Streamlining" pipeline approvals
The memo clearly states the reason for its creation – part of the Harper Govenrment's continued efforts to clear roadblocks to energy development:  "This MOU better integrates the Government of Canada's initiative to streamline application processes by eliminating the requirement for duplicate reviews."
"This clearly demonstrates the Conservative government's complete lack of understanding of and regard for science in decision-making, and the importance of proper environmental assessment," counters the NDP's Donnelly.
DFO: Nothing fishy about deal
DFO issued a statement yesterday in response to concerns about the MOU, suggesting that the deal with the NEB is similar to previous collaborative agreements with provincial regulators. "Over the years, DFO has established similar arrangements with some Provinces and with Conservation Authorities," the statement read. "In all cases, the standards for fisheries protection are established by DFO and the Fisheries Act Authorizations continue to be done by DFO."
Yet the department strains belief in touting the NEB's ability to protect fish habitat as well as DFO:
[quote]Our collaborative arrangement builds on the decades of training, experience and expertise of NEB biologists in assessing the potential environmental impacts of development projects, including regarding fish and fish habitat…The National Energy Board is best placed to deliver regulatory review responsibilities under the Fisheries Act for activities relating to federally regulated energy infrastructure (such as pipelines).[/quote]Ecojustice Executive Director Devon Page sees this as the latest in a long line of coordinated attacks on Canada's environmental laws by the Harper Government. Says Page, "Taking authority for assessing harm to fish and their waters from fisheries experts and granting it to a pipeline approving body, after having vastly weakened of our laws through omnibus bills, is pretty much the straw that breaks the environment's back when it comes to appropriate stewardship of the thousands of lakes, rivers and streams that are proposed to be bisected by pipelines."