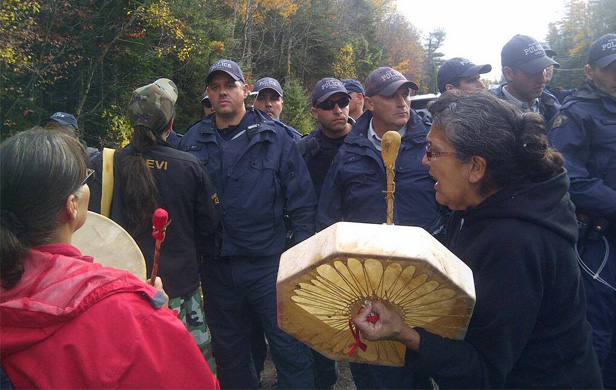 REXTON, N.B. – Hundreds of people gathered at a community hall in New Brunswick on Sunday to discuss their opposition of the development of a shale gas sector in the province as their protest garnered support from a Manitoba grand chief.
Elsipogtog Chief Arren Sock said the meeting at New Brunswick's Elsipogtog First Nation was a chance for people in his community to tell their stories.
"It's just part of the healing process and I wanted that to begin," said Sock after the meeting, which drew about 300 community members and protesters and was closed to media.
Sock would not say if anything was decided during the meeting on how to proceed with the protest over shale gas exploration, noting:
[quote]We just started the healing process and in the coming days I will have more information.[/quote]
Manitoba, NB chiefs stand together
Sock and Grand Chief Derek Nepinak of the Assembly of Manitoba Chiefs were expected to hold a news conference at Elsipogtog Monday morning.
Nepinak said the assembly chiefs in Manitoba sent him to New Brunswick to stand in solidarity with the community and protesters.
"We recognize that there are a lot of consistencies in a lot of what is happening across the land with extractive industry and corporate interests versus indigenous rights and our fight to preserve our ecosystems," he said. "We have a commitment and responsibility to the land and people need to respect that."
Nepinak wouldn't say what he thinks Elsipogtog should do next in its opposition to fracking, but said he would stay as long as he was needed.
Apologies to media over equipment seizure
One speaker at the community hall apologized to media who had their vehicles and equipment seized by a small group of protesters Saturday. The apology sparked a standing ovation from the crowd. Some protesters told reporters for Global and CTV News to leave their vehicles and their equipment. Everything was later returned.
Earlier Sunday, about 50 people gathered in the rain at the protest site on Route 134, where tents were set up and protest signs scattered about.
Protesters on Highway 11 in Rexton had set up a blockade Saturday for a short period of time.
Burned vehicles
Days before, six police vehicles including an unmarked van were burned and Molotov cocktails were tossed at police before they fired non-lethal beanbag type bullets and pepper spray to defuse the situation.
The gutted vehicles have since been towed to a nearby parking lot, about five minutes from the protest site.
RCMP said they also found improvised explosive devices on Thursday that were modified to discharge shrapnel and used a fuse-ignition system after enforcing a court-ordered injunction to remove protesters at the site of a compound in Rexton where SWN Resources stored exploration equipment.
40 members arrested, including chief
Officers arrested 40 people — including Sock — for firearms offences, threats, intimidation, mischief and violating the injunction.
The RCMP blocked Route 134 on Sept. 29 after a protest there began spilling onto the road. Protesters subsequently cut down trees that were placed across another part of the road, blocking the entrance to the compound.
The protesters want SWN Resources to stop seismic testing and leave the province, although the company says it's only in the early stages of exploration in New Brunswick.